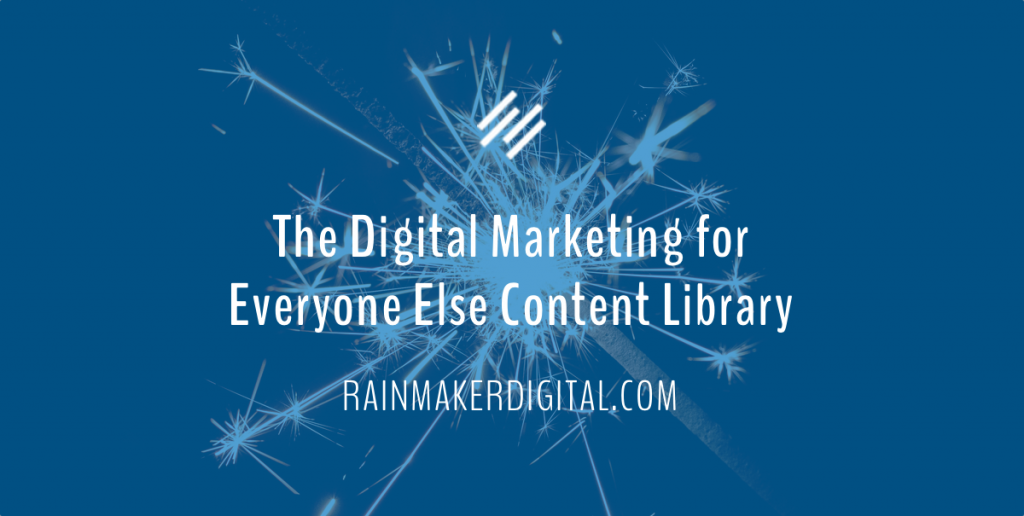 Digital marketing is complex. We make it simple.
If you're NOT a professional marketer, or if you're thinking about hiring professionals to help you accelerate your business goals, you're going to need a little guidance so you don't waste your time and money. This Digital Marketing for Everyone Else content library can help.
This library delivers the critical fundamentals of digital marketing that you actually need to know, and it's written to be accessible to everyone, not just content marketers. You can read each article as we post it here — and you can receive it every week in your inbox absolutely free when you sign up for the Rainmaker Dispatch. Not only that, you'll receive our monthly roundup of all the best curated links from around the industry
And if you want to catch up on previous roundups, you can find all of our previous Rainmaker Dispatch articles here.
Enjoy ... and if you've got questions about growing your business with digital marketing, you don't have to go it alone. We're here to help.
Content has been king long before the Internet. In fact, if you look through the history of advertising, you can find "content marketing" examples in Benjamin Franklin's Poor Richard's Almanac (1732) and The Furrow by John Deere (1895). Learn why it's been consistently successful — and why it's more critical than ever in today's always-online world.
Email marketing is still one of the most critical channels in marketing for almost every brand. Why? It lets you build personal relationships at scale. Learn how to create emails your customers will want to engage with.
Almost 3 billion people use Facebook at least once a month. That's more than the populations of North America, South America, Europe and Africa — combined. Marketers go where the eyeballs are, and that's social media. Understand how you can be successful through social media marketing.
If Google doesn't know who you are, chances are nobody else does either. Search engine optimization is a critical part of your business success — and one of the least understood outside of the industry. Stay aware of how search engines rank sites and how to make yours more visible.
It doesn't matter how many people are listening to your message if they don't do anything with it. That's the concept behind conversion. Find out how you can take your audience from passive to active.
Advertising still boosts your visibility. Organic search and social media matter, but advertising can add a dimension your content marketing strategy is missing and help you reach new audiences. Let us show you how to add this vital tool to your business toolkit.
eCommerce is just commerce now. The world is shopping online — and you need a good storefront to compete. Find out how you can engage your shoppers and keep them coming back to purchase again and again.
It doesn't matter how good you are at social media, digital advertising or SEO. If you don't have a cohesive strategy, you won't see the results you should. Learn how you can build your content marketing for long-term success.
Got questions about deploying digital marketing fundamentals to start and/or grow your business? You don't have to go it alone, we're listening and always ready to help ... just drop us a line, anytime.