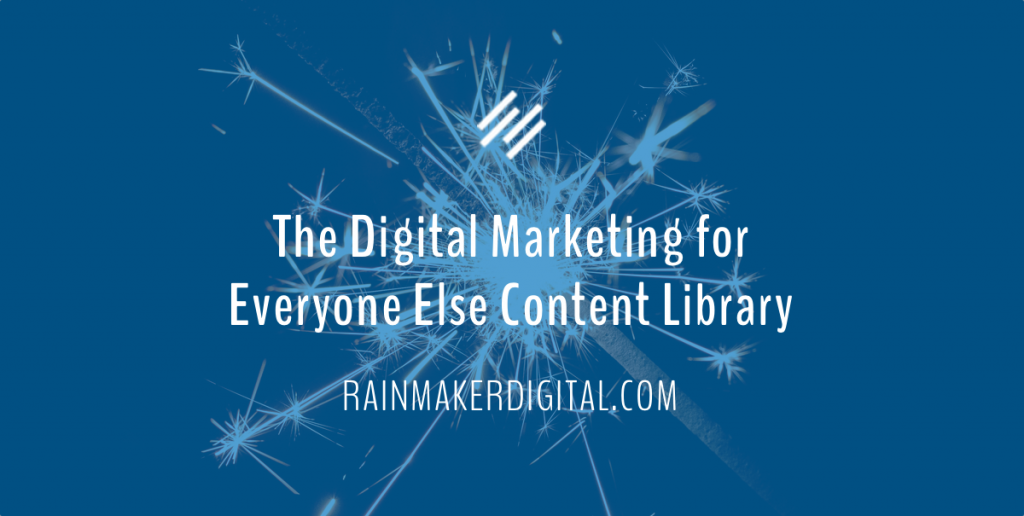 What are the fundamentals of this discipline we call digital marketing? More importantly, how does one apply them in a way that actually grows one's business?
If you're NOT a professional marketer, or if you're thinking about hiring professionals to help you accelerate your business goals, you're going to need a little guidance so you don't waste your time or your money. In short, you need to read the organized content library we've got for you below.
This library delivers the critical fundamentals of digital marketing that you actually need to know, without the hassle of spending weeks and months researching and reading both the good and bad out there on the Internet, all on your own.
Enjoy ... and if you've got questions about deploying digital marketing fundamentals to start and/or grow your business, you don't have to go it alone. We're listening and always ready to help ... just drop us a line, anytime.
Content has long been king. In fact, if you look through a history of advertising, you can find "content marketing" examples in Benjamin Franklin's Poor Richard's Almanac (1732) and The Furrow by John Deere (1895). They didn't need a MacBook to pursue effective content marketing strategies. So, why is content such a big deal today?
The purpose of these articles is to establish that email marketing is important for every marketer and there is a methodology that will be beneficial for every brand. Email marketing is about relationships. Just as you have different types of relationships with your parents, your partners and your kids, and you would not use the same language with each, you need to use the appropriate content and message type for your audience.
In 2019, if Facebook were a country, it would rank 21st globally in terms of GDP (behind Switzerland and before Poland). Impressive for a 'free' site. How did they get so big? Simple, humans are social animals. As our lives have become more digital, social media has become a fundamental part of how we interact and a major part of every brand's marketing.
Search Engine Optimization (SEO) is the darkest of the dark arts in digital marketing. Why? Because SEO best practices are constantly changing due to both technology and user expectations. These articles discuss the basics of how search engines rank sites and the evolving practice of SEO.
Increase traffic and convert every visitor; your site will be a success! Duh. Though these concepts are easy to understand, accomplishing these two goals are challenging and often elude even the most accomplished digital marketer.
We would argue that anyone studying media planning should skip the traditional media and spend 100% of their time on digital. And yet, there are still a lot of "marketers" and clients that look at digital advertising as a dark art. These articles shed light on the basics of digital advertising so marketers can develop strategies that best address their client's challenges.
According to the US Department of Commerce, 11.8 percent of retail sales in Q1 2020 occurred online. Surprised by that number? Is it higher or lower than what you expected? Regardless, one thing we can all agree on is that consumers, the world over, are conducting more commerce online. Every business needs to understand how the "Internet" impacts their sales.
Ben Franklin is credited with one of the great digital marketing axioms, "If you fail to plan, you are planning to fail!" Digital marketing is hard work and planning is critical. Like all marketing, it requires discipline, sacrifice (you can't be everything to everyone), and a commitment to a plan. Without a plan, even the most innovative tactics and clever creative won't yield the business results you expect.
Got questions about deploying digital marketing fundamentals to start and/or grow your business? You don't have to go it alone, we're listening and always ready to help ... just drop us a line, anytime.