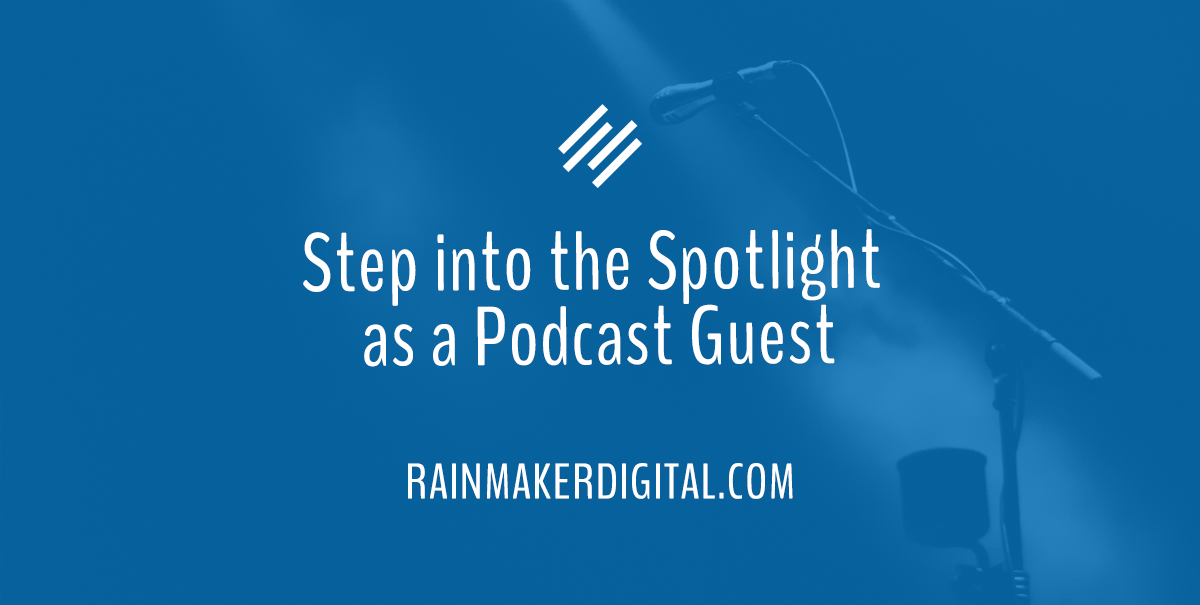 All of us probably have a favorite guest — I'm personally a fan of Bill Burr on Conan or Chris Stapleton's guest spot on Justin Timberlake's "Say Something." A great guest lifts a show from ordinary to extraordinary, adding something the host can't.
You can be that great guest.
Even if you have your own podcast, guesting on other podcasts is one of the most effective ways to grow your audience, generate great content and establish yourself as an authority in your field. How do you find shows to guest on? And what do you need to keep in mind?
The Benefits of Being a Guest Star
Having your own podcast is great for all the reasons we've outlined before. You can also gain significant benefits from being a guest on other podcasts. The main benefits are new audiences, new content sources, and credibility by proxy.
Audience
When you appear on someone's podcast, they promote you as part of the show. They have a vested interest in making sure you look good and getting your name out there — because your name and theirs are now linked.
This vested interest lets you tap into audiences you couldn't have reached. Everyone knows the Rule of Seven — it takes an average of seven touches to convert a prospect to a buyer. As the podcast host promotes their show, you'll get extra touches from their promotional efforts even before you appear on the show.
Content
Your own podcast generates tons of great content. An appearance on someone else's podcast can do the same. Share posts about the show on your own social media feeds. Ask for permission to republish clips on your own channels (don't do it without permission…it's not your content).
You can pull your own text quotes from the show and use them on social media or in your blog posts, too. You don't have to ask to use your own content.
A single show can produce several social media posts, enrich a blog or two and provide opportunity for outreach, just like your own podcast. Take advantage of it.
Credibility
How often do you get to speak with people that don't really know who you are? It's a tremendous opportunity to piggyback on your host's credibility with their audience.
They may not know who you are — but they DO know the host. You automatically gain credibility with them because the host is interested enough to have you on.
There's a dark side to be aware of, though: appearing on someone's show may close doors to you. Reputation cuts both ways. Just as people who like the host are predisposed to like you, people who dislike the host will associate you with them.
A guest spot on a podcast is a valuable business tool. So how do we find one?
Please Welcome to the Stage …
Before you start asking people to let you be a guest on their show, you need to make sure they know who you are. Just like when you're pitching your own podcast to guests, you need to market yourself.
Build an overview or press page on yourself. This will be similar to one that you might build for your own show, but without the information about your own podcast. Fit everything on one page. Tell them everything that a podcaster will need to know about you and your company to want you as a guest. Include:
Picture and branding. You and your branding. Make it professional.
You and your background. Explain who you are — not just professionally. Add a couple of personal details to show some personality (not too much, though…that's not the point). You're not there to talk about your interest in Russian nesting dolls or EDM, but if it pops up it lets people know you're a three-dimensional person, not just some business robot.
Your company and its background. Tell them your company story. Where did it come from? What does it do?
Your areas of expertise. This will give them an idea of what kind of fit you are for their show as well as what they can ask about.
Create this as a PDF or link and share it with your outreach — a custom pitch to them on why you'd be a good guest for their show.
When someone shows interest, ask them a few questions before you commit — for example:
What topics would you like to cover?
Is there anything I should have on hand for the conversation? Facts, data, story?
What value are you trying to bring to your audience by having me on?
Use your best judgment here. Sometimes the answers to these questions will be self-evident. Asking obvious questions isn't thorough; it's annoying.
Once your outreach package is complete, start contacting hosts.
Finding a Band that Fits
Some shows and guests just don't match — witness Chuck Berry's horrified reaction to Yoko Ono butting in on this famous Lennon/Berry collaboration. It's completely out of place. You don't want to be Yoko in this situation.
You need to find a show where your goals align with theirs. Something that's a good fit. And you need to know where to look. Identify and TARGET podcasts that fit. The profile you present and the questions you ask need to be tailored to them individually.
Like all other podcast outreach, there are three major avenues you can use to reach out for podcast guests.
Email
Email allows you to write a longer, more detailed message. It's personable. Make sure you use a custom pitch for each podcast host you reach out to — a shotgun approach is almost as bad as no outreach at all.
Social media
If a podcast host is active on social media, it can be a fantastic avenue for outreach. Look for influencers who are active in your industry or community.
Guest networks
There are guest networks you can join to get access to a number of podcasters. These networks let podcasters hunt for guests that benefit their own shows. It's a one-stop shop instead of the individual outreach of other methods.
Networks like Perfect Podcast Guest, Podcast Guests or Matchmaker.fm connect guests with podcasters. Some networks ask for a fee, while others are free.
There are a few reasons to use a guest network:
Access to better shows. Some networks may have better connections than you do.
Ease of connection. It's far easier to reach out through a pre-built platform than to DM someone on social media or send an email. You're also more discoverable.
Efficiency. You can narrow down your searches much quicker, as can hosts searching for guests.
Credibility. Your status as a member of a network (particularly a paid one) can raise your profile.
Pro tip: Look for new podcasts or podcasts that underperform on engagement relative to the size of their audience. They're often eager for good guests that can bring them value. Show them analytics or data on your audience or have a compelling story that will attract attention to their show.
These avenues are all viable for finding guests, and you can choose one or all. See what works for you.
The Downsides of Being a Guest Star
There are a few downsides to being a guest that you need to consider.
First, you need to keep an eye on the reputation of the podcaster. Going on some shows may lock you out of other shows or hurt your reputation with some communities. For example: if you represent a company that produces vegan food, it might be a blow to your reputation if you go on famed carnivore Joe Rogan's podcast. You'll need to weigh the pros and cons.
You need to keep an eye out for hidden costs, too. Some shows will ask you to pay for the privilege of being a guest. This isn't common, and most shows will let you know up front, but you need to be aware that it's a possibility. Ask up front if you're concerned.
Finally, you could always wind up on a show with a bad podcaster. If the show is amateurish and the interview is bad or combative the appearance can actually backfire. Take the time to vet any potential partner first by listening to a few shows and checking up on their reputation.
Step Into the Spotlight
Being a guest offers some of the same benefits as having your own podcast with some different risks. Guests are "renting" the reputation and exposure of the host's podcast, not "buying" it. The benefits are clear, though, and it's worth at least getting your feet wet if you haven't tried it out. See how it works for you. Need help figuring out how to be a great guest? Know that you don't need to go it alone. We're in this with you. If you need a little help, just drop us a line, anytime.
Best Regards,
David Brandon
Copywriter
Rainmaker Digital Services