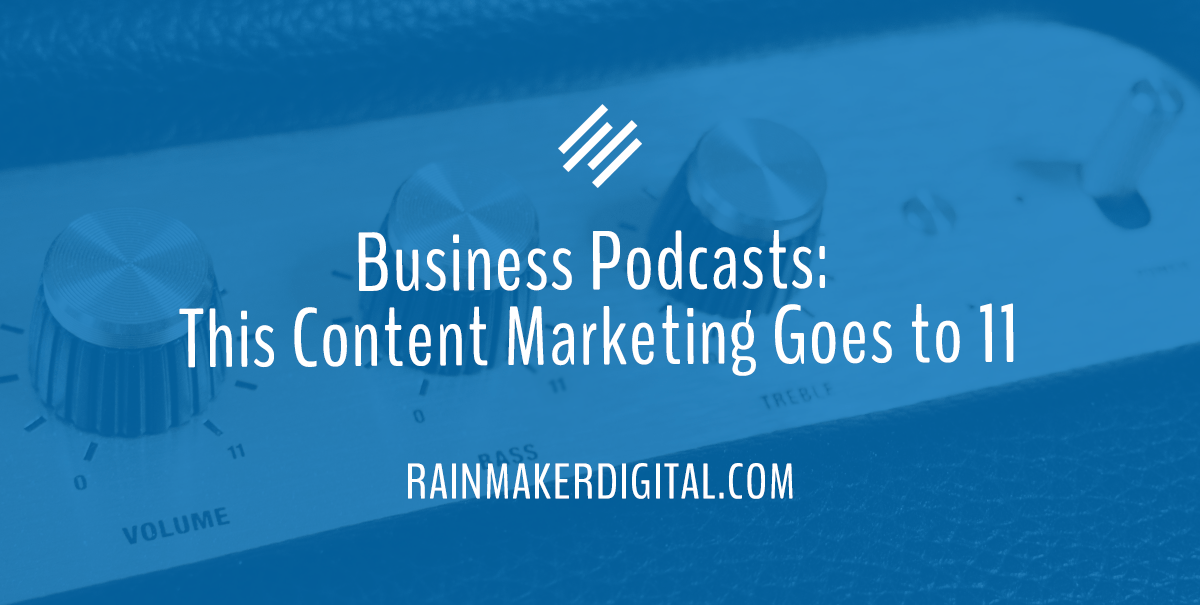 Podcasts are still incredibly popular — and they're poised to become even more prominent. Networks are paying premium prices for audio-only content.
Bill Simmons sold his site The Ringer to Spotify for $200 million, largely based on its podcast network. Joe Rogan's podcasting deal was reportedly around $100 million. They're only the tip of the iceberg.
In the last 10 years, the number of US consumers listening to podcasts has doubled from 23% to 55%. A Podcast Insights report concluded recently that there are over 2 million podcasts and they have released over 48 million episodes.
Should you jump on the bandwagon for your business?
Is it worth your time to start a new podcast when the market is already so saturated? This article will help you decide whether a podcast is the right move for your brand or business.
Business Podcasts: Your Content Marketing Amplifier
Your business should already have a base of content marketing and influence built up before you even consider starting a podcast. Most influential business podcasters already had an audience before they started and their podcasts simply piggyback off their success elsewhere.
Don't start a podcast expecting it to be the content pillar that holds up your content empire. Podcasting is a powerful tool, but one best used to amplify and augment other content.Your brand's website, blog and social media are all important too. You need an owned platform first.
There's a great scene in the movie This is Spinal Tap that's made its way into popular culture. One of the characters explains that his amps are louder than everyone else's because they "go to 11". That's what podcasts can do — they're not the guitar, they're the amplifier. And they take your content marketing game to 11.
A good business podcast is a gold mine of useful content for other media. It can be cut up into audio files for sharing elsewhere, turned into blogs or other articles via a transcript, or shared as quotes on social media. A consistent podcast strategy makes it easier to be consistent everywhere else.
Business podcasts are also personal in a way other content isn't. Your voice goes with people wherever they listen — in the car, on the train, at work. They choose to spend time with you, not just the podcast.
The personal touch and re-purposable content make a podcast a force multiplier for content marketing. If you're able to pull a podcast off, it will help your brand everywhere.
Should You Podcast in 2021?
Take a moment to browse the top podcasts on Apple or Spotify. You'll notice a few things.
Podcasts are about people and their stories. They break down into two categories:
Storytelling: True crime, radio plays, drama, love, sensational news. Think of something like "Dateline". Serial is a prime example of this type.
Interviews: Two or more people sharing stories with each other. The Joe Rogan Experience is one of best known podcasts in this format.
As you scroll down the list of top podcasts, you'll see that most of these shows are focused on entertainment. They aren't even tangentially business-related.
Business podcasts lack the entertainment appeal of the Joe Rogan Experience or Serial. You're going to have a much smaller number of listeners and subscribers. That doesn't mean they don't have value, though.
Half of United States consumers listen to podcasts. That's a big potential audience, though you have to approach your theme differently from an entertainment podcast.
Business podcasts focus on information. That doesn't mean a business podcast has to be dry or boring — in fact, it can't be if it's going to succeed. It does mean its value proposition is different.
Business podcasts share industry insights, challenge thinking, establish authority, build trust, prove affiliation with a community and lay the groundwork for business relationships.
If your podcast will do that for your business, it's worth your time. If it won't, don't bother.
Podcast Pointers
Podcasts provide content and opportunities for your business, but the ROI has to be there, or you might as well focus your efforts elsewhere. Blogging and social media tools offer benefits with less friction — don't bother with a podcast if you can't justify the effort.
There are three questions you should keep in mind when you're designing a podcast strategy and trying to confirm if it will provide value to your content marketing strategy..
First, do you have an interesting story to tell? Storytelling is essential in a business podcast — as Seth Godin says, "all marketers tell stories". Your stories need to have a purpose that brings value to your audience.
Story isn't the only important factor. Do you have access to interesting or influential people that will tell their stories too? The interview show format is popular for a reason: it's easy to keep fresh. A carousel of interesting guests keeps the audience from getting tired of you. Interview-based podcasts also let you and your guest introduce your brands to each other's audiences, expanding your reach.
Finally, do you have an audience that is interested in listening? It's hard to go head to head with the titans of the podcasting world. So you need to identify an audience that has a need that isn't being addressed or an angle on things that people haven't heard that you can satisfy.
If you can answer these questions in the affirmative, you need to start thinking practically. What challenges do you need to address before you get started?
Podcasting Pitfalls
It's not easy to run a successful business podcast strategy. There are three areas that can trip you up from the very start.
Cost is the most obvious business concern. Many marketing tactics will show returns even with a minimal investment — blogs, SEO and social. Business podcasts take more time and investment. Hosting a business podcast requires time for research, recording, editing, production and distribution. You can pay to have some of the work done but it gets expensive fast. For example, it's going to cost you at least $200 for a basic audio setup just to get off the ground. And you're looking at $1,500 or more if you want to take that up a level.
ProTip: Don't bother with extensive production if you're just starting out. People are 1.6 times more likely to engage with passion over production, according to a Think with Google survey on video.
Consistency matters too. You need to commit to regular episodes indefinitely. Are you going to stick with it? Do you have the time, resources and creativity for a regular show? Be in it for the long haul or don't be in it at all.
Competition is an issue for many podcasts. Some spaces are very crowded, and "I interviewed these business leaders and asked them the same questions everyone else did" isn't going to get you very far. You're competing against established brands with bigger audiences and much bigger budgets. That's a good way to lose.
Don't expect a cookie-cutter approach to bear fruit. Bring something interesting or don't bring anything at all. Interview shows can get stale if done badly. They take a fair bit of research to do well. Look at How I Built This for an example of a business podcast built on great research, storytelling and interviewing — Guy Raz takes the time to dig deep into each entrepreneur's story.
What do you bring to the table that other people don't? Great business podcasters know. And they capitalize on it.
To quote two well-known Seth Godinisms: be a purple cow — stand out. And find your tribe — the people that care what you have to say.
Should You Podcast?
Podcasting can be a powerful tool for your business, but you need to make sure you have the three elements of a good business podcast: story, access and audience.
If those are missing, don't bother. Your opportunity cost will be too high. There are plenty of other marketing opportunities you could spend your resources on for better ROI.
Want a hand creating those marketing opportunities? Know that you don't need to go it alone. We're in this with you. If you need a little help, just drop us a line, anytime.
Best Regards,
David Brandon
Copywriter
Rainmaker Digital Services