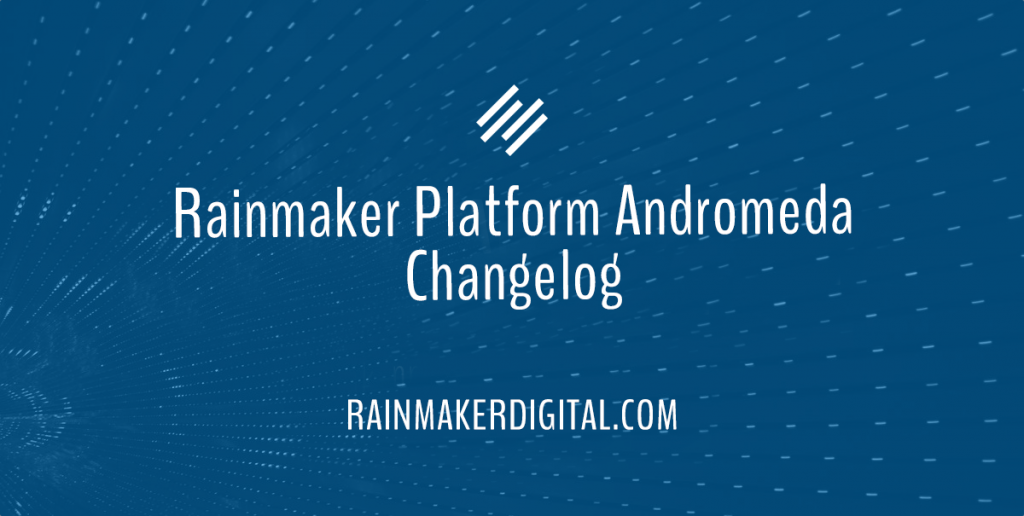 Version 3.3.6.6
Enhancements
Two Factor Authentication (2FA): Add tooltips and enhance UI for ease of use
User Portal: Add integration between Rainmaker Platform and the User Portal through Your Account
Version 3.3.6.5
Enhancements
LearnDash: Upgrade WooCommerce Add-on for retroactive user management
MemberPress: Add show password icon (eyeball) for clear text submission and alerts on failed attempts
Podcasts: New sort function on reports to filter and order by data point
Security: New 2FA Add-on to provide registrants with additional security
Fixes
GoToWebinar: Restore buttons on Settings > Content
Learndash: Fixes bug to allow "essay" questions to save
MemberPress: Fix to allow Custom Thank You messages
Ninja Forms: Fix conflict to allow forms to display if ConvertKit is enabled and RainMail disabled
Themes: Fix Essence Pro issue that prevented hiding the entry title via theme customizer
Themes: Fix Café Pro default font to support ™  and © symbols
Version 3.3.6.4
Enhancements
RainMail: Add CSV import functionality for Autoresponder lists
Themes: Enables feature that allows backstretch image to be updated on Metro Pro, The 411 Pro, Parallax Pro, and Sixteen Nine Pro
Fixes
Core: Enhance sending for site emails
Google Analytics: Remove UA integration
GoToWebinar: Fix add-on for GoToWebinar platform integration
MemberPress: Adjust editing transaction function to prevent sending of Welcome email on saving
Ninja Forms: Fix form display on archive pages
RainMail: Update Email Validation to use 3rd party validation service in Settings > Email
RainMail: Fix sending error in autoresponder sequences
Version 3.3.6.3
Enhancements
WooCommerce: Add connection for Authorize.net payment gateway
Fixes
Core: Correct CSS to allow Advanced Settings to open in theme customizer
RainMail: Preserve settings on Broadcast Content via blog category when the category has 0 posts
Themes: CSS for backstretch image on Rainmaker Pro
Version 3.3.6.2
Fixes
MemberPress: Change time management logic for MemberPress coupons from using UTC + 0 as the default to use site-defined time
Version 3.3.6.1
Enhancements
Podcasts: New option in Settings > Podcasts to select how many podcasts episodes to display on external feeds like Spotify and iTunes
Themes: Add checkbox option on Customizer to remove default front page widgets
Fixes
bbPress: Fix role assignment to allow site administrators to assign users to the Keymaster role
PopUp Maker: Revise code to allow front page scroll on Authority Pro themed sites that have PopUp Maker enabled on homepage
Version 3.3.6
Enhancements
Autoptimize: New code base for site protection, sanitization of critical CSS and features to manage individual pages for site speed optimization
Fixes
Platform Core: Fix issue when importing blog posts from an external RSS feed, preventing the creation of multiple copies of the posts imported
RainMail: Fix to enable 24 hour cache for dashboard widget
Themes: Café Pro fix to set up front-page header
WooCommerce: Optimization to improve performance on option validation
Version 3.3.5
Enhancements
Beaver Builder: Add Header Footer Add-On functionality for custom headers and footers built with Beaver Builder Pages
Ninja Forms: Enable "Public Link" functionality
Fixes
Themes:
Fix issue to prevent menu import on Trashed pages
Restore Site Identity feature on Authority Pro and Essence Pro
Fix demo content import on Authority Pro and Beautiful Pro to respect theme widgets
Restore Front Page background image on Altitude Pro
Add ability to remove theme default widgets on Rainmaker Pro, Agency Pro, Atmosphere Pro, Author Pro and Altitude Pro
WooCommerce: Fix registration to count inside the login count on admin user listing
Version 3.3.4.3
Fixes
Landing Pages: Fix issue preventing Ninja Forms from loading properly
MemberPress: Adjust preheader shortcode display on MemberPress emails that use RainMail templates
Platform Core: Remove ReCAPTCHA duplicate script imports
RainMail: Optimize data query to improve performance of site administrator functionality
Stripe Integration: Update compatibility for new Stripe accounts
Sumo: Update implementation to preserve the Sumo ID and prevent multiple account creation inside Sumo platform
Version 3.3.4.2
Fixes
RainMail: Tooltips for Preheader usage and recommendations
Site Notices: Restore Site Notices as a core plugin technology in platform
Version 3.3.4.1
Enhancements
RainMail: Add global preheader field to Settings
Fixes
RainMail: Fix to remove custom fields display on opt-in forms on landing pages
RainMail: Fix to prevent duplicate emails of blog posts when using automated broadcast feature
Version 3.3.4
Enhancements
RainMail:
New function to resend opt-in confirmation email to subscribers
New feature to allow administrator to view subscriber email broadcast status within an Autoresponder sequence
New administrator option to change subscriber status from pending to active
New feature to Add any RainMail custom field to a Ninja form in the Email Marketing option
New field to set an email preheader for broadcast emails
Fixes
Beaver Builder: Remove the query parameter ?fl_builder from URLs if the user does not have permissions to edit pages
Learndash: Fix code to prevent a fatal error when a course requirement is not met
MemberPress: Fix Drip Delay rules to respect site local time settings defined is Global Settings instead of MemberPress defined UTC
RainMail: Fix issue to broadcast post content as email based on categories
RainMail: Fix to prevent the creation of orphan subscribers after a list is deleted
Version 3.3.3.1
Fixes
Ninja Forms: Fix Legacy to Andromeda migration issue to preserve form integrity
Podcast: Enable use default image as the featured podcast image via new setting option
RainMail: Fix AR data to be persistent when saving
WooCommerce: Restore menu display on account
Version 3.3.3
Enhancements
Labs to Add-Ons: Approved Labs features published to the Add-Ons tab of Global > Features
Fixes
Education: Update Guided Overview Tour Link
Landing Pages: Fix Opt-In element "Add Checkout Form" to display MemberPress memberships on the checkout form
Podcast: Fix Featured Image display error to display podcast global image if no Featured Image is set
RainMail: Remove display of default Preheader text in Boxed Layout email template
RainMail: Edit title and button label for A/B Testing feature
Version 3.3.2.3
Enhancements
RainMail: New Header Image CSS to allow responsive sizing on mobile browsers for email that use the "Boxed Layout with Header" email template
Fixes
LearnDash: Remove script import for logged out users to reduce overhead and accelerate server response
RainMail: Adjust functionality to add senders that don't match website domain
RainMail: Fix test email sending functionality to reflect the selected sender, not site's default sender
Subscribe to Comments Reloaded: Adjust module settings to allow activation on post and page content types
Version 3.3.2.2
Enhancements
Knowledge Base: Updated tooltips and walkthroughs with Stonly technology to improve load time for the admin area and enhance tip content
Version 3.3.2.1
Enhancements
RainMail: Send Full Post and Read More link functions added for automated emails
Fixes
Archive: Add line breaks to formatting options for Intro content
Entry Content Addon: Improve list formatting
GA4: Adjust menu highlight display
MemberPress: Prevent site clones from sending failed transaction emails
RainMail: Remove list import size limit
Social Scheduler: Update Meta API to allow Pages to display
Version 3.3.2
Enhancements
Google Analytics 4: Platform native integration of Google Analytics 4 including:
Live Statistics (last 30 minutes)
Engagement statistics with detailed view
Enhanced geography map with detailed view
Performance statistics including page view, clicks, download, operating systems, browsers and resolutions
MemberPress: Custom Reporting application to display member activity based on time, transaction type and transaction status
Fixes
Podcast: Fix option to "Show All" in podcast series reports
RainMail: Fix Autoresponder to send to messages to a single email address that is signed up to multiple sequences
RainMail: Fix automated broadcast excerpt not displaying in email feeds from Block Editor posts
RainMail: Fix subscriber pagination navigation
Version 3.3.1.4
Fixes
LearnDash: Remove double slash from URL string with LearnDash course assets
RainMail: Adjust Autoresponder to prevent conflict of multiple simultaneous sequences to same users
Yoast Premium: Add features to Tools menu for premium clients
Version 3.3.1.3
Enhancements
Classic Editor: Update editor feature set to latest version
Genesis SEO: Enabled Genesis SEO on Landing Pages and Podcast Page when Yoast is disabled
Fixes
RainMail: Remove opt-in confirmation requirement after email address has been confirmed for first list
Rainmaker Quizzes: Calculating quiz results
Version 3.3.1.2
Fixes
General: Fixed demo links in theme library.
LearnDash: Fixed notifications not sending. Added a notifications log tab to monitor activity.
MemberPress: Fixed user credit card update failure. Users can now update their payment details.
WooCommerce: Fixed RainMail subscription feature on Free Product purchases.
Version 3.3.1.1
Fixes
BBPress: Fixed roles not working and inability of forum users to access protected forums
General: Fixed conflict between WP Mail SMTP and the platform not allowing email send
General: Fixed PHP fatal error for sites with expired Google Analytics connection
General: Removed duplicate reCaptcha Script import to improve site speed
LearnDash: Hid extra currency symbol for paid courses
LearnDash/MemberPress: Fixed add-on not automatically enrolling new users to courses
MemberPress: Fixed Formulas not giving complimentary memberships after actions
MemberPress: Detached Affiliates from MemberPress module
Podcasts: Fixed PHP warnings while opening Podcast Reports
Rainmaker LMS: Fixed PHP warnings while opening LMS reports while not having any Rainmaker LMS course set up.
Rainmaker LMS: Fixed LMS shortcode [lms_dashboard] that caused infinite load (Error 504) for sites with many Rainmaker LMS courses
RainMail: Fixed duplicate email send bug in Broadcast Emails
RainMail: Fixed multiple email send bug with Autoresponders
RainMail: Fixed Autoresponders showing as drafts on Broadcast Emails
Themes: Fixed CSS issue for theme going-green-pro
WooCommerce: Removed emails for first product
Version 3.3.1
Enhancements
WordPress: Updated WordPress core
Add-ons: Updated Beaver Builder
Add-ons: Updated Easy Testimonial
Add-ons: Updated Editorial Calendar
Add-ons: Updated Envira Gallery Lite
Add-ons: Updated LearnDash
Add-ons: Updated LearnDash Content Cloner
Add-ons: Updated LearnDash Zapier Integration
Add-ons: Updated MemberPress Developer Tool
Add-ons: Updated Ninja Forms
Add-ons: Updated PowerPack
Add-ons: Updated Schema – All-in-One Schema Rich Snippets
Add-ons: Updated Social Warfare
Add-ons: Updated Social Warfare Pro
Add-ons: Updated Subscribe to Comment
Add-ons: Updated WooCommerce
Add-ons: Updated WooPack
Add-ons: Updated Yoast
Add-ons: Updated Yoast Premium
Add-ons: Updated WPML
Add-ons: Scribe and Yoast Search Console removed; with new Yoast tools, easier to integrate all SEO into one interface
General: Bulk action speed improved; less server resources and time required
Fixes
Affiliates: Fixed affiliate notes not being editable when adding a new affiliate
bbPress: Fixed Forum settings in Design showing up when bbPress module is disabled
Easy Testimonials: Fixed layout issue in Testimonial Categories
Easy Testimonials: Fixed layout issue for Taxonomies
General: Fixed WPML issue that prevents landing pages from loading in maintenance mode
General: Fixed tooltip links to Knowledge Base articles
General: Fixed metadata not being replicated when posts were cloned
General: Fixed favicon not loading on admin pages
Genesis Palette Pro: Fixed issue where add-on would not display fullscreen
Genesis Palette Pro: Fixed issue where settings would not take effect
Genesis Palette Pro: Fixed CSS issue
Knowledge Base: Fixed CSS issue causing search box to show up in wrong place
LearnDash: Fixed UI issues where social media icons, transactions reports and registration prompts were showing up where they shouldn't have
LearnDash: Fixed infinite load issue for "Courses with Most Members" reporting widget
Media Library: Fixed grid view display bug in Media Library
MemberPress: Fixed issue where MemberPress registration shortcode was creating errors when used with a Custom Unauthorized Message
MemberPress: Fixed legacy product description shortcodes breaking podcast episode pages
MemberPress: Fixed issues with content import
MemberPress: Fixed issue where Publish button could freeze if field was not filled out properly
MemberPress: Fixed issue where Automated Formulas were not retaining the correct MemberPress membership data
MemberPress: Fixed issue where Beaver Builder was showing as an edit option for memberships
Ninja Forms: Fixed forms menu option appearing while module was not enabled
Ninja Forms: Fixed PHP error by adding new filter on forms reports, Display Columns control
Podcasts: Fixed podcast settings menu appearing while module was not enabled
Podcasts: Fixed podcast reports menu option appearing while module was not enabled
RainMail: Fixed process for deleting lists and segments
RainMail: Fixed process for adding subscribers to list manually
RainMail: Fixed UI issue after creating new Segment
RainMail: Fixed PHP errors when sending an A/B test
RainMail: Fixed issue where Broadcast Email drafts were not appearing on front end
Rich Snippets: Fixed missing images in Rich Snippets
Settings: Fixed issue where MailChimp authentication could not be removed
Settings: Fixed menu being disabled when saving in Design Settings
Subscribe to Comments: Fixed checkbox not loading
WooCommerce: Fixed shop page settings being editable in WooCommerce settings; it is now only available through Settings > Conversion
Zapier: Fixed issue where clicking "Reset Settings" in Zapier settings redirected to a 404 page