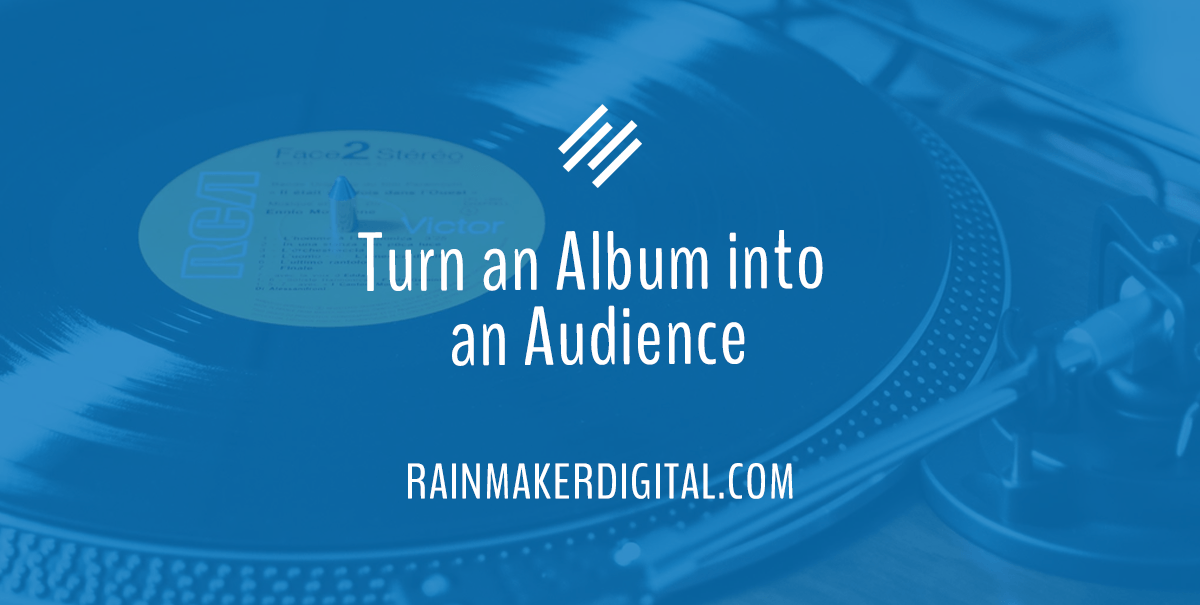 Content may be king, but your business podcast is the power behind the throne.
It's like when a band releases an album. All of a sudden there's a cornerstone piece of "content," creating material for tours, interviews, radio playback and more. Your business podcast can do the same — if you curate it properly.
Podcast curation is a powerful source of fresh, interesting content. You can boost your social media presence, open new doors for your business and create PR buzz.
If you have a podcast, you need to use it — don't waste the content opportunity it presents.
Cutting Through the Noise
A business podcast isn't JUST five to thirty minutes of meaningful industry streaming audio. It's a complete content asset that includes your branding, value proposition, broadcast audio and the written transcript. All of these elements present curation opportunities.
You curate content for your website and your social feeds already (and if you don't, you should). You don't have to just curate other people's content. You can do it with your own too. In fact, we recommend curating all the content assets you create, not just podcasts.
Content curation is one of the most critical parts of your digital presence. Anyone who interacts with the Internet now deals with information overload on a near-constant basis. Curation allows brands and users alike to stem the tidal wave and find things that are relevant for them. To distinguish yourself from the pack you have to offer your audience content that's relevant, important and timely. Your podcast can be a good source of all three.
Taking Your Show On the Road
When a band releases an album, they promote through a variety of avenues. Radio play, talk shows, release parties, tours… everything ties back to the album. Your podcast can connect a variety of different avenues in the same way. There are a number of ways you can use your podcast for curation.
Clips:
A podcast is easily divided up into pieces. To be truly effective, though, you can't just cut up audio and share chunks indiscriminately. You'll have a number of nuggets that stand out to you over the course of your show — interesting ideas, thoughts, pieces of news. These are all attention-getting pieces of content that can drive engagement in a short clip.
The most successful people act on opportunity before the tipping point of evidence. In retrospect, it will seem obvious because the writing was on the wall the whole time. @garyvee @Benzinga pic.twitter.com/dH39zcQXZ2

— Matt Higgins (@mhiggins) April 9, 2021
The example above is an excerpt from a much longer conversation. Notice it has all the people in the conversation on screen. It includes the branding of the company the interview is conducted by and the branding of each individual participant. There's a reason for this: most clips, even if the primary focus is the audio, will be shared as video.
Video lets you show your branding, engage people visually and display information that audio won't. Audio alone is fine for a podcast but not for social media. If you don't have the podcast recorded as a video, create an interesting visual to put behind the audio (for example, some sort of waveform visualization with company branding and the transcript).
Of course, it's easier to simply record the podcast on video. Many podcasts go this route, especially if all the participants are in the same room.
ProTip: Make sure your video has some sort of subtitling…85% of Facebook videos are watched without sound, and other platforms have significant "silent majorities" too.
Social Media
Podcast clips are fantastic for Instagram Reels, TikTok or even YouTube Shorts. No matter what platform you use to share content, clips and quotes are valuable for social media engagement. If you do an interview show, your guest is almost certainly going to share their appearance with all their social media followers. When you share the new episode on social media, add an interesting clip and tag your guest. You'll see your network expand as you dip into your guests' audiences.
Podcast clips also drive moment-by-moment conversations. For example, tweets with video have 10 times the engagement rate of tweets without video. People take the time to watch and reply. You can even reach into general interest conversations by using effective hashtagging on your clips.
It doesn't have to be a clip, either. A quote from your show or a teaser of an interesting conversation topic can be enough to spark a conversation.
The founder of the stock trading app @RobinhoodApp says the inspiration to build it came from a surprising place—the Occupy Wall Street movement. Listen to the story here—> https://t.co/sOSIlP6IYk

— Guy Raz (@guyraz) April 12, 2021
Take this example from Guy Raz. He doesn't just share the podcast, or even a clip without context. He grabs one of the most thought-provoking ideas from the show and puts it front and center. You can't help but engage if this is in your wheelhouse.
And as long as you're pulling text and ideas from your podcast, you should think about…
Blog
The minimum content you should have on your podcast page is the podcast, branding, and an episode transcript. Transcription services are cheap, and a transcript will not only help you stay ADA compliant, it'll give you some nice SEO juice.
The step beyond is using the podcast as the foundation for a blog article.
This is easier for some podcasts than others. If you're doing a very linear, topical show with only yourself or one guest, a blog is an easy one-to-one conversion. You already have the notes. Interviews are a little more difficult, but if there are big ideas that could be further explored in print, build a blog around your guest's best quotes.
Why stop with your own site, though? Dip your toes in the waters of…
Outreach
If a well-known industry professional dropped some pithy wisdom on your show, capitalize on it. Writers and publications are often looking for something to write about. Find a few likely candidates on sites like Forbes, Entrepreneur or other high-volume platforms that are widely read. Reach out to them with a pitch on the subject of your show. You might be surprised.
There's also the option of just publishing on these other platforms yourself. There's nothing saying you have to only write for your own blog. Forbes, Entrepreneur and other well-known publications will allow you to write for them if you go through their application process. There are other options that are easier, too. Medium is huge in this space. Medium also offers the added benefit that you can republish your own blog posts and set them as a canonical link to boost your SEO.
Any and all of these avenues will supercharge your content marketing.
Creating a Buzz
One piece of content — a single podcast episode — can be the backbone of an entire content curation effort.
And unlike an album, you're not releasing every year or two. You're publishing on a daily, weekly or monthly basis. If you put the work in, you'll never run out of great content to share. Consistent, quality content creates an audience.
Don't waste the potential of your business podcast. Use it. Power up your content marketing efforts and go from the proverbial dive bar basement to an arena. Want a hand? Know that you don't need to go it alone. We're in this with you. If you need a little help, just drop us a line, anytime.
Best Regards,
David Brandon
Copywriter
Rainmaker Digital Services