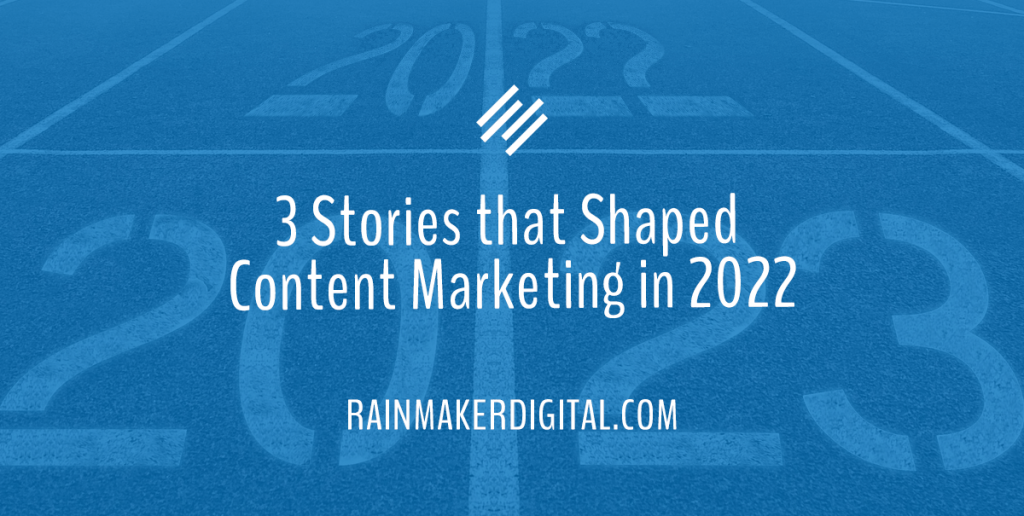 2022 has been an eventful year for content marketing.
From third-party data to TikTok competition, we've seen big changes industry-wide. There are three stories that dominated 2022, but their impact doesn't end there. Here are the trends that shaped this year — and how we expect them to carry over to 2023.
Third-Party Data Lost Its Shine
Apple, Meta and even Twitter got into the fray over third party data this year. Personalization has been a powerful tool in the digital marketer's arsenal for a while now; third-party data lets brands appear to know their customers. But third-party data is disappearing, mainly because of regulatory pressure. Marketers must now move to first-party data.
Europe's GDPR is the most significant piece of legislation related to online privacy, but countries around the world and even individual U.S. states enacted their own laws in 2022 to protect user data. Most of these laws make third-party data collection illegal without explicit awareness and approval from users.
Tech companies have been challenged to change their platforms and pivot away from third-party data collection to explicit user permissions. Google's response was Google Analytics 4, which collects less specific data than its predecessors. Third-party cookies are under fire from regulators, and that's forced browsers like Chrome and Firefox to stop collecting them. And of course Apple's App-Tracking Transparency (ATT) changes made it possible for users to see all the ways their apps were tracking them — and opt out.
Watch the reach of third-party data shrink even further as regulation continues to advance and the Internet evolves away from user-data advertising. First-party data will become more important in 2023. This evolution gives content marketing and permission-based marketing the opportunity to step back into the spotlight and re-establish the value of authentic audience engagement.
Short-Form Video Exploded
TikTok became the hottest (and most controversial) social media platform in 2022. While Meta is still the market leader, ByteDance's short-form video platform has become the most influential social technology in the market. TikTok had 1.2 billion monthly active users at the end of 2021 and is expected to grow to almost 1.8 billion monthly active users by the end of 2022.
TikTok puts entertainment over connections and engagement and uses algorithmic recommendations based on content watched to keep users on the platform. This powerful combination has created a massive, engaged following. Unlike almost every other social platform, TikTok users live on the "For You" page, not within their own follower lists. The content is very sticky, and competitors will continue to play catch-up in 2023.
Meta and YouTube have released their own versions of TikTok's technology with Reels and Shorts, respectively. These videos all share similar characteristics and fit the same format, so porting them between platforms is easy. And Instagram, Facebook and YouTube have committed to a greater revenue share than TikTok currently provides to creators. Keep an eye on these competitors in 2023; there's a lot of money riding on these companies' market positions, and the race between them is going to get tight.
In the short term, the greatest risk to TikTok in the U.S. isn't from competitors. It's political. Watch political reactions to security and xenophobic perceptions of the platform. Legislation to ban TikTok is already in committee.
Click-and-Mortar Is The Model
COVID-19 brought a massive boom in eCommerce; people were stuck at home, so much more shopping happened from the couch with a phone or tablet.
Some of these changes are here to stay. Across the board, COVID made brick-and-mortar businesses realize (finally) that it is no longer enough to just rely on foot traffic. Online scheduling, payments, inventory management and even staffing were no longer just for Amazon or eCommerce companies. Businesses made the move to a click-and-mortar model.
The efficiencies of the internet may have been for survival purposes to start, but they're an entrenched part of the economy now. Overall, numbers for eCommerce across the board are higher than they were in 2019.
COVID-19 wasn't the new normal — it just amplified and accelerated it. It's an evolution. There was an overreaction to the rocket ship ride of online pandemic spending; smart companies will walk the middle ground. Even with the recent market corrections in staffing and stock prices in the second half of 2022, businesses have finally concluded that eCommerce isn't an add-on. This evolution will only continue to reach further into enterprise, SMB and sole practitioner sectors of business in 2023.
Goodbye 2022, Hello 2023
The overall story of 2022 is the COVID hangover. Lockdowns came and went, leaving behind a landscape that's irrevocably changed. 2022 saw the tail end of the pandemic response for most of the world, then the struggle to figure out what changes were a product of restrictions and which were the new normal. Look for 2023 to stabilize these trends and further weed out some of the pandemic-specific changes we saw in 2022.
Thanks for reading the Rainmaker Dispatch this past year. We appreciate your readership. See you in 2023 — and if you have any questions, comments, concerns or other ideas, reach out. Just drop us a line, anytime.
Best Regards,
Ed Bardwell
President
Rainmaker Digital Services