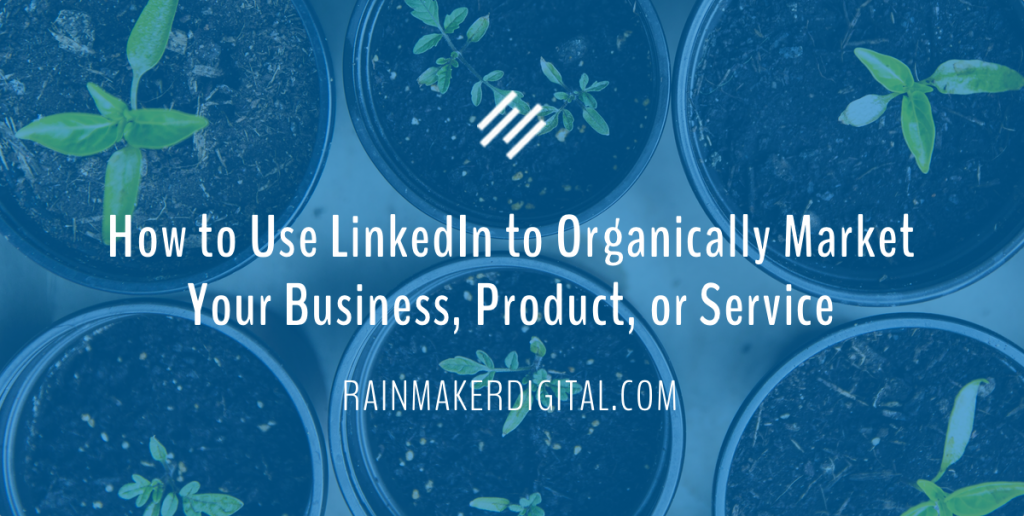 LinkedIn is likely the most powerful social media marketing platform for most business and marketing professionals.
As of July 2020, over half of the world's population is now using social media. Social media is no longer an option for digital marketers. This is especially true for LinkedIn.
The oldest of the major social media networks (founded in 2002, launched in 2003), with over 700 million users, LinkedIn has finally come of age and is on its way to realizing it's mission to "connect the world's professionals to make them more productive and successful."
In this article, we present how to use LinkedIn for marketing a business, service or product whether you're a full-time content / social media marketer or a business that recognizes that LinkedIn is a prospect rich network.
How can you use it — without spending money on LinkedIn ads — to grow your business? Let's take a look …
The Basics of LinkedIn Marketing
Though our focus is how to use LinkedIn for marketing, it is important to remember that successful marketing starts with a plan, a strategy, and a great foundation. The foundation for LinkedIn is the company page.
Anyone with an individual account can create a page for a company. Make sure your company page:
Is fully branded! Fill out EVERY field possible on the company page; include a logo (or representative graphic if you don't have a logo), an overview and all the company "demographics:" (URL, address, contact information, etc.)
Optimizes the "About Us": With the ability to use up to 2000 characters (including spaces), use this section to give visitors insight to who you are, what you do, and what is your brand's personality / voice.
Demonstrates expertise: Request reviews / endorsements from staff, clients, and vendors. Show visitors that your company is the option they're looking to find.
Asks for action: LinkedIn company pages include a Follow button by default. It can also include a second button call-to-action – Select from Visit website, Contact us, Learn more, Sign up, or Register. Use one of these to give users a reason to engage.
The company page may be a user's first impression of the business. Make it professional and compelling. Like all other forms of digital marketing, don't build it and forget it.
Update your page regularly and keep it consistent with your other social and marketing efforts. For more ideas, LinkedIn has a best practices guide that will give you more insights on the basics of building a company page.
Connect to Create "Economic Opportunity"
LinkedIn's vision statement is to create economic opportunity for all members. This vision has led to the creation of tools that fuel a company's ability to use LinkedIn as a B2B marketing tool.
As with all digital marketing campaigns, success starts with planning to identify goals (expressed as KPI's), audience, and content.
Setting Your Business Goals
One of the biggest misnomers with any social media, and LinkedIn in particular, is that the network will replace your sales efforts. It doesn't.
Even when you put money in the form of advertising behind the effort, LinkedIn recommends companies pursue brand awareness, web traffic, content engagement, job applications, and lead generation as the primary campaign goals. Successful marketing requires that you build a strategy around a goal and then plan tasks and tactics to reach that goal.
In addition to improving planning, setting a goal is a great way to evaluate performance and set expectations. Social media is a form of content marketing, and like all content marketing, analyzing performance against goals and adjusting efforts to yield better results against those goals is a key to sustainable success.
Target Who You Want to Contact
In addition to getting people to connect with you as an individual and follow you as a company, one of the great strengths of LinkedIn is in building a targeted audience.
Take the time to research individuals, professional organizations, customers, prospects, and industry interest groups to engage. Invite this audience to like company posts, share content, follow the page and approve membership in various groups.
LinkedIn's algorithm ranks posts based on the following signals: personal connections, interest relevance, and engagement probability. In other words, LinkedIn will show people content that will interest and engage them, based on accounts they connect with. Building your target audience helps you establish relevance and increases the possibility of your content being seen.
Your employees are a powerful tool to help grow your audience. Let employees know when you publish content on the company page and encourage them to be advocates, they can jumpstart engagement on the post and boost its visibility.
In addition to asking people to engage and leveraging your internal staff network, remember that LinkedIn was designed as a true networking tool.
Join LinkedIn groups and actively communicate with others in your industry to grow your company's profile. Joining groups that are relevant to your industry is an effective way to stay on top of industry trends, demonstrate your authority, and establish your company as an influencer. Along with building audience, group participation is a great way to keep tabs on your competition.
A point of distinction with LinkedIn; your LinkedIn marketing is built on your presence on LinkedIn, not just your profile. Soliciting followers, engaging in groups, and publishing content is paramount.
Your Content Matters!
LinkedIn marketing success comes down to creating, producing, and executing on a content strategy.
LinkedIn recommends a 3-2-1 model of 3 industry related articles, two "proud" articles and one promotion per week. HootSuite suggests an 80/20 or 70/30 ratio of relevant content to promotion.
Rainmaker Digital Services has found that a more comprehensive approach, based on PII™ will provide both the flexibility and relevance needed to truly build a content-based relationship via LinkedIn. Regardless of the content framework you choose to follow, pick one and use it. The framework itself is the first content step.
According to eMarketer, 72% of US business professionals think LinkedIn is the most effective platform to exchange professional ideas and interests, and 77% consider it to be the social platform where they expect to see professional content.
To meet these expectations and satisfy your audience you must develop an editorial calendar with regularly scheduled posts to your company page. We recommend an editorial calendar that includes:
A variety of content that demonstrates your role in the industry with industry trends, how-to guidance, and thought leadership.
Client success and case studies. You don't need to share any trade secrets or client-specific data, but client successes are a great way to show that "we can do this for you too …"
Audience solicitations. Surveys, open-ended questions and "would-you-rather" posts can provide both insight on your audience and an easy way to create user-generated-content that will expand reach.
In addition to producing, publishing, and publicizing this scheduled content, include time in your LinkedIn marketing campaign to comment on industry-relevant posts, share your company's opinions in group discussions, and publishing ad hoc / situational posts. Never forget that in today's digital world, we're all in the media game. Sharing industry news before the competition is a great way to demonstrate leadership.
A final content opportunity on LinkedIn is through paid exposure. Their advertising platform offers a variety of tools including sponsored posts, paid email and various digital ad elements. Most of these can be mirrored with your own organic posts but paid exposure will extend reach beyond your established network. Paid advertising can reduce the time it takes to build awareness / audience but requires additional budget, the same content discipline and a focus on program execution.
One More Thing …
Successful LinkedIn marketing requires many of the same skills and activities as other forms of content marketing.
A unique advantage of a LinkedIn marketing effort is you can invite people to follow you on LinkedIn and share your content on LinkedIn without being perceived as "hard selling." LinkedIn is a great engagement and top-of-the-funnel destination, and represents a real opportunity.
If the idea of executing on an LinkedIn marketing strategy seems overwhelming, know that you don't need to go it alone. We're in this with you. If you need a little help, just drop us a line, anytime.
Best Regards,
Ed Bardwell
President
Rainmaker Digital Services