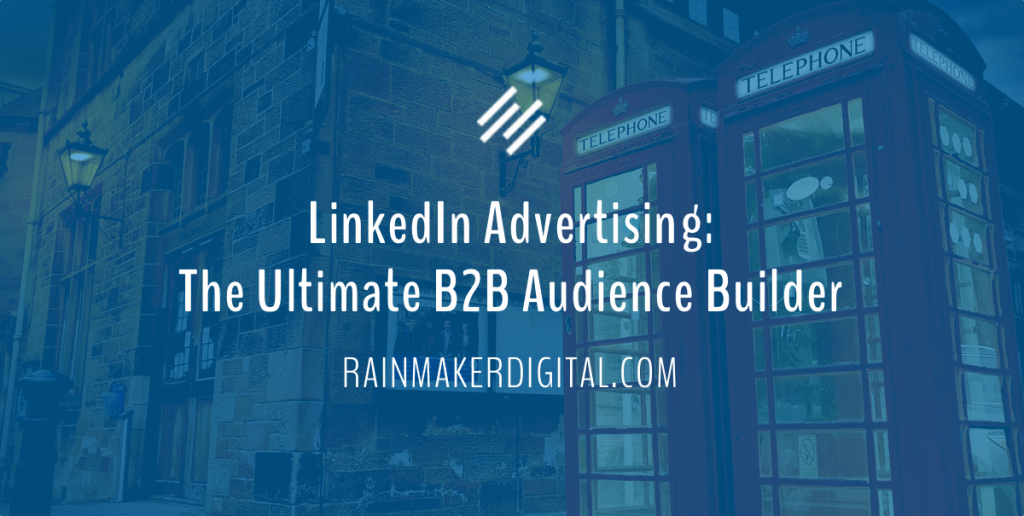 Are you considering launching a paid B2B digital advertising campaign for your product, service, or business? If so, you'd be hard-pressed to beat the opportunity that currently exists on LinkedIn.
As the shift online has accelerated since January 2020, LinkedIn has seen 26% growth (up to 690 million members) in just the first six months of 2020.
More importantly, user sessions on LinkedIn are growing 4% faster than membership growth at 26% year to date. This means that more users are using LinkedIn more often. Most importantly, revenue is up 21% for the quarter even while other digital properties are seeing declines during the same period.
More people are using LinkedIn more often than ever before. This trend has B2B marketers thinking about augmenting their content strategy with paid advertising on LinkedIn.
Before you jump into LinkedIn advertising for your company or a client, a few cautions:
LinkedIn is more expensive (in terms of cost per impression, click, or lead) and requires a larger budget. LinkedIn recommends "testing with at least $100/day or $5,000 total (generally in a month)" to generate the frequency needed for success. LinkedIn does have minimums too; you have to have at least $10/day budget and their minimum CPC/CPM is $2.00.
Though LinkedIn is full of senior and c-suite prospects, brands need to know their business to determine if the audience has leads. Categories, especially B2C, need to do research and test extensively before investing heavily in LinkedIn.
LinkedIn's audience responds best to actual content and engagement. Referral traffic can be a big part of a LinkedIn campaign. Gimmicks like "Follow and Win" or "Share to Save" which work on Instagram and Facebook seem to be less successful on LinkedIn.
This article will provide an overview on setting up your LinkedIn advertising. We'll follow the current LinkedIn ad process to review:
LinkedIn advertising targeting options
LinkedIn ad types and formats
LinkedIn advertising best practices
Getting Started on LinkedIn
To get started, the first thing you have to do is create a Campaign Manager account. Even if you're not ready to build an ad, set up your account today. You will need a LinkedIn account to create the Campaign Manager.
Our media team recommends that every agency setup their own Campaign Manager and then create separate accounts for each separate company. Similarly, though not mandatory, it is also highly recommended that there be a company page for each campaign. If a Company Page doesn't exist, create one.
In addition to providing another content opportunity, a Company Page can be a great second conversion opportunity for the campaign (at no additional cost.)
LinkedIn Targeting
Effective LinkedIn advertising starts with selecting your objective. Objectives range from Awareness campaigns to specific goals like leads and job applicants.
From the current LinkedIn interface (2020), you can select from: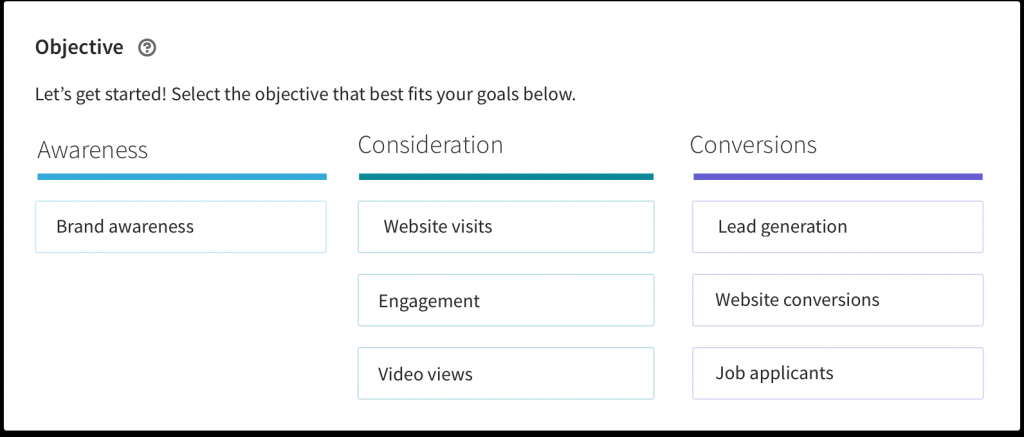 This is a great way to start thinking strategically about this investment, especially as you look to create an audience that will see the ad. Audience definition is the best predictor of a campaign's potential. Miss your targeting, and neither great creative or a huge budget can save the campaign.
You should seek to define an audience that can effectively spend your budget while generating high enough frequency (at least 2–3 exposures to the ad per week). We recommend that you try to find at least 1 million LinkedIn members for your target audience.
Criteria for audience definition include:
Language
Location
Audience attributes: This includes company, job experience, job title, education, and member groups and interests. Interests can be a great way to show ads to self-identified prospects
Exclude: You can use the exclude feature to filter out subsets of ANY audience attribute. In a business environment, we find the need to exclude some industries and titles even with a narrowly defined audience
You can save the audiences you create and then test variations of the target audience to find which audience delivers the best results.
Ad Types and Formats
Speaking of testing, LinkedIn makes it very easy to duplicate audiences and ads. This allows for true A/B tests that can quickly provide insight.
One challenge is that you can NOT change the ad type or format within a campaign. Once you select a type of ad you are then limited by the available ad formats. You can iterate as many versions of that format as you want but you can't change the type of ad or use more than one format in a campaign.
LinkedIn offers four different kinds of ads:
Sponsored Content
Message Ads
Dynamic Ads
Text Ads
Each type of ad has several available formats. The most common ad format is a Single Image ad. Just as the name implies, these ads are driven with a strong graphic, 600 characters of introductory text, a destination URL, 200 characters for the headline, and 300 characters of description.
You can select a CTA button with one of 10 predefined options (Learn More, Download, and Subscribe are the ones we use most often. ) ProTip: Keep introductory text to under 150 characters and titles under 70 characters so neither gets truncated on the viewing device.
While Single Image is the most common, there are several other interesting ad formats: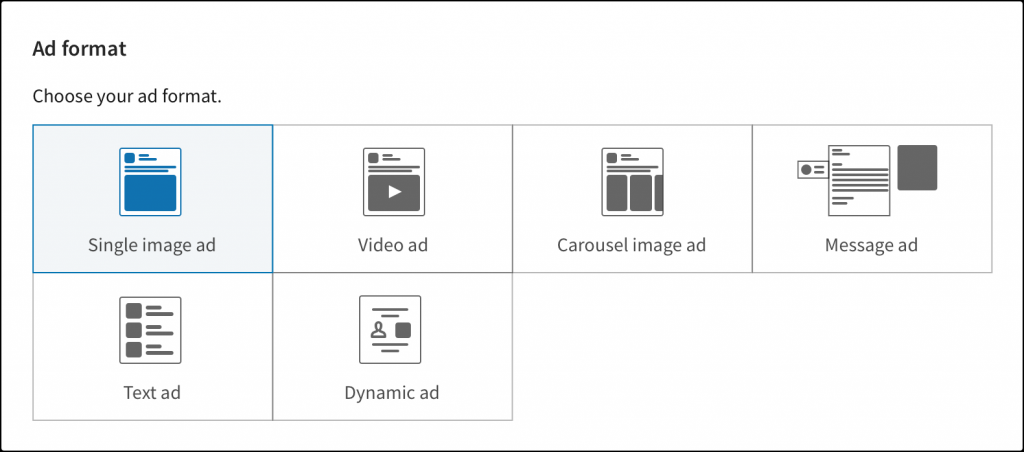 Video Ads: According to LinkedIn, video ads have the highest ROI for brand awareness campaigns. Like a traditional TV ad, these ads should present "the ask" in the first 10 seconds. Best practice for brand videos is a 30-second duration, though demand generation ads can run longer. Videos can run between 3 seconds and 30 minutes.
Carousel Ads: This ad format has the strongest storytelling ability of any of the text ads. With the option to include up to 10 images, you can drive multiple CTAs and URL destinations. Carousel ads require content planning but when well executed, the ad can tell an interactive story that can demonstrate your thought leadership, share your brand story or tout client successes.
Message Ads: One of the most interesting ad formats is the message ad. These are personal ads that look like personal messages to the target. They can have one CTA (Message Ad format) or multiple CTA (Conversation Ad format.)
Text Ads: Unlike the other ad formats, text ads are shown in the right column of the LinkedIn desktop experience. Similar to search ads, these ads have specific character counts — 25 characters for the headline, 75-character descriptions that have to be managed. One powerful feature is a 50 x 50 pixel thumbnail that can help draw attention to the ad.
Dynamic Ads: As the name implies, Dynamic ads present another personalized option by pulling in a user's name and profile photo into the ad. Like Text Ads, these show up on the right side of the screen. These ads include a 100 X 100 pixel image, 25-character name, 70-character description and a 50-character headline. These ads do give advertisers the option to include a CTA button.
LinkedIn has developed a broad suite of advertising options to fit the content and business needs of the advertisers. The campaign structure lets you efficiently test different types of bids, audiences, ads and formats to optimize your results. There is something here to meet every need.
LinkedIn Advertising Best Practices
In addition to what's been mentioned, here are several recommendations to help ads deliver against their KPI objective.
First, with the highly targeted audience and the robust content possibilities, take time to seriously focus on the customer journey before you start the campaign. The reason is that various ad types work at different parts of the user funnel / sales funnel. For example, if the audience isn't familiar with the brand or the offering, start your advertising campaign with an awareness effort. Once you have some awareness, shift to demand generation or conversion.
Second, even with a conscious effort to align an ad to the stage of the user journey, it is a best practice to layer your LinkedIn advertising efforts with multiple campaigns and ads that manage users through multiple steps in the user journey. Best of all, modify your target audience slightly for the various stages along the user journey and include additional parameters (more titles, interests, etc.) to only target your best prospects. A combination we like is a brand awareness ad (perhaps publicizing a recent blog post) as a Single Image Ad with a Conversation ad that points at a landing page.
Lastly, this wouldn't be a digital marketing blog without at least one reference to content. Advertising content is content. Within your LinkedIn advertising effort, create a mix of content. We use PII™ (which stands for promotion, information and inspiration) as a content framework to make sure users are seeing a variety of content on LinkedIn that gives them context beyond a single ad expression. Brands are more than a "deal" and it is important that your content demonstrates that variety.
One More Thing …
Regardless of the platform or the purpose, never forget that advertising is an investment. As you would with any other investment, always analyze the results against your goals, test your finding, and see if you can improve the ROI.
If the idea of executing on a LinkedIn advertising strategy seems overwhelming, know that you don't need to go it alone. We're in this with you. If you need a little help, just drop us a line, anytime.
Best Regards,
Ed Bardwell
President
Rainmaker Digital Services