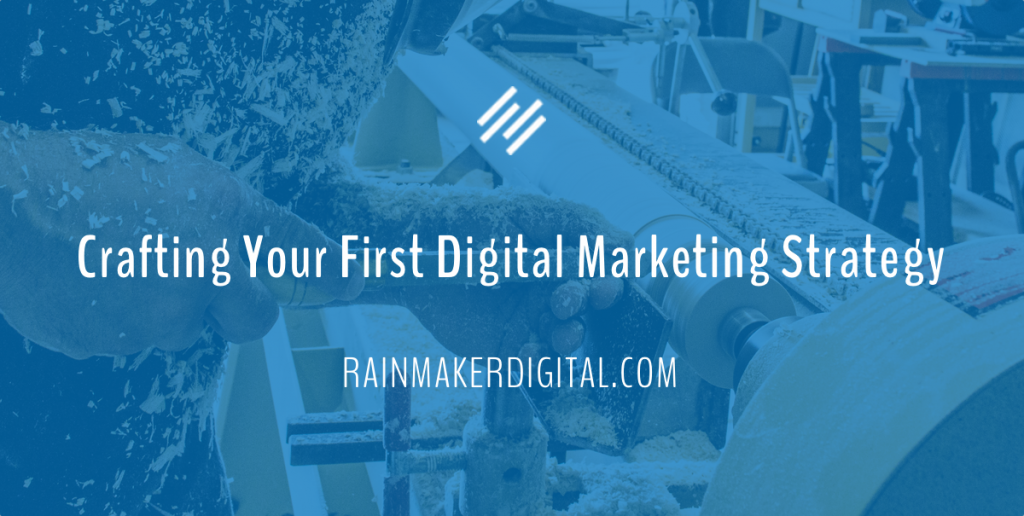 Ben Franklin is credited with one of the great digital marketing axioms, "If you fail to plan, you are planning to fail!" Digital marketing is hard work and planning is critical.
Like all marketing, it requires discipline, sacrifice (you can't be everything to everyone), and a commitment to a plan. Without a plan, even the most innovative tactics and clever creative won't yield the business results you expect.
Often called a Digital Marketing Strategy, a digital plan provides the roadmap and the key performance metrics (KPI) in a format that both the client and the practitioner can understand.
Like traditional strategy models of the advertising agencies of yesterday, many digital agencies have their own branded version of their strategy process/document. Once you cut through the spin, you'll find that most plans include guidance on:
Content Strategy
Digital Assets (that deliver the content strategy)
Outreach and Audience Development
Now, let's look at each of these component parts individually …
Content Strategy
The content strategy details the messaging for your digital campaign, where the content will be published and who will be the audience. the Keeping in mind that every online company is a now media company (like it or not), here are a few top tips from our marketing strategists:
A content strategy should focus on no more than FIVE topic areas.
Curation is the key to publication. Curation is the concept that you create content once and modify it to work in multiple channels. This preserves consistency and helps make sure that your audience finds the content regardless of the channel they use.
Use your content to own the engagement. Your website, your blog and your email should be central to your plan. Unlike all other digital channels, you can own and control these three. The type(s) of content (media) should also be considered in your strategy.
You can't please everyone. Defining a target audience is as much about defining who you don't want to serve as who you do.
The overall strategy will act as a framework for your blog editorial calendar, your email schedule and social media approach. All communications should include PII™ — elements of promotion, information, and inspiration.
Digital Assets
Even though I strongly disagree with the debate about not needing a website in order to build a successful business, the fact there is even a debate is the perfect illustration of why you need to include a review of the digital assets in your content strategy.
Going through the effort to define the assets you need will minimize the tendency to either overbuild your presence or invest in an asset that doesn't have the potential to provide a return. Here are a few questions we always ask clients that we suggest you ask yourself:
What is the primary conversion tool on your website? Are you trying to make a one-time or repeat sale? Do you expect people to request contact through a contact form, a click to a chatbot or make a phone call? Understanding conversion will help you determine what types of content, popups, landing pages and sales funnels you might need in order to activate conversion.
Where does your audience congregate? While this quickly leads to a discussion about social media, there are many audiences — especially in B2B — that interact in forums and vertical community sites. For instance, there is no sense in building a Facebook page for your company if your audience networks through a Slack channel.
Social media is a particularly important digital asset consideration, particularly if you plan to use social media for either customer service or reviews. A quick path to failure is publishing content to a social channel that you're not going to actively manage.
Select the right social media channels (I recommend no more than 2) for your brand and your audience and fully commit to leveraging these assets. Of course, I would secure accounts on all the major social channels but only use those channels to drive the audience back to your website or primary social media.
Audience Outreach
One of the great advancements in marketing is that outreach is no longer simply a function of the size of your budget. A Digital Marketing Strategy will provide a roadmap for building "the brand" of the business.
Don't fall into the trap of thinking of outreach only in the form of advertising or list acquisition. Some of our most successful outreach strategies include:
Guest Publication: Blogs, podcasts, vlogs or even traditional media, allow brands to borrow authority (and share it too) by contributing content to other sites. While digital marketers look at the SEO value of this technique, it is a tried-and-true public relations activity to create audience.
Vertical Sponsorship: An often-overlooked form of advertising, investing in a key audience vertical is a great way to show that audience that you're serious about building a relationship with that market. Insider tip: email newsletter sponsorship often includes access to the audience list and the opportunity to send targeted content.
Social Media Engagement: Too many brands still look at social media as a publication channel. It's not. It's a two-way street where you can engage with your audience, develop authenticity and participate in the discussion. Through social media engagement, you can identify and interact with prospects without them being defensive that you're just trying to sell them. For B2B brands, regularly commenting on posts in LinkedIn groups is a powerful way to demonstrate your authority and authenticity on a specific topic.
Further Reading on Digital Marketing Strategy
If you'd like to dive even deeper into this incredible topic, we've got more for you! Check out these great articles that can help you — or help you help others — gain a better understanding of Digital Marketing Strategy:
Coming Soon: Why the Structure of Your Website is Critically Important
Coming Soon: A Blogging Strategy for Everyone Else
Coming Soon: The Foolproof Email Newsletter Strategy
Coming Soon: A Simple Social Media Strategy that Actually Works
Coming Soon: The Landing Pages You Need to Write, Right Now
Coming Soon: The Absolute Best Way to Drive Traffic to Your Site in 2024
One last thing …
A Digital Marketing Strategy is a plan and you must have a plan to generate reproducible success. At the same time, evaluate your progress and adjust your plan as you grow.
Like Mike Tyson said, "Everybody has a plan until they get punched in the mouth." The market will punch you in the mouth. Allow your plan to evolve as both market conditions and internal challenges change.
If the idea of building and executing a digital marketing strategy seems overwhelming, know that you don't need to go it alone. We're in this with you. If you need a little help, just drop us a line, anytime.
Best Regards,
Ed Bardwell
President
Rainmaker Digital Services
Download Your Copy of
Digital Marketing for Everyone Else
Our free eBook delivers the critical fundamentals of digital marketing that you actually need to know, without the hassle and waste of researching the Internet on your own.