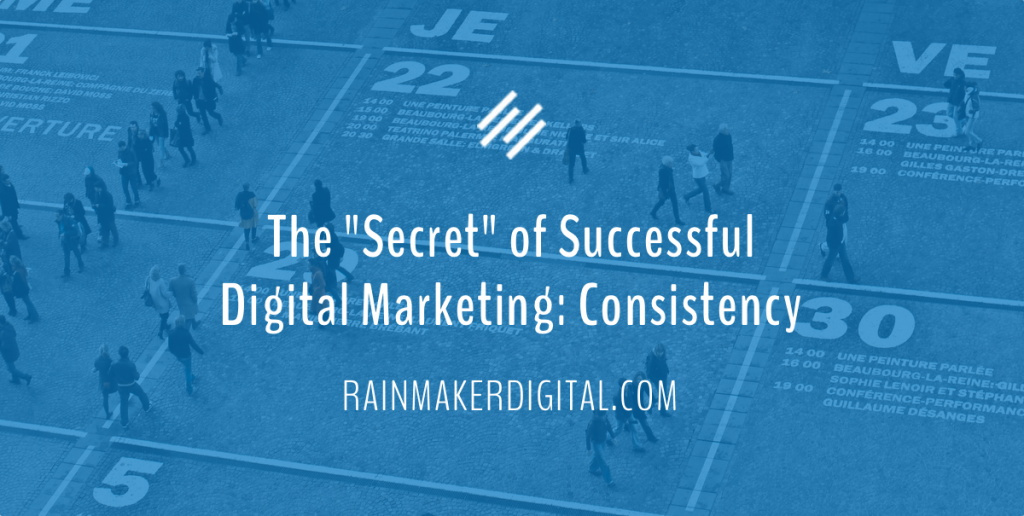 There are over 2,900,000,000 (yes, BILLION) search results on Google for the term "Key to Success." Every executive coach, trainer, and person we "name" a success has their own list of the top keys to success. I hate those lists.
Though I deeply respect the original work of writers like Covey, Hill, and Carnegie, most authors simply reword the work of those that have come before them. You can find this same behavior in every discipline. Sports, arts, business, and in digital marketing.
When I'm talking with a group of students or a podcaster asks me for tips for success, I always come back to one vanilla, unimpressive, boring tip … be consistent. If you chunk up the 2.9 billion lists of keys to success, you find words like "habit," "discipline," "routine," "hard work," and "persistence." As masochistic as it may sound, those are the keys to success.
Even if you lack great talent or lady luck, a commitment to consistency and the behaviors required to be consistent will yield results in any field. If you combine luck or talent with a commitment to consistency, you will generate success.
If you're like me, you'll find this article helpful. Too many experts imply that digital marketing success is easy if you use their technology, get their certification, or follow their system. It's not. Its hard work and consistent effort is the only real key to success.
Define Your Own Success
One of the biggest reasons digital marketers (and marketers in general) fail to succceed is that we don't define success. If you've been following this article series, you've learned the importance of planning. As basic as it may sound, you have to clearly understand the client's marketing goal to create a campaign that can achieve that goal.
It is easy to say that the goal of digital marketing is always "make money" but is it? Always? One of the hardest parts of my job is helping clients determine "success." Some goals are emotionally driven — more social media followers than a competitor or ranking #1 on Google and they may not directly (or even indirectly) generate increased revenue.
Some goals are quantitative — a percent increase on the email list, a number of white paper/ebook/app downloads, or even just more website traffic.
Nothing is more deflating than working on a campaign with the passion and commitment that is needed to achieve an explicitly stated outcome only to have the client say "that's great but …"
Achieving success requires defining success.
Regardless of the definition, the path to success requires marketing consistency. Each social post, blog post, line of code, video, podcast, or email needs to be another logical step towards a goal.
Like the marketing expert Kris Kringle told the Winter Warlock, success comes from putting one foot in front of the other. Even with the most complex digital plans, you should be able to map how each element fits together to help you reach your goal.
Consistency in Social Media
Social media's impact on culture has led to significant research into consistency. Though channel, audience, and definition of success will impact your campaign, we recommend that you post at least once per day if your primary channel is LinkedIn, Facebook, or Instagram. For short timeframe channels like TikTok, Snapchat, and Twitter, at least three posts per day will provide you a consistent presence with your audience.
Though this amount of content may seem overwhelming, a commitment to consistency in social can be achieved if you re-use (curate) content. And, there are great tools to help you deliver on your commitment to engage with your audience.
As we've discussed in the past, social media marketing requires building an authentic relationship and engaging directly with your community. Consistent effort is a great way to show your audience that you want and deserve their attention to your messaging.
Best of all, social media provides an immediate feedback loop that will help guide your step by step progress towards success.
Consistency in Email Marketing
Email marketing is one of the most debated to topics in digital marketing. It has led to anti-SPAM laws, a belief that "one more email won't hurt" and still the highest ROI (and ROE) of any digital tactic.
Email consistency should not be misconstrued as email frequency. In terms of email, think of consistency as "keep on, keeping on". Frequency should be a PLANNING consideration and address questions like:
How often does the recipient use your product / service?
How often does the your product / service change?
How often does information change in your category?
These questions and their answers will define how frequently you should be sending email. For consumer products, weekly email will often meet marketing and audience expectations. For business products and services, you may find that a monthly email send is more than sufficient to meet client expectations.
You must have that stubborn commitment to consistency to achieve success with email. It can be hard to identify content to send and some business leaders may want to just resend the same message from the last broadcast but skipping an email or resending won't drive success.
Email success requires a dedication to the discipline of identifying and broadcasting relevant content that fits your content framework, meets recipient expectations, and exceeds performance goals.
A Commitment to Consistency — Your Website
Consistent communications on your website can be hard to define though the opposite is very easy to see. One of the tools that our sales team uses to persuade a prospect to meet with us is finding outdated information on their website.
At a minimum, finding old content on a website can lead to a good conversation on the purpose of the website and the prospect's definition of website success.
There are parts of your website that may not change for weeks or months. If something is working as designed, don't change it. At the same time, if you're using your website and online presence to establish your authority, you must commit to creating new content that reinforces that presence. Regardless of your goals (or definition of success), website consistency should include:
A blog, podcast, and/or vlog: This is the best tool to encourage search rankings and gives you the best opportunity to prove your authority. Regardless of your definition of success, consistent website content publication will play a key role. For most digital marketing plans, we recommend a minimum of one article update per week covering a range of topics.
Monthly, review of your lead generation and sales funnels: Update the CTAs to avoid fatigue and give your audience a reason to come back to the site.
An annual website review: This investment will help make sure you don't have broken links or content that is no longer relevant.
A website is not static and your content shouldn't be either. A commitment to consistent website updates will help you pursue your digital marketing goals regardless of what those goals might be.
Embrace and Celebrate Consistency!
If you're like me, focusing on consistency can seem futile at times. I see others having success without hard work and the dedication to consistency that I have. Luck happens.
I encourage you to celebrate their good fortune and remember the only true "key to success" is consistency.
There is no better illustration of this mindset than Winston Churchill's quote, "Success is walking from failure to failure with no loss of enthusiasm." Enjoy the challenge of consistent effort and you will find success in your campaigns, company, and career.
If the idea of creating and publishing content on a consistent basis seems overwhelming, know that you're not alone. We're in this with you. If you need a little help, just drop us a line, anytime.
Best Regards,
Ed Bardwell
President
Rainmaker Digital Services