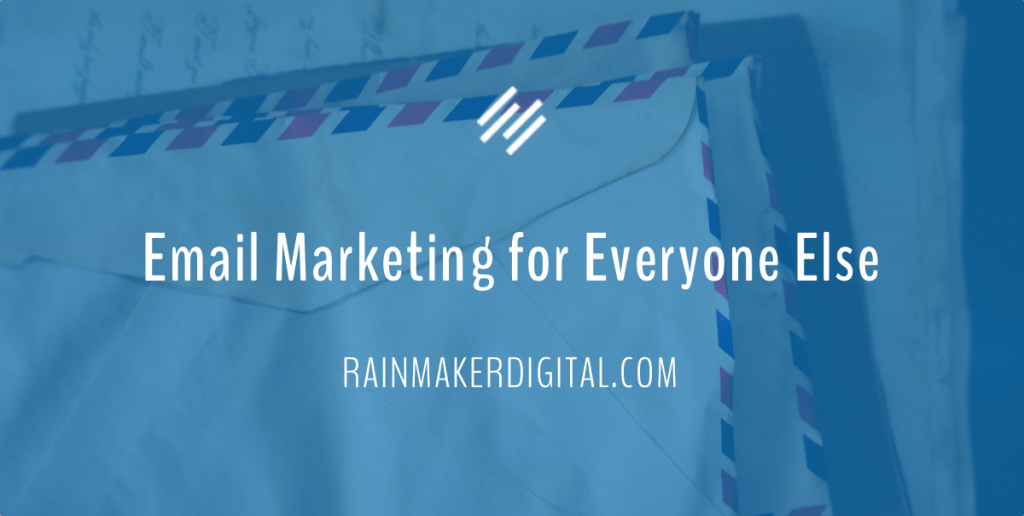 We've all seen expert quotes like this one from Inc.: "Email marketing has been described as the highest-ROI online marketing strategy, when implemented properly, with 67 percent of businesses listing it as their highest earner."
This article is not a discussion of whether or not email marketing is THE BEST digital marketing tool, what are the best email platforms, or if there is value in enhancements like personalization, dynamic substitution or device-specific content augmentation (though there is a lot of great data to consider on all these tactics) … the purpose of this article is to establish that email marketing is important for every marketer and there is a methodology that will be beneficial for every brand. Amazingly, we still have to convince marketers to include a simple checkbox on online forms and request permission to send their customers an email.
Earlier this week, we had a client contact their account executive and tell him that they needed to reduce their monthly services agreement. This client is in manufacturing and it may be some time before they can get raw materials from China or produce products for their clients. They had a "change in staff" and a sales manager was now tasked with reducing their marketing expenses. I spoke with that manager and he basically said, "we need advertising to drive traffic to the website and lead generation so we can continue to develop sales, but to cut costs, we'd like to suspend our email marketing."
Beyond the reality that email marketing is one of the least expensive and most efficient parts of their services engagement, this thinking reflects one of the of the biggest challenges that all digital marketers face — a fundamental lack of understanding about what email marketing provides brands. Email connects and bonds a brand to a prospect and that bond directly translates to sales.
There are many types of email marketing. All of them start with the prospect OFFERING the brand their email address. If the user doesn't give you permission to email them, you are sending SPAM. Keep that in mind. While most jurisdictions allow you to buy a list and send up to three emails to that list, that is not email marketing. Email marketing only starts when the user offers the brand their email address.
Most commonly, an email relationship starts with the "trading" of the email address for some type of "free" content or premium access. From there, there are many ways to use that email permission. Each has its strengths and knowing when to use the various techniques is what defines the email marketing professional.
Hint: Email marketing is about relationships. Just as you have different types of relationships with your parents, your partners and your kids, and you would not use the same language with each, you need to use the appropriate content and message type for your audience. You need to be familiar with:
Automated / Sequence Marketing: As the name implies, this is a series of emails sent either on a time or action basis with the goal of moving someone through a sales funnel.
Strengths: The sequence can be built once and used many times without significant ongoing effort. A programmed sequence can help marketers define where / when / why / how a campaign performs.
Weaknesses: Sequences can become overly complex without reason and can allow "technology" to take priority over strategy and content.
Promotional / Product Marketing: Generally driven by business conditions and following an editorial calendar, these emails incentivize recipients to take specific actions through contests, giveaways, product discounts or special access.
Strengths: Aligns email marketing with broader business needs and develops a Pavlovian response for users to open the email for instant gratification.
Weaknesses: Promotional email limits the relationship with the user to the sale. With all of the various feedback loops (like social media), a promotional email relationship is often only as good as its last offer.
Newsletter Marketing: These relationship building emails are sent on a regular schedule to recipients that want to associate with the brand. Often labeled as a "Club," "eNews," or "Courseware", these emails include content that feeds the recipient's interests and validates their decision to share their email.
Strengths: Provides brands the broadest framework to interact with recipients. This framework establishes an authentic relationship that drives business success.
Weaknesses: Newsletters require significant investment in content and a commitment to the process. As with other forms of content marketing, discipline is vital for long-term success and ROI is less "immediate" than promotional or automated messaging.
Many people will argue that email platform selection is key to starting an email marketing program. They are wrong. You can change platforms, add technology and even rebrand your email as you grow. The most important decisions you need to make when starting an email marketing strategy are:
Who is your target audience?
How will you gather your audience?
What do you want to share with your audience?
Basic marketing stuff, huh? That's the message here. Too often, people become paralyzed with email because of "the technology" or the super cool logic that they want to build into their program. Forget all of that. Start with offering users something of value in exchange for their email, give them that value and grow your program as your list grows.
You can add personalization, frequency, monetization through sponsorships, guest columnists, and a myriad of other tactics to enhance the user experience and improve ROI. Like any other relationship, let it grow naturally and it will yield results that meet both user and brand expectations.
Remember the sales manager that wanted to cut costs? After talking him through some of these basics and reviewing their current digital strategy, we trimmed the search marketing investment and actually doubled down on email by adding a vertical newsletter to their primary target industry.
Further Reading on Email Marketing
If you'd like to dive even deeper into this incredible topic, we've got more for you! Check out these great articles that can help you — or help you help others — gain a better understanding of email marketing:
One last thing …
Email succeeds because of the relationship it creates between the recipient and the brand. Like any relationship, it is hard work. Don't let the latest tech or trend fool you into thinking that it can replace your commitment to earning the relationship with your recipients.
There's a metaphor of seeing a girl across the gym at a junior high dance (the girl is the email address), the boy figuring out that the girl might be interested (audience identification), having the courage to ask her to dance (the offer) and dancing with the girl. ONLY AFTER you dance with the girl can you get to the point where she'll let you hold her hand … there's a big lesson about email marketing in there!
Ready to get your own email marketing strategy up and running? You don't need to go it alone. We're in this with you. If you need a little help, just drop us a line, anytime.
Best Regards,
Ed Bardwell
President
Rainmaker Digital Services
Download Your Copy of
Digital Marketing for Everyone Else
Our free eBook delivers the critical fundamentals of digital marketing that you actually need to know, without the hassle and waste of researching the Internet on your own.