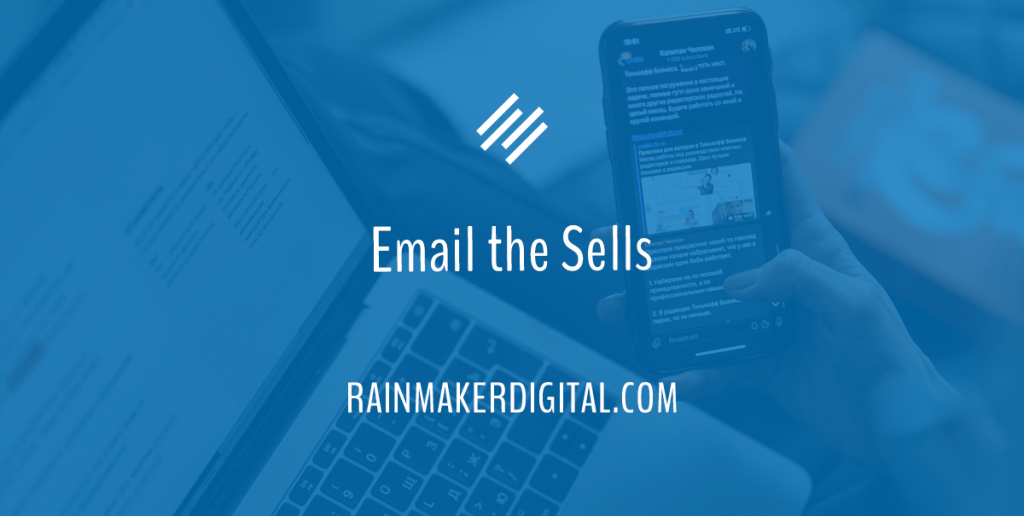 The latest research from Constant Contact suggests that over 347 BILLION emails will be sent each day by the end of 2023. Why would anyone want to send "another" email? That's easy – they work. In 2020, digital marketers and companies reported an average return of $44 per dollar invested. The value of email goes beyond simple finance to the heart of modern marketing.
Gone are the days when marketers could blast their way to success if they had a big enough budget (New Coke anyone?). Today's consumers, whether they are B2B or B2C are in control of the marketing conversation. Marketers have to be committed to the conversation and bring value to the engagement. It is very difficult to cut through the noise of billions of emails. You don't have to IF you create email that your audience wants and are looking to read.
This article details the elements your email must have to get into the inbox, get read, and to drive the reader to take action.
#1 – Email that sells starts with giving them a reason why
I'm a big believer that a personal email address is still the most important data that you can get if you're a marketer. We can argue about the cell phone (for texting) but the fact of the matter is that a freely given email address is an invitation to build a relationship.
We write often about messaging and offers that convince users to share their email address and build a relationship with you and your brand. Here's a TL:DR version:
Set an expectation on what you will do with a user's email address. Be honest about frequency, content, and privacy.
Reward them for sharing their address. From a download to a discount, users expect value for giving value. Their email address is valuable.
Make them special. When a user chooses to start a relationship with you, celebrate that. Use the thank you screen and the auto-responder to let them know you appreciate them.
Most importantly, treat a user's email address the way you'd want your address to be used. Success in email marketing requires a genuine desire to connect the brand with the user.
#2 – Get in their inbox
Once you have a user's email address and they want to hear from you, you need to make sure your messages land in their inbox, not caught in a server filter, buried in their spam folder or flagged by some program as junk.
Deliverability is the key to landing in the inbox. It is a short checklist but never start an email marketing campaign without:
Partnering with an ESP (email service provider) that is 100% ethical and enforces their EULA (End User License Agreement) with all customers. This will give you a jumpstart on building your email reputation.
Adding SPF (Sender Policy Framework), DKIM (DomainKeys Identified Mail), and in some cases DMARC (Domain-based Message Authentication, Reporting, and Conformance) records to the DNS (Domain Name System) for the domain of the email FROM address. These technical entries are not complicated and there is a lot of good information online if you want to learn more. Fortunately, most ESPs will guide you on what you need to do.
Planning for data management. Don't assume that your unsubscribe function or even your technical support team will handle address change requests. If you're emailing globally, remember that data privacy laws vary, and your campaign will need to comply or your emails may be blocked. Worse, you could be subject to STIFF fines!
Designing for mobile. Not only are websites mobile first, cell phones now account for between 40% and 70% of emails read.
#3 – Get them to open your email
Before someone can read your message, they have to open it. Without a doubt, the most important content of any email is the subject line.  Testing is extremely important and most ESPs provide the ability to A/B test. Use it. As a general rule, we recommend subject lines that are short (between 30 – 60 characters in length), descriptive (answers the question why someone should open the email) and create a sense of urgency.  If the content is of interest and the sense of urgency can create a FOMO (fear of missing out) opportunity, the user will open the message.
Another significant, and often overlooked, feature to get email open is the preheader. Visible in most preview windows on webmail clients, desktop clients, and mobile email clients, the preheader content is transmitted with the subject line and adds detail to the message. Since the amount of content visible varies by client, it is best to keep preheaders under 100 characters. We often see clients use the preheader as a "second" subject line for content that is extremely important but didn't fit the subject line limits. Another great use of the preheader is to expand on the subject line and clarify the email content in a way that does not impact the email design.
#4 – You've got to get them to read before you can get them to buy
Clients often ask, "how long should my email be." Many experts point to research that shows that emails with 25 words or less have response rates over 50%. While I agree that shorter is better than longer, my answer to the question is "as long as it needs to be." The keys to getting your email read are:
Share content that your user wants and expects from you.
Get to the point. Don't waste words or time but be thorough and complete in your thoughts.
Structure your content (even your promotional emails) in a journalistic / news style. Put the important information at the top and work your way down through the details.
Include clear call-to-action directions.
#5 – You can't sell if you can't get them to act
Email marketing is business communication. Great marketers make email feel personal and connects the brand with the user while still getting them to act. Creating email that converts requires:
Make the CTA obvious. Whether you use a text link, an image or a button, put the call-to-action (CTA) above the fold, easy to find (and click), and make it special. The CTA should draw the user's attention and be the next logical step in their content experience.
Limited Options. Email is NOT the Christmas catalog. There must be a clear purpose, priority and limit to the content you share if you want to inspire action. You don't want the reader to become distracted from taking action by another offer. If you have multiple offers to share, use your CTA to drive users to a landing page where they can self-determine their next steps.
Clear Intentions. Time is valuable and attention spans are short. While 25 words may not be enough to sell your story, don't wander around and make the user figure out what you want them to do. Tell them – shop, click, learn, buy. Use action words that they'll understand.
A Final Word
Never confuse sending an email with email marketing. Additionally, don't confuse indiscriminate "blasting" with a targeted, broadcast email. Intention matters and no "technology tricks" can fix bad intentions. Make sure you're sending email with purpose to people that want to receive it. Use email and the core fundamentals of content marketing to build a real connection that provides business benefits for both you and the recipient. If you can't answer the question, "why does the recipient want this email," don't send it.
If the idea of selling through email seems challenging, know that you don't need to go it alone. We're in this with you. If you need a little help, just drop us a line, anytime.
Best Regards,
Ed Bardwell
President
Rainmaker Digital Services