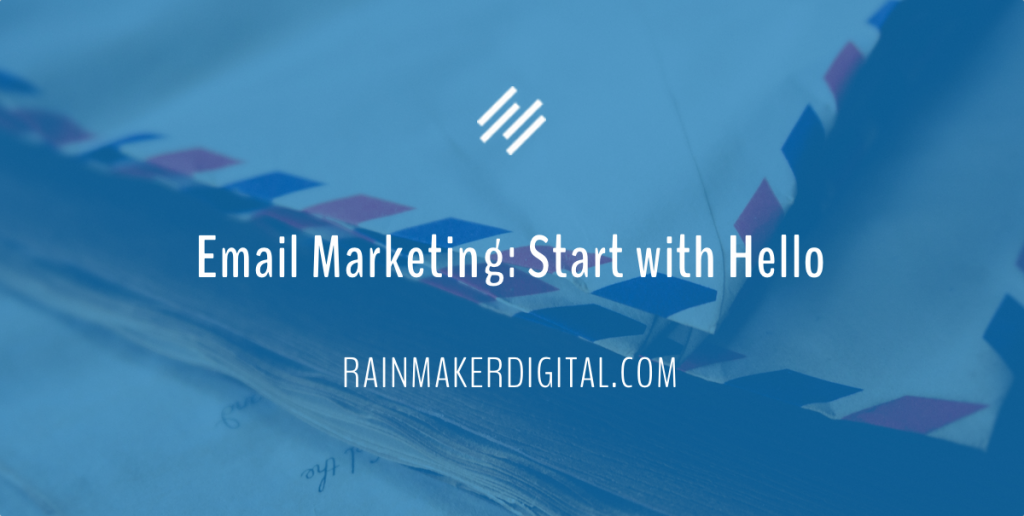 Even in 2021, the best way to interact with your audience is via email. And, email remains fundamental to every digital strategy.
Social media and mobile apps may generate more "buzz" but building a brand's email list through a comprehensive content model that generates authority and establishes authenticity is the path to sustainable success.
Email is for Everyone
Before outlining the keys to an effective email marketing strategy, here's why you need to include email as a key ingredient in your digital marketing …
Value. We've all seen the data showing that email has the highest ROI of any digital marketing activity. Rather than blindly accepting "the numbers," look at value from a qualitative perspective. Some marketers may argue for SEO, social, or even search over email marketing in terms of results but the biggest difference from all other forms of digital marketing is the investment. You can build an email strategy, list and communications plan with free technology and a low-cost email service provider. Many providers, like Rainmaker Platform, even allow sites to build email lists and send email at no cost, until the strategy is yielding results.
Access. While many audiences may have a contact method they prefer more than email, every audience has access to email. Statista reports that daily email usage exceeds the use of search engines (90.9% to 85.4%) by Internet users and social media usage lags behind email by over 30%. Even if you use other channels, you must account for email.
Customization. Email enables the digital marketer to customize messaging based on data and user activity to improve response rates. Unlike social or other channels, email customization can be implemented without privacy or security concerns. The user is empowered to build the email relationship based on their interests.
Email marketing provides marketers the value, audience access, and customization needed to generate the results that businesses are seeking.
Making Email Work
Unfortunately, there are still "email blast" services and marketers that just "send another email" that hurt the perception of email marketing. When we created eNewsNotifier in 1998, the marketplace had already recognized the importance of sending subscribers the information they requested, when they requested it.
This philosophy remains at the core of modern email strategies. And, even with the technical sophistication available today, successful email marketing requires planning for:
Soliciting a user's email
Sharing content that people want
Building an ongoing relationship
We know that technology has shifted the marketing relationship between the company and the consumer and that consumers are in control of the user experience. Marketers need to engage and inform, not just sell. Still, email subscribers are the absolute lifeblood of digital marketing.
Start with the Why
One of the main reasons email marketing remains so important is the power of choice. Your email sign up solicitation has to motivate users to share their address. Why will they share it? Answer that question and you'll be well on your way to success. Why does the user want email from you?
Some of the most common reasons for email signup include:
Discounts and Specials: Some of the most successful newsletters simply give recipients special offers and discounts that are only available through email.
Members' Only Access: The email address can be the key to premium content. Users share their email in exchange for access to content. This motivation is a strong precursor to a membership or subscriber strategy.
Thank-You Gift: Like the infomercials on late night cable, give users the "wait, there's more" benefit of signing up. Common "thank you" incentives for sharing an email are a download, eBook, or upgrade.
Like any other first impression, giving people a reason WHY they should share their email is the most important first step with any email marketing strategy.
Make the Most of the Mix
After you convince a user to share their email address, you need to have a plan on how you're going to interact. To eliminate churn, build engagement and authority, and reward email subscribers for sharing their email, good email marketers create a content "mix" that keeps email content fresh and keeps users opening their email.
We've mentioned PII™ before. It's a content framework that defines the content shared as a combination of promotional, informational, and inspirational content. Like the guy at the party that just wants to talk about his cool car, users will quickly lose interest if you only share the same content.
This is often a challenge for marketers as business leaders may want you to always push the sale or the next deal. You need to convince them that the cost of that sale could be crashing the lifetime value of the customer.
Every brand requires a unique PII™ that matches the brand personality and the relationship that the brand wants with the email subscriber. You will find that the mix will evolve over time. For a starting point, here are PII™ content mixes that we start with as we get to know a brand:
Retail: 40% promotion, 30% information, and 20% inspiration – if you need to drive foot traffic and product specific sales, bump up the promotion.
B2B: 20% promotion, 50% information, and 30% inspiration – Even commercial 'buyers' are looking for reasons to choose one vendor over another. Promotions may not have as big an impact when a buyer is using company money, but information and inspiration can fundamentally separate one vendor from another. Remember authority?
Consumer Services: 35% promotion, 25% information, and 40% inspiration – Whether you're talking about pool cleaning, personal training or an oil change, there isn't a lot of difference between the services from one brand to the next. As a result, these email subscribers are looking for brands to sell them the vision of why working with them is best (inspire them) and reinforce that vision with a great deal.
Professional Services: 10% promotion, 60% information, and 30% inspiration – For B2B or B2C, professionals still have a need to create and maintain a user's perception of the business. Information, a primary currency in professional services, is a great way to engage. Does your CPA send you updates on tax changes (they should)?
Online Business: 40% promotion, 30% information, and 30% inspiration – Since online business can be extensions of any of the other business models mentioned, defining the PII™ for an online business can be incredibly challenging. We start with a balanced mix and then look to see if users are more responsive to deals, knowledge or emotion. Make incremental changes, test as you evolve and build the mix as you learn.
One quick reminder on the content mix. A content mix doesn't mean that every email needs to contain content that matches the defined mix or that you can't have emails that are "all" one type of content or another. Your PII™ is the guide on what needs to be shared and how it needs to be positioned to meet your subscribers' needs.
After the Purchase
Another fundamental difference with email marketing that can be challenging for traditional marketers is what to do after you convince the user to buy. Since users have made a choice to share their email, recognize that the purchase is not the end of the user's journey. Think of the largest purchase most people ever make – a home.
Realtors have a huge opportunity after the excitement of helping a homeowner buy a home to convert that excitement into other opportunities. Whether you want the user to advocate for the brand with their network of contacts, buy other products or services, or simply maintain top-of-mind awareness, a strong email marketing strategy can make any of those objectives a reality. These same opportunities exist whether the purchase is for a home or a home service.
Knowing what you want to happen after the purchase is key to the overall email strategy.
A Final Word
Email marketing technology has evolved a lot from sending a daily email with the weather forecast or a private ticket booth phone number for last minute seats to an event. Technology has made it possible to automate messaging with sequences of emails (more on that in an upcoming article), segment and personalize through data and artificial intelligence, and new ideas are being developed every day.
And yet, the fundamentals of connecting with people through content, via a permission-based email relationship, remain the same. Start with the strategy, understand your goals and your user, and then select technology that will meet your needs. A great strategy can fix bad technology. The opposite isn't true.
If the idea of executing on an email marketing strategy seems overwhelming, know that you don't need to go it alone. We're in this with you. If you need a little help, just drop us a line, anytime.
Best Regards,
Ed Bardwell
President
Rainmaker Digital Services