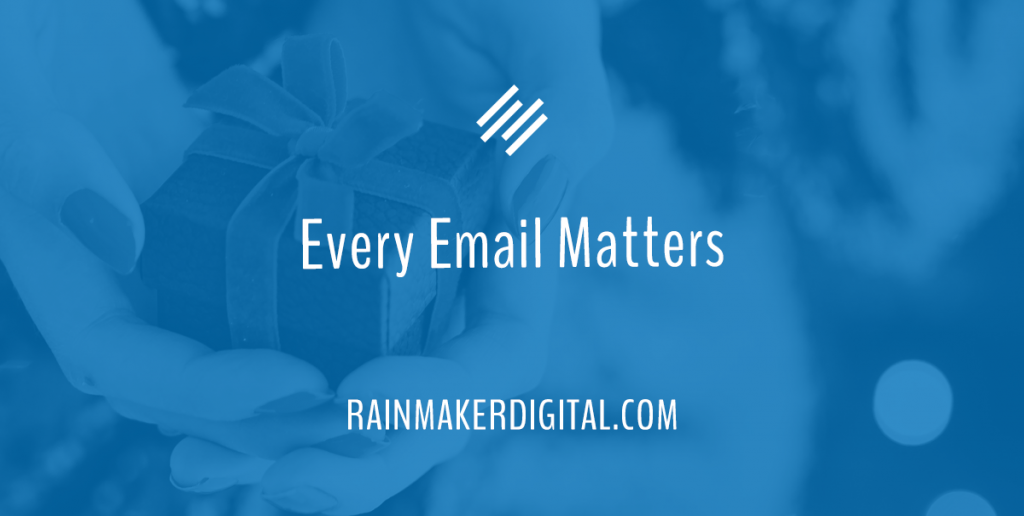 There's a line between spamming your audience and never sending them anything, and a lot of businesses struggle finding it. You need to find the email frequency that creates the most perceived value for your audience.
The Email Tsunami
I remember as a kid there were days when I went to get the mail and the box was completely full. Much of it was junk — unsolicited mail. But much of it was also "marketing" from companies we'd shopped with.
Most of those messages have gone digital. And if anything, making them digital has made it a lot easier to overuse them. Email is cheap; you don't have to pay for postage or paper. Marketers have embraced the power of email. 33% of marketers send weekly emails, while 26% send emails multiple times a month. And it's not about to slow down — 37% of brands are increasing their email marketing budget.
What makes email such a popular tool?
It's effective. Email allows you to do something that even the direct mail of old didn't: you can talk directly to your audience on a one-to-one basis. It's personal communication at scale. And the biggest power of email is that you're talking to someone who's already given you permission to engage. On almost every other channel, there are other factors involved in whether people see you — the quality of your SEO or the algorithm of the social media platform, for example. Email is just you and the recipient.
Marketers understand this deeply, and that's why the smart ones are still engaged with email. But there's a flip side to the equation.
The Saturation Point
Remarketing, abandoned cart solicitations and promotional efforts have begun to burn out some users. A Wall Street Journal article published in the wake of the 2022 Black Friday and Cyber Monday sales explains why. One man stated he went from roughly 200 emails a day to 700 emails a day — an untenable jump.
Even on a regular day, people receive hundreds of emails. Your audience is scanning their inbox, not reading every single email — and changes like Google's inbox sorting make it easier for them to parse and harder for you to break through. You'll get tuned out if you don't stand out. And the key to that is value.
Your audience has to perceive value in each of your emails if you're going to get them to open and engage with them. Each email has to be a gift to them.
No Neutral Actions
Every email you send must provide value to your customers — and they decide that, not you. It can be easy to delude yourself into thinking you're providing value when you're not.
Several years ago I was talking to a marketing manager who was in charge of sending a weekly "specials" email to their customer base. She was lamenting the fact that she had to fight the merchandising department to get products for the email that customers wanted. "They don't understand," she said. "All they're trying to do is get the dead stock off the books — but if that's all we offer, nobody clicks through. We have to offer some specials on our more popular products too."
Sure, the closeout products were cheap, but the audience didn't want those products. As a result, the emails had the opposite effect of what they were meant to do. They made people tune out; no one opened the emails, and sales plummeted.
There are no neutral actions in permission-based marketing. You're either adding value for your audience or subtracting it — and your audience will only let you do that for so long.
Creating Value
Value is tied to frequency — but it's not a linear relationship. There's no "one size fits all" email frequency for every company.
Amazon, for example, sends more emails than almost any other company, according to a 2022 Brand Keys survey. It also tends to score highly on value. Their audience welcomes their emails for two reasons:
The content is personalized and shares offers that customers want.
The emails often bring "good news" — sales, special offers and limited inventory.
So every time Amazon reaches out, recipients open the message. Their email has value — whether that's a product they think you might like based on your purchase history, a small refund, or a sale that's likely to fit your interests.
For brands like Amazon, regular outreach with strong personalization is the way to go. Other brands might not need to reach out as much. Some of the marketers whose mailing lists I'm on only send me something every couple of months — but I ALWAYS open their emails, because they're guaranteed to have something I want. They have value.
That being said, most of the mailing lists I'm on send weekly updates. The weekly newsletter is a classic for a reason — it's regular enough to keep you in your audience's mind, but it's not likely to make your audience tune you out.
There are exceptions to this rule. Some industries, especially those with B2B audiences, commodity products or complex services, might want to send email monthly or even quarterly. eCommerce companies on the other end of the spectrum may send multiple emails daily because they have to — receipts, order confirmations, abandoned cart follow-ups and more. The key is to contact your audience when you have something valuable to share.
Let your audience tell you how much they want to be contacted. They might do that personally via email or social media or indirectly through open and click-through rates. Both are useful signals; listen. Your audience decides whether you're providing value or not.
Every Email Matters
Email is a powerful tool, but if you overuse it, you can make people tune out. Make sure your communications provide value. Find the right email frequency for your brand that fits your audience. That will create perceived value for your audience. And if you need a hand, reach out — just drop us a line, anytime.
Best Regards,
David Brandon
Copywriter
Rainmaker Digital Services