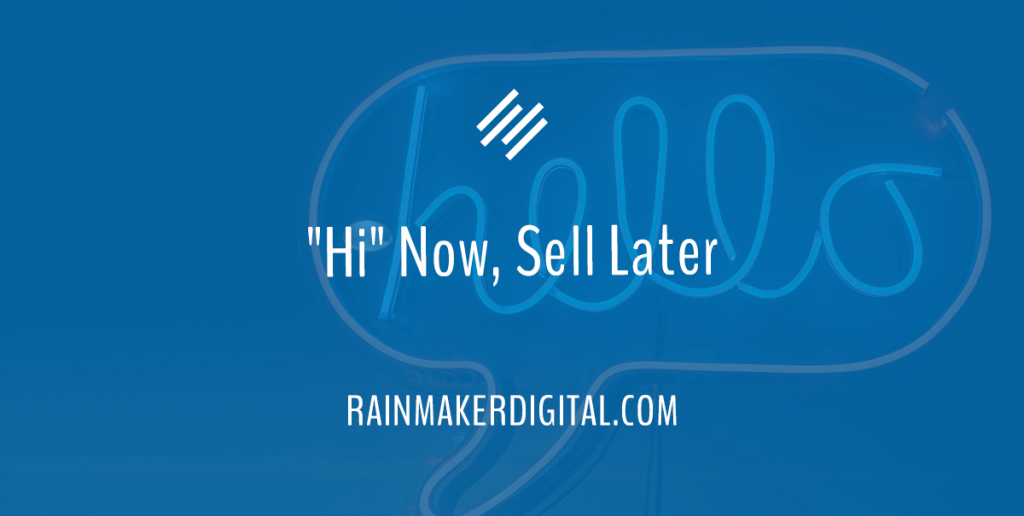 Most musicians are bad marketers.
As a musician and music fanatic myself, I'm signed up for updates from a lot of artists. That means I should get a lot of emails.
I don't.
Most of the time, the only emails I get from bands are concert tour announcements. There's no conversation. It's solely used for sales. And music isn't the only field that suffers from this; in fact, one of the most common mistakes people make in business is underestimating the value of an email list.
I've seen several email marketing sequences that go like this:
Call to action: Sign up for updates here.
Confirmation: Thanks for signing up.
Solicitation: (3 months later) Hey, want to buy something?
If you were a salesman who tried to do that, you wouldn't survive very long. Yet somehow, because it's the Internet, people throw out thousands of years of sales experience and try to close a sale without building a relationship first.
If the only time your customers hear from you is when you're trying to sell them something, you're announcing, not selling. Sales is a relationship, not a transaction.
To sell through email, you have to build a relationship.
Why Is Email Perfect for Building Relationships?
There are plenty of channels you can use to reach your customers: advertising, social media, direct mail … why are we recommending email marketing to build relationships that drive sales?
There are a few reasons:
Permission: Email marketing relies on permission. Your audience actually has to sign up to receive your messages. Permission to engage is the first buying signal, and your ability to send email is based on permission. You're already ahead of other marketing channels and closer to the customer.
Personal connection: Email lets you talk to your audience on a one-to-one-basis. You can send targeted, hand-tailored messages to a specific audience instead of general messages designed to appeal to a broader undifferentiated audience.
Ubiquity: There are an estimated 4.2 billion email users worldwide. Email is incredibly common; almost nothing can touch that level of penetration. Customers are accustomed to sharing their email address in exchange for a benefit, and email between a brand and its customers is an expected part of the relationship.
SMS (text message) marketing ticks a lot of these same boxes, but SMS is used differently — it's much more immediate. SMS can't accomplish the same relationship-building goals because of the shorter message length.
Remember this:
If the only time your customers hear from you is when you're trying to sell them something, you're announcing, not selling. Sales is a relationship, not a transaction.
Building Trust in a Relationship
What goes into building a trust-based relationship with your audience?
There are three ingredients you need to know:
Create Positive Shared Experiences
Think about building a relationship with someone in your life. You'd spend time with them doing fun things together — ice skating, having coffee, playing Ultimate Frisbee, you name it. What you're looking for is positive shared experiences.
Your email list is no different.
Sharing useful content with your audience is the best way to build these positive shared experiences. Take the Grateful Dead as an example.
This well-traveled jam band is no stranger to building community; they were doing it long before many other artists realized its importance. And they carried that ability into the digital age too. One of their most recent efforts was the "Playing in the Band" stem mixer, an application on their website that allowed Deadheads to isolate each part of a number of their famous tracks. This allows fans to play along with the band — regardless of what instrument they use.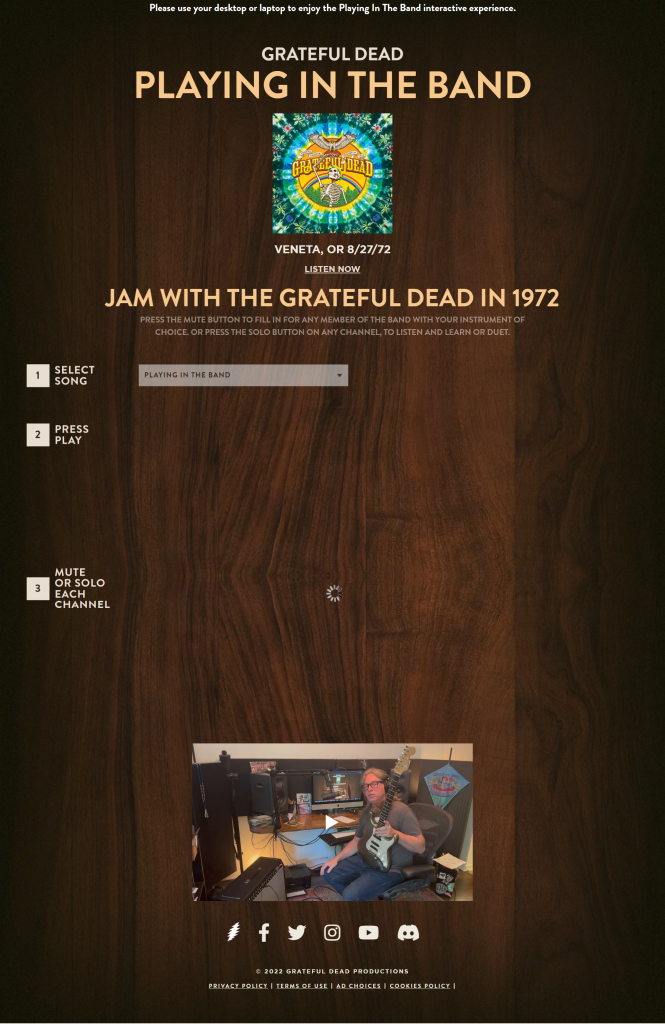 The Dead didn't just publish this app on their website and call it a day. They already had a well-established newsletter where they shared news, updates, fan gatherings and more. All they had to do was mention it in the newsletter.
The Grateful Dead creates positive shared experiences through email. The newsletter brings Deadheads together as a larger community, and the recently-launched mixer gives more tools for them to create UGC that others can enjoy. It's a win-win — and a great way to make sure people open their emails every time.
Encourage Two-Way Communication
You can't just blast out a newsletter to your list and call it a day. Your audience has to be comfortable talking to you as well. An email blast is just telling people what you're doing — but a good email broadcast invites engagement.
There are two keys:
Ask them what they want and give it to them.
Be authentic and true to yourself
Ask them what they want and give it to them.
Game developer Bungie routinely asks its followers what they want in seasonal events for the game Destiny 2, offering players a chance to say which cosmetic items they'd like to see in the game.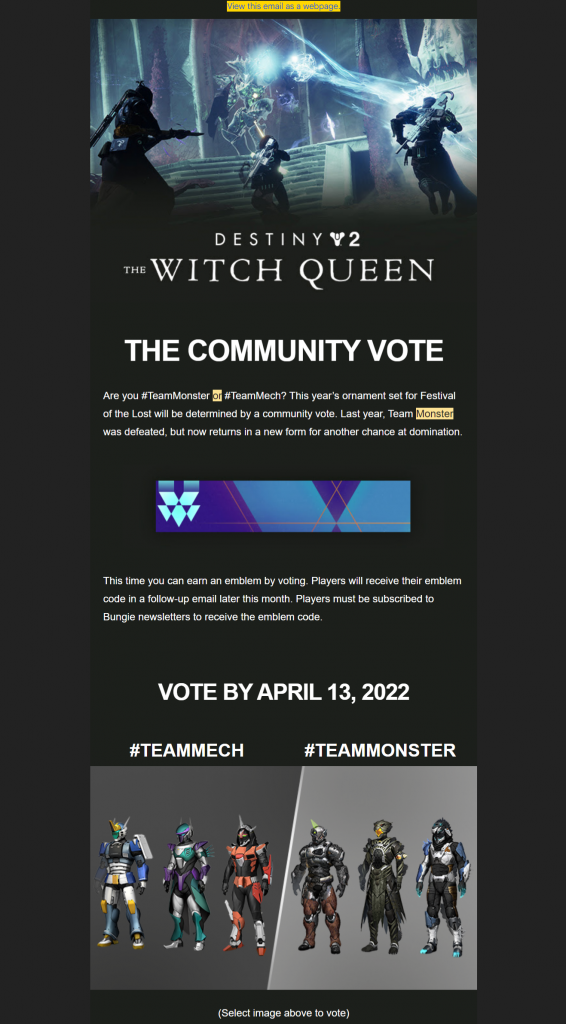 You see feedback all over Twitter and Reddit on these messages — plenty of people tagging Bungie in conversations both before and after the voting. Feedback doesn't just come through email. It is everywhere.
Give your audience ways to weigh in on the type of content they receive and the kinds of products they'd like to see. Build two-way communication.
Be Authentic
If you can't trust somebody, it's very unlikely you'll ever buy from them.
I'm on several marketers' email lists, and I can tell you which ones I don't open. Over the years I've seen them tell me to "act now, this is going away" or "click here before it's too late" so many times that now even if it were true, I wouldn't believe them. Why should I act now when I know you're going to be offering me another "exclusive deal" right around the corner?
These two keys — creating ways for your audience to talk back to you and being authentic — will make your audience more likely to engage. That helps you build a relationship.
Build Consistency
Regular contact is critical to building a relationship, both in real life and through email.
You need consistent communication. Even little check-ins of "what have you been up to?" or "did you manage to fix that leaky faucet?" or "I saw this video and thought of you" build rapport and trust. It works both with your friends and with your email audience.
Create a regular newsletter — usually weekly or monthly — and check in with your audience. When you build that consistent presence and combine it with the previous two points, your audience will be much more likely to open and engage with any sales-based emails you send.
Email Sales is a Relationship, Not Just a Transaction
To sell through email, build a relationship first. Get your audience to trust that you're offering them real value and they'll listen when you hit them with an offer.
Don't just build an email list and squander it by only asking for sales. Invest the time and effort to really engage with your audience. And if you need a hand with that, we're here to help. Just drop us a line, anytime.
Best Regards,
David Brandon
Copywriter
Rainmaker Digital Services