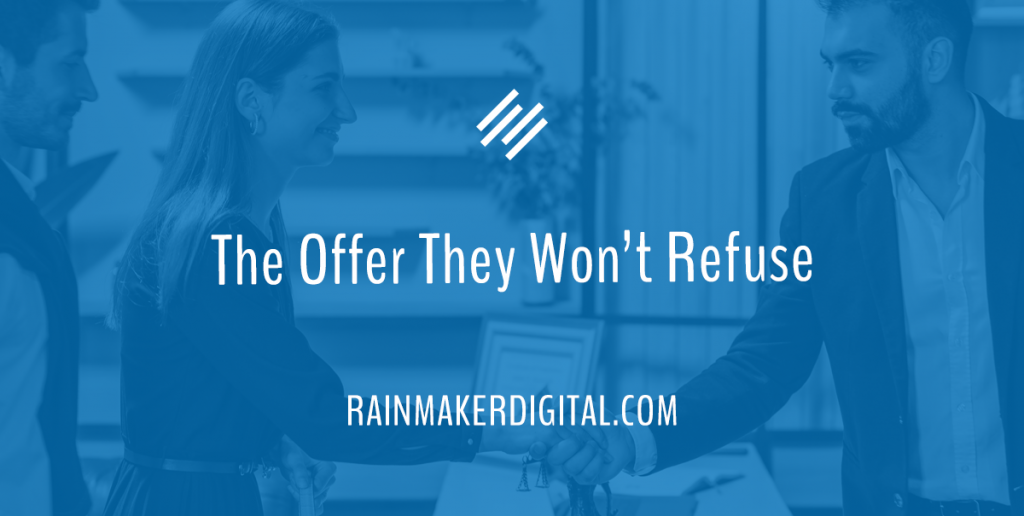 "I'm gonna make him an offer he can't refuse."
Don Vito Corleone's phrase from the movie The Godfather is legendary. It's also the key to getting your audience to buy what you're selling.
Now — leaving a horse's head in your audience's bed isn't what we're going for here. Selling isn't about coercion. But it is about offering something so tantalizing, so exciting, that they would be foolish to pass it up.
It's not about the offer they can't refuse.
Craft an offer your audience won't refuse.
Creating a Compelling Offer
An offer and a pitch are not the same thing. As marketer Sonia Simone once said, "Don't think of pitching. Think of offering. An offer is better than a pitch."
Pitches are salesy, not helpful. You're offering, not selling. Don't be pushy. Leave the used car sales tactics to the guy in the cheap green suit.
An offer is a marketing message that does the following:
Grabs attention.
Shows how you can solve a problem.
Communicates value.
Builds trust.
It is an explanation of your value above and beyond your competitors in terms that resonate with your audience.
Making an offer doesn't mean you can be reluctant or bashful about the opportunity either. Stand up straight, face your audience and tell them what you have to offer them. You're giving them something useful. Tell them how it can help!
A strong offer anchors every marketing campaign, and there are three ingredients you need to make yours hit home: a clear benefit, a lack of risk, and a sense of urgency.
Clear Benefit
Every offer must answer the question "what's in it for me?"
The benefit to your audience has to be crystal clear even when they don't even realize they have that need. You need to understand what's in it for your audience before they do — and explain it in a way that makes sense to them. Look at the original iPhone commercials.
These showcase what the phone can do. They make the benefits clear immediately. "You mean I can access my email and my music anywhere, from one device with a good UI? Sold," said the audience. 1.9 billion iPhones later, Apple doesn't really have to explain features. Those smartphones sell themselves.
"If I had asked people what they wanted, they would have said faster horses," car manufacturer Henry Ford purportedly said. If you're selling something significantly better than the competition (or even revolutionary), you have to show it fulfills people's needs better than the established alternative.
On the other hand, if you're in a non-differentiated market with a lot of competition you need to determine what your competitive advantage is. Is it customer service? Selection? Location? Maybe it's a sense of belonging (Chevy vs. Ford). Whatever it is, play it to the hilt. And when all that fails, lean on David Ogilvy's advice: "When faced with selling parity products, all you can hope to do is explain their virtues more persuasively than your competitors, and to differentiate them by your style or your advertising."
Benefits drive the offer. Make sure yours are clear.
Lack of Risk
Every decision we make comes down to risk vs. reward.
To craft a compelling offer, you need to maximize reward and minimize risk. State your benefits clearly and you'll be maximizing the perceived reward. Now you need to minimize risks.
Infomercials are masterful at reducing the buyer's perception of risks. They lay out the benefits clearly first and explain why the product matters. Then they hit you with "Money back guarantee!" or "Get a free set of steak knives!" The whole point is to make people comfortable with the idea of buying a product they've never touched from a company they don't know.
Infomercials are an extreme example, but your offer needs to address your audience's concerns. One of the main concerns that marketers have to consider is quality. A free trial is a great way to give the audience confidence that their risk is low. Consider HelloFresh. Who asked for meal kits sent to our homes? No one. The benefit of great food made at home is clear. The risks? Maybe the ingredients are bad or the service is too expensive. A free trial is all HelloFresh needs to lay its audience's fears to rest. A third of Americans forget to cancel their free trials. Many others stick with the service after the taste test.
Cell phone providers are another example of minimizing risk — they often offer buyouts of previous plans so audiences can change carriers without any cost concern
It may not be necessary to offer a money-back guarantee on your offer. But you absolutely have to minimize the risk to their money and time. Make them comfortable so they'll take you up on your offer.
Urgency
The final component of your offer is urgency.
Copywriter Cole Schafer sometimes does a tiered offer — he'll offer a product for a low price up front, then have it increase over the life of the promotion till it gets back to its full retail price. Limited-time sales can drive urgency. So can a fear of missing out (the famous FOMO). Buy one get one deals with a limited time can work too (BOGOs with LTOs — you gotta love the acronyms).
It doesn't even have to be a literal ticking clock. Instead, focus on the opportunity they have. Show them how their life could change for the better or for the worse — lean on the benefits you've already articulated.
Take this, for example: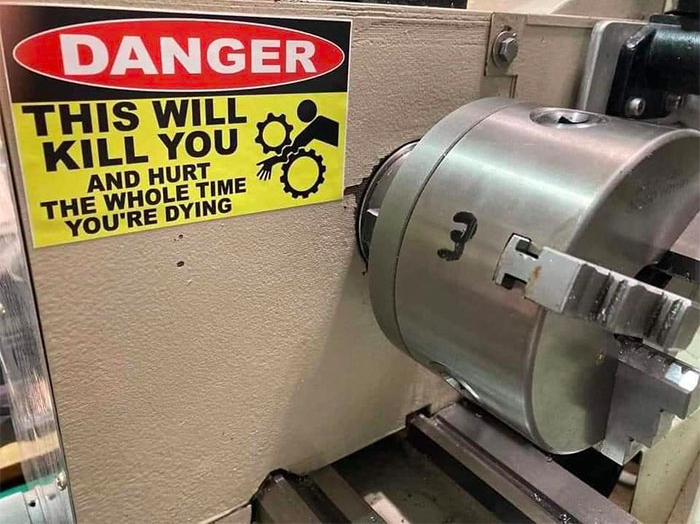 That's a much more effective offer than "DANGER" or "WARNING."
Your call to action (CTA) should drive urgency, even if there's no time component involved. Look at this Gary Halbert ad for "How to Make Money with Your Credit Cards."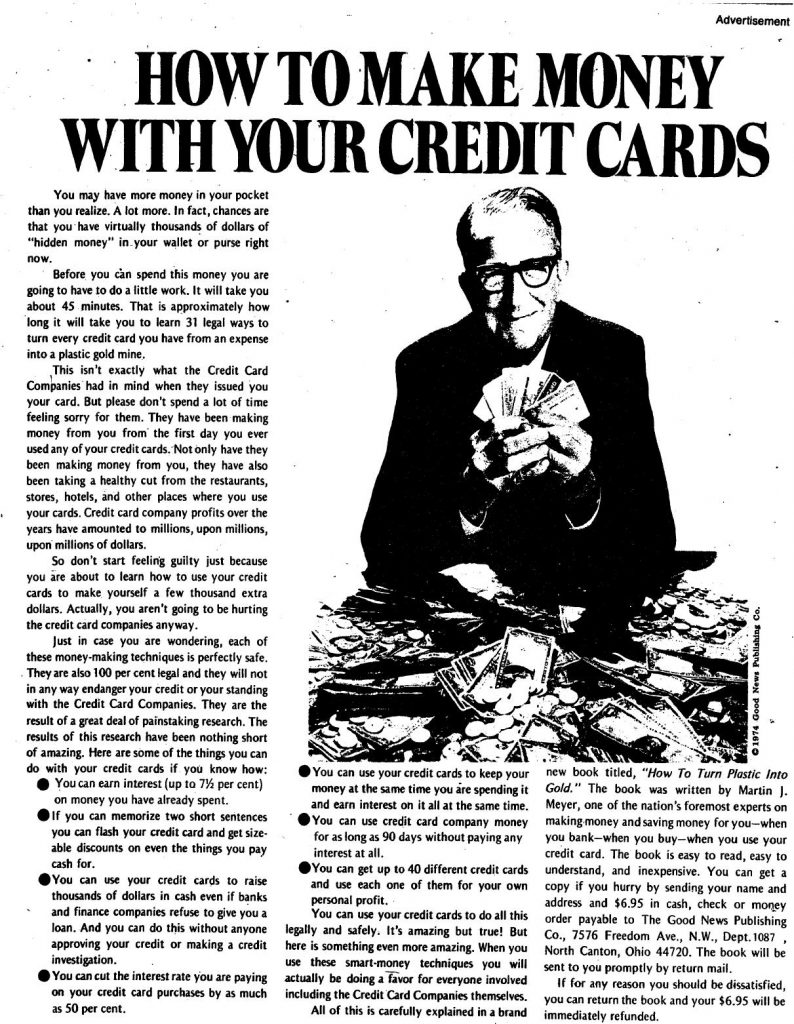 "The book is easy to read, easy to understand and inexpensive," Halbert writes. "You can get a copy if you hurry by sending your name and address …" There's literally no other mention of time in here. This isn't a time-limited offer. There are no sales or discounts, but Halbert still drives urgency at the end with his CTA.
One 2018 study shows that a sense of urgency will cause people to take action even if they have something more important. A timer alone adds 8.6% to conversion rates.
Don't forget this step. Without urgency, it won't matter how many benefits you talk about or how many risks you remove, the audience feels that they can come back when they want, on their time. And that usually means "never." You baited a hook and didn't set it when you felt a bite. Your customers will move on.
The Offer They Won't Refuse
You need a compelling offer if you want to sell, and that doesn't happen without work. Explain the clear benefits of your product or service. Minimize the risk involved with buying. And create urgency so people take action. It's simple — but then again, most successful business formulas are.
Build offers your audience won't refuse. And if you need a little assistance with your content, feel free to reach out. We're here to help.
Best Regards,
Ed Bardwell
President
Rainmaker Digital Services