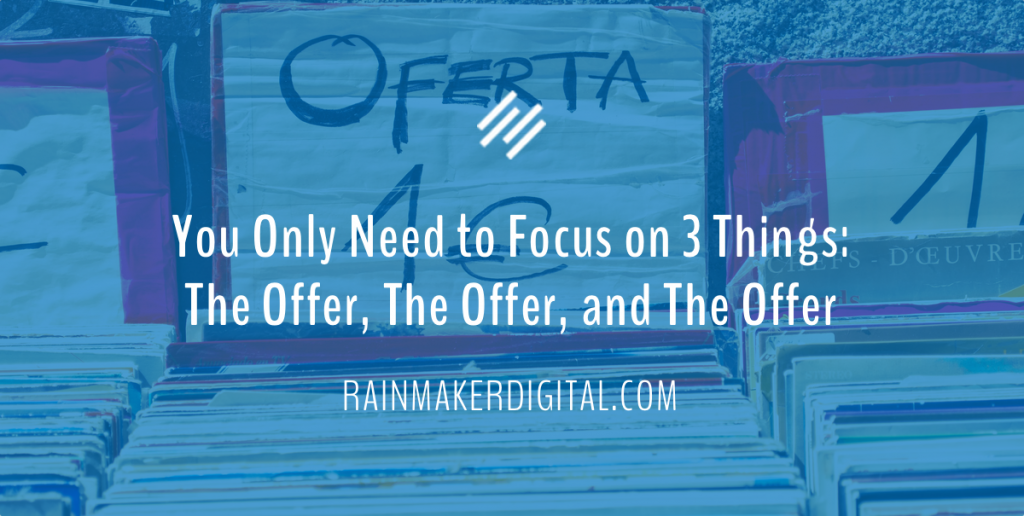 Have you ever bought one of those non-stick copper pans, the fix-it tapes that will seal a hole in a boat, or that blanket with sleeves from a late night informercial?
Companies still use informercials even with all of the online product information, online shopping, and review videos. We know the products don't work as advertised. So why do brands still make infomercials? Because they work. And, why do they work? Because of the offer. Infomercial marketers are masters at creating an offer that is "too good to refuse" and results in closets full of ThighMasters, spray-on hair, and wearable towels.
Many digital marketers have the exact opposite problem from the infomercial masters. We have products that work and generate quantifiable success … but that don't sell. Most digital marketers have a conversion problem.
In almost every case, the most important part of any marketing process or funnel you'll creating is the offer. Without a compelling, irresistible offer, no amount of awareness or ad budget will keep your business afloat.
This article channels my inner Ron Popeil to help you craft compelling offers that combine great products and great content in a format that taps into an audience's desire to buy.
Step One: Not a Cha-Cha-Cha-Chia Pet
There are a lot of really great tools online to help brands craft their offers but for digital marketers, infomercials provide an easy-to-understand offer formula that can be applied to both products and services.
We will assume that you have a great product. You've tested it, it performs as expected, and consumers love it. And still, it's not selling.
Step One: The first step in creating a great offer is realizing that your product is different from your offer.
In today's content-rich world, we have to be transparent with our audience and provide quality products. At the same time, the offer needs to tap into the emotion and benefit of the product. For example, if you're selling a pocket-fisherman, the offer isn't for the 10 lbs. line or the telescoping pole. The offer is for the freedom to fish anytime and anywhere.
Make your offer the articulation of your product in terms that have value and benefits to the audience.
Step Two: Connect with Your Audience
Look at the studio audience of any infomercial and you'll see who the marketers are targeting as their buyer. From 90% female audiences for the countertop cooker to age, gender, and race diverse audiences for auto insurance, the smiling clapping audience is made up of people who will buy that product.
Step Two: The second step in crafting the offer is to use the language, voice, and tone of your buyer.
As with all marketing — and content marketing in particular — it is critical that your offer match your audience's expectations. These expectations include presenting payment terms that your audience can manage. "For only three easy payments of $33.99" are payment terms that get products in the hands of consumers that would never respond to a $100 offer..
Language and payment terms must match consumer expectations.
Step 3: Buy Now and We'll Double Your Order
In most informercials, you don't get the deal until around the 4 minute 30 second mark. That's when you learn that you can buy this most amazing product for just three payments. And that's when you'll learn that if you act NOW, you get a bonus at no additional charge.
Step Three: Activate the offer by adding an irresistible bonus. This can be a discount off the price, a limited-time bonus, or a premium upgrade.
This bonus bundling of services and products creates the sense that the deal is even better than first perceived and increases the value of the offer without confusing the prospect. Your audience is now convinced that the product is worth the price, that you're giving them a great deal, and that you understand them and their needs. The irresistible bonus breaks down the buyer's rational decision-making and now you have a customer that's ready to convert.
Step 4: But Wait, There's More
Any informercial worth its paid studio audience closes the deal with some type of "but wait, there's more" tease. Free shipping is always a great option. "But wait, there's more" drives activation. It refocuses the prospect and gets them to pick up the phone to call the toll-free number or click the link to buy.
Step Four: Step four of your offer is to create a sense of urgency.
The internet has made it possible for prospects to search for a better deal for the same product and compare products. Prospects that want to check with their parents, spouse or who will buy later won't become buyers. In sales, later is almost always the same as no. It is critical that the offer makes buying "later" an unreasonable option for the prospect. "But wait" also creates an opportunity to express scarcity. Scarcity is a great tool to blunt "later" and trigger impulse buying from prospects that are on the fence. If you want to see an expert at Step 4, watch QVC. They've made "only XXX left in stock" and a countdown clock pillars of their offer positioning.
Step 5: A Money Back Guarantee
The final element that you need to include in your offer is shift the risk of the purchase from the buyer to the seller and minimize the chance of buyer's remorse.
Step Five: Guarantee that your product / service will function as described.
Most buyers like to buy but most of us don't like to be sold. Assuming that your product works, taking the risk out of the purchase convinces the buyer that you you're not trying to pull a fast one. You are simply trying to offer them an incredible deal. And, if they don't find the deal to be incredible, you'll give them their money back.
The Great Offer
When combined, these five steps create "an offer you can't refuse" (insert best mafioso voice …):
Understand the difference between the product and the offer
Craft language that reflects the audience
Activate the offer with a bonus
Create urgency
Guarantee your product
The offer elements apply to all audiences and all industries. From B2B services to B2C products, offers work. Go to any website, watch any video (or TV show) and you'll see the same elements that you find in those crazy, 2 o'clock in the morning, infomercials. The difference is the product, the audience, the language and that unforgettable celebrity host.
One More Thing …
Many businesses face the challenge of a product that is not selling as expected even though "they" know that it performs exactly as expected. The reality is that even a product that does everything it is supposed to and meets a real need may not sell itself and will require an extra promotional push — "the offer" — to get things going in the right direction.
If the idea of creating an offer that actually sells your product or service seems overwhelming, know that you don't need to go it alone. We're in this with you. If you need a little help, just drop us a line, anytime.
Best Regards,
Ed Bardwell
President
Rainmaker Digital Services