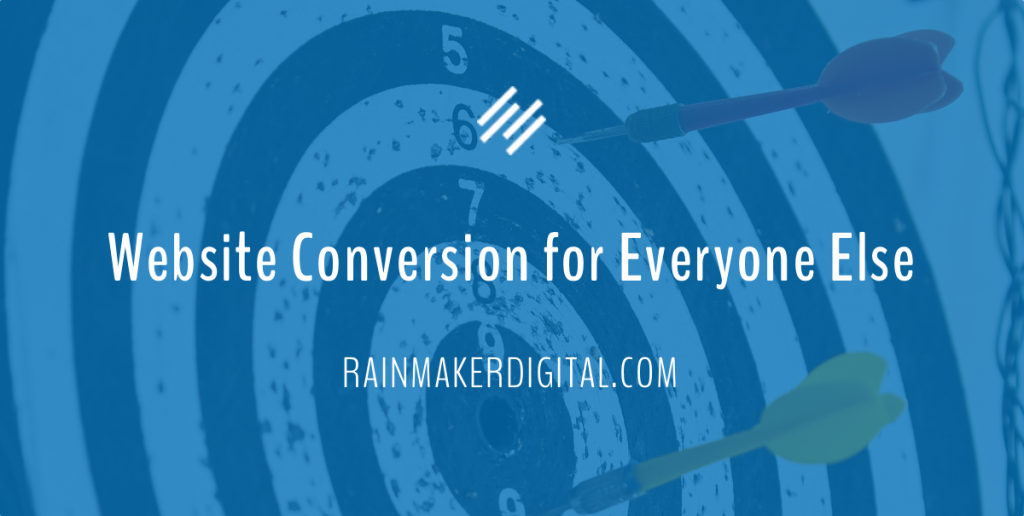 "Convert EVERY web visitor!"
"Make these three changes and increase conversion by 90%!"
"Follow my system and generate $100,000 in less than 30 days with NO list!"
Increase traffic and convert every visitor; your site will be a success! Duh. Though these concepts are easy to understand, accomplishing these two goals are challenging and often elude even the most accomplished digital marketer.
Like most other aspects of digital marketing, there are so many blog posts, data models and "secret systems" about website conversion that most of us are left feeling confused at best and completely incompetent at worst. It is easy to fall for the fallacy that "great marketers" convert every website visitor.
What's a Conversion?
One of the biggest challenges clients have when discussing conversion is the "definition." Most people immediately equate a conversion with a sale. While that would be great, many customers must be nurtured before they're willing to buy.
For most of us, there are many "mini-conversions" between a site visit and a sale. Whether you are being challenged by the boss or your client, before you start a conversion campaign, make sure everyone agrees on the definitions. Too often, "conversion specialists" want to focus on tactics rather than the real issue. Tactics won't help you until you know what you're trying to accomplish.
As we've mentioned before, the most critical asset on any conversion path is a user's email address that is freely given (not purchased).
The email address is the fundamental sign of digital interest. Until you can convince someone to share their email address with you, you can't get them to buy from you. For most every conversion strategy, collecting an email address is the first conversion.
We suggest starting every conversion campaign by establishing definitions for each step on the user journey from being "traffic" to being a "customer." Another important note, the conversion path doesn't end with a mere sale.
Develop a Conversion Path
Unfortunately, most of the online experts focus on tactics to improve conversion rather than defining a plan that can predictably generate results. While I strongly believe in simple forms, popup reminders, and one-click participation (amongst many other tactics), tactics most importantly serve to IMPROVE conversion rates. A 10X improvement on a ZERO percent conversion rate … is still zero.
Assuming you have agreed upon definitions for your steps along the conversion path (problem #1), you can turn your attention to what to do to motivate people along that path. I often use a dating analogy to help clients think about conversion.
Most of us know that you have to say hello before you can ask someone to dance, and you have to ask someone to dance before you can ask them on a date. Though every couple is unique (and so is each conversion path is unique to the brand and the offering), there are several common steps that you'll find in most models …
Conversion Step One: Say Hello
Goal: Collect the user's information (email address being the most important).
Motivation: The "pick-up" line for any conversion campaign must establish immediate value and differentiation for the user. A digital download, a discount/promotion or premium access are the most common incentives for a user's email.
Caution: Be authentic and establish trust. Technology has made it possible for users to determine if you are legitimate. Nothing will kill conversion faster than being disingenuous.
Conversion Step Two: Let's Dance
Goal: Establish a genuine connection between the user and the brand.
Motivation: Brands can't make prospects buy. Technology has made it easy for users to shop in one place and buy in another. To convert a user to a buyer, demonstrate that the value of the transaction is more than the simple exchange of value. Common drivers are emotional benefits (support the cause or technical vision), value-add (free shipping or upgrades) or extended value (partner services or access).
Caution: Authority is subjective. It is easy to focus on the data that technology generates and the science of marketing. Never forget that marketing is also an art. Great conversion campaigns appeal to both the analytical and emotional sides of the user.
Conversion Step Three: Going Steady
Goal: Convert the customer into an advocate.
Motivation: Once a connection is established; users need the conversion campaign to fuel their loyalty. Traditional techniques include members' only discounts and events. Today, affiliate links for shared revenue, graphic badges for social and web association and "Hall of Fame" lists have been added to traditional techniques.
Caution: It is MUCH less expensive to keep a customer than it is to earn a new customer. Effective conversion strategies must address the ongoing relationship between the brand and the customer — after they make a purchase.
Back to the Tactics
As mentioned before, a quick search will reveal all sorts of "secret" tactics to improve a site's conversion rate. Most experts even agree on which tactics work best. Still, how they'll impact the performance on your site is the question.
A perfect example of this is form length. A common recommendation is to keep solicitation forms as short as possible. That makes sense because people are moving fast, and you don't want to slow them down … until you do.
Several years ago, we recommended that a major league baseball team use a name and email form for their fan club signup. It was a free club and we didn't want any barriers to signing up. What happened was Mickey Mouse and several dead presidents signed up without ever clicking the opt-in email. This killed email delivery and reputation suffered. The team replaced that form with a 21-field questionnaire that gave fans a forum to share preferences with the team. The result: the bounce rate didn't increase, signup rates didn't drop, opt-in confirmation went up and by the end of the season, the team's list was outperforming the players on the field!
There will ALWAYS be exceptions to every tactic. For that reason, always start by knowing your customer! From there, make sure your conversion campaign includes robust and on-going testing. In fact, I recommend that testing be included as a fundamental part of every conversion program. By adding on-going testing to your campaign, you give yourself the ability to respond to changes in the market and constantly improve the campaign.
Further Reading on Website Conversion
If you'd like to dive even deeper into this incredible topic, we've got more for you! Check out these great articles that can help you — or help you help others — gain a better understanding of Website Conversion:
One Last Thing …
Like a "real world" relationship, a conversion strategy requires on-going effort and commitment from both parties to succeed. Regardless of what you sell or what you call them, engaged users are the force behind today's digital economy.
If the idea of executing on a website conversion audit or strategy seems overwhelming, know that you don't need to go it alone. We're in this with you. If you need a little help, just drop us a line, anytime.
Best Regards,
Ed Bardwell
President
Rainmaker Digital Services
Download Your Copy of
Digital Marketing for Everyone Else
Our free eBook delivers the critical fundamentals of digital marketing that you actually need to know, without the hassle and waste of researching the Internet on your own.