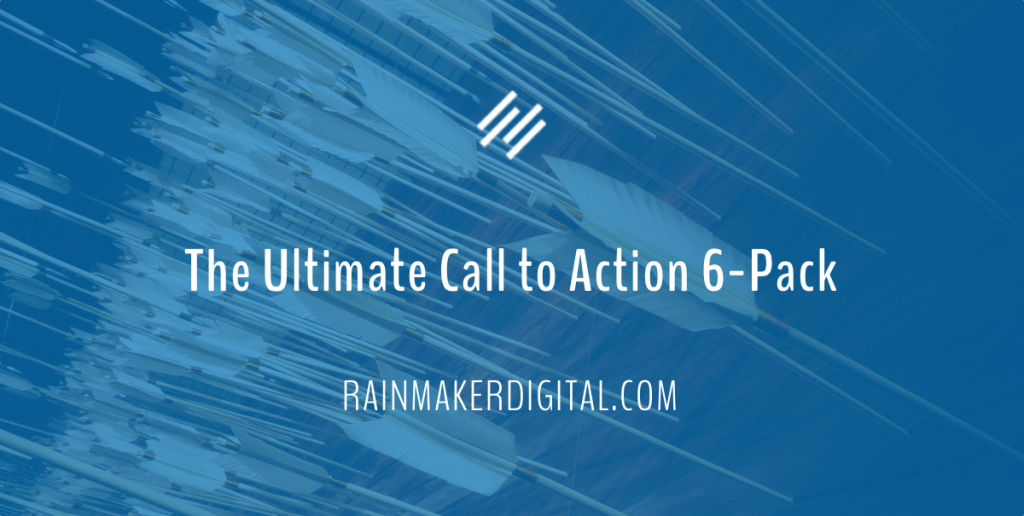 Call to Action (CTA) is the term that marketers use to refer to the copy that prompts an immediate response, action, or sale … good CTAs are an essential component of website conversion.
In general, marketing campaigns (sales scripts, landing pages, ads and content) are constructed to drive the audience to a single directive, a CTA. The messaging is so compelling, so motivating that the audience has no choice except to click, sign up, or buy.
This article shares the "RMDS CTA 6-Pack" of tips to make your audience eager to act … now!
#1 Use Emotion
Remember the scene in When Harry Met Sally where Sally proves her point about men to Harry? The lady at the next table orders "I'll have what she's having". We are all emotional creatures and get swept up in the power and passion of the scene. If your messaging is working, the CTA is the climax of your message and it needs to drive home the emotion you've been building. Don't leave the audience hanging.
The easiest ways to generate emotion without muddying the CTA are with adjectives, adverbs, formatting and punctuation. "Register NOW!" is more compelling than "Register." "Free" is still the most powerful word in marketing and building that into your CTA will help satisfy the audience's emotional need. "Buy Today and Receive An Awesome Upgrade for Free!"
CTAs with emotion feel more personal and human. We know that people buy from people and that they're looking to, as Seth Godin shared in Rising Tide, buy relationships, stories, experiences, and magic. Just like Sally was selling Harry.
#2 Command
Building on the idea of emotion, the second CTA tip is use words that require a response. In sales, "YES" is the response we want but "NO" is second. Don't use words that give people the ability to think about it or save it for later. Make them make a decision.
Use terms that are easy to understand and drive action. For transactional CTAs, try "Buy", "Shop" and "Order" and leave "explore" or "try" to the other guys. For engagement CTAs, "Sign up", "Upgrade" and "Join" will build your audience much faster than "download a webinar."
While no language is "wrong," it is much easier to create a powerful CTA that combines emotional language with action-based commands.
#3 Know Your Platform
While all marketing requires a strong understanding of the audience, technology has given marketers a second opportunity with the CTA. That opportunity is understanding the audience's preferred platform to consume your content and using the strengths of that platform in the CTA. For digital campaigns, audiences will be either mobile, website or email.
Look at your analytics or the campaign design and tweak the CTA to the platform.
Consider using click-to-call or text response for mobile-first campaigns. For website audiences, chatbots and personalization can create unique engagement and compelling offers. For email, forward to a friend, share, and "save this email" will show the audience that you're willing to meet them where they are and in the format they want.
#4 FOMO
Tip four is all about FOMO … Fear Of Missing Out. In addition to creating emotion and driving action, a great CTA implies that the audience must act immediately. While "Now" is a great word, language like "sale ends in 24 hours" (maybe with an active countdown clock?) or "Only 5,249 packages remaining…" will create a stronger sense of urgency.
A more advanced FOMO technique is to use "best selection", "preferred appointment times", and "select your provider" in combination with the sense of urgency. The classic example of this CTA technique can be found in the classic Wish Book from Sears – "order by December 5th for best selection and guaranteed delivery by Christmas". Today, FOMO is a key in the CTAs found on Black Friday and Cyber Monday for everyone from Amazon to Zappos.
#5 Tell Them Why
The messaging that precedes the CTA should explain the value of the opportunity, the unique selling proposition, and differentiate the offer from the competition.
Unfortunately, your audience may not really read or listen to your messaging and may jump straight to the CTA (see next) so it is important to include another instance of why the offer benefits the audience. "Sign Up Today and Start you workouts with the trainer of your choice tomorrow."
#6 KISS
The final tip in our CTA 6 Pack is KISS – Keep It Super Simple. While this does apply to the language of the CTA, it also applies to the presentation of the CTA. Use clear, simple layouts that make it easy for the audience to act.
Select fonts, colors and formatting that is on brand and that are easy to understand. We still see people building big "Buy" graphics and centering them at the bottom of the page … but the user has to click the link below the graphic to convert. Make the graphic a button.
Even simpler, lose the graphic (remember the platform tip above) and use your CTA to link directly to the conversion page. If your page is long, include the CTA multiple times on the page. Whenever possible, use KISS to make the CTA easier to use. Convert numbers in words to digits, use simple language that doesn't have multiple meanings, and use formatting that makes it easy.
A CTA for Everyone
A great CTA will use ALL of the CTA 6-Pack. These tips are universal. You will find them in advertising around the globe and in every format.
In a TV ad, you'll hear the CTA at least 3 times per :30-second spot. Take some time and look at advertising on TV, radio, podcast, or magazine. When you pay attention, you'll quickly see the CTA 6-Pack in action.
If the idea of creating and/or executing on conversion strategies (including crafting CTAs that work) seems overwhelming, know that you don't need to go it alone. We're in this with you. If you need a little help, just drop us a line, anytime.
Best Regards,
Ed Bardwell
President
Rainmaker Digital Services