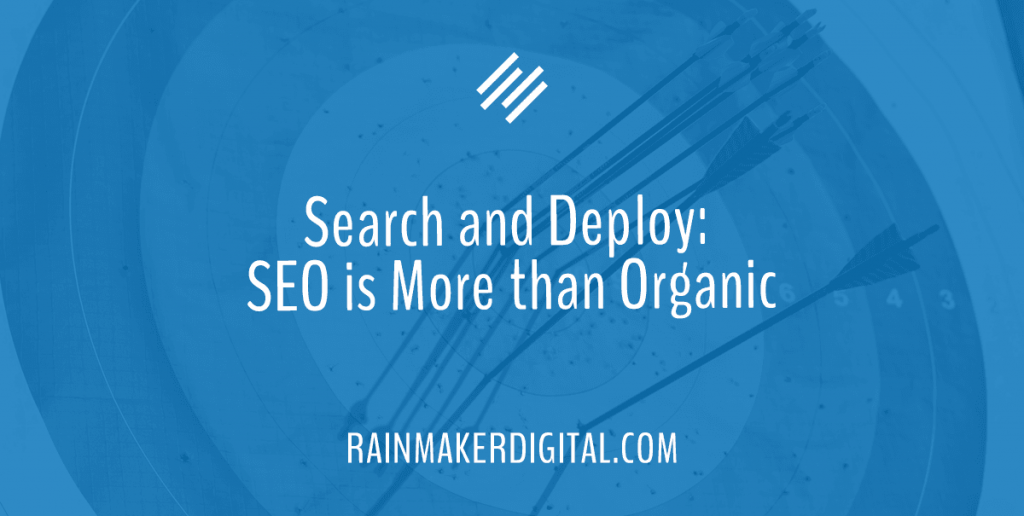 Does dominating the SERP really have the same impact it once did?
SEO, simply put, is a "​​set of practices designed to improve the appearance and positioning of web pages in organic search results." It's the method you use to reach the top of the SERP, or "search engine results page." Problem is, it's only getting harder. There's more competition. There are more options for getting attention. Paid search matters more than ever. It's a real challenge to get to #1 on the SERP.
Why #1 on the SERP Matters
It's no surprise that ranking high on Google's SERP has been a goal for so many brands. There's a reason #1 has mattered for so many years: it's simply the best way to get traffic.
Over 25% of people click on the first link on the SERP. 88% don't even make it past that first page — they only click on the top ten links. If you're really trying to get the most traffic possible on search, you want to be #1 for your keyword. There's just no question about it.
The higher on the SERP you rank, the better off you are. That's it. Case closed. End article. Except … it's not quite that simple.
The SEO Game Has Changed
SEO has changed a lot since Google began.
You used to be able to stuff your content with keywords to bump up your rankings, but Google got wise. Link farming used to work until Google figured out how to distinguish relevance better. After that, you could still get pretty good results by focusing on common keywords, but more people began to learn the importance of SEO and up their standards. The low-hanging fruit disappeared.
Search query wording used to matter more — you had to help the machine understand you. Now Google can understand natural language to a degree that would have sounded impossible 10 years ago, a natural consequence and enabler of voice search. A third of the United States uses voice search at least once a month. It's growing too. The overall voice search picture is complicated by the number of devices and companies involved, but its growth is further driving natural language search. (Though voice search as a whole is beyond the scope of this article, Moz has a fantastic breakdown if you want to learn more about what makes it tick.)
The number of words in a search, the tail, is getting longer and longer. Not only that, the Google SERP is now more than just organic rankings. "Position zero" exists — a placement that sits above the organic search results on the SERP. These include paid placements, local results, rich snippets and other information Google thinks will be more relevant than organic search results alone.
Google is more than the SERP. The formula has become more complicated than just "find keyword, write about keyword, get links, climb rankings." Local search for results near your location, paid search (ads at the top), mobile search (smartphones and tablets) and voice search matter a lot more than "ranking #1" for a particular keyword. You need a cohesive search strategy that embraces all aspects of search marketing. Today, being #1 is more than SEO.
Paid Search
The top of the SERP has become "space for rent." Google offers paid placements through Google Ads — often called paid search, PPC or SEM (search engine marketing).
You've seen them. These are the search results that are marked with "ad" next to them.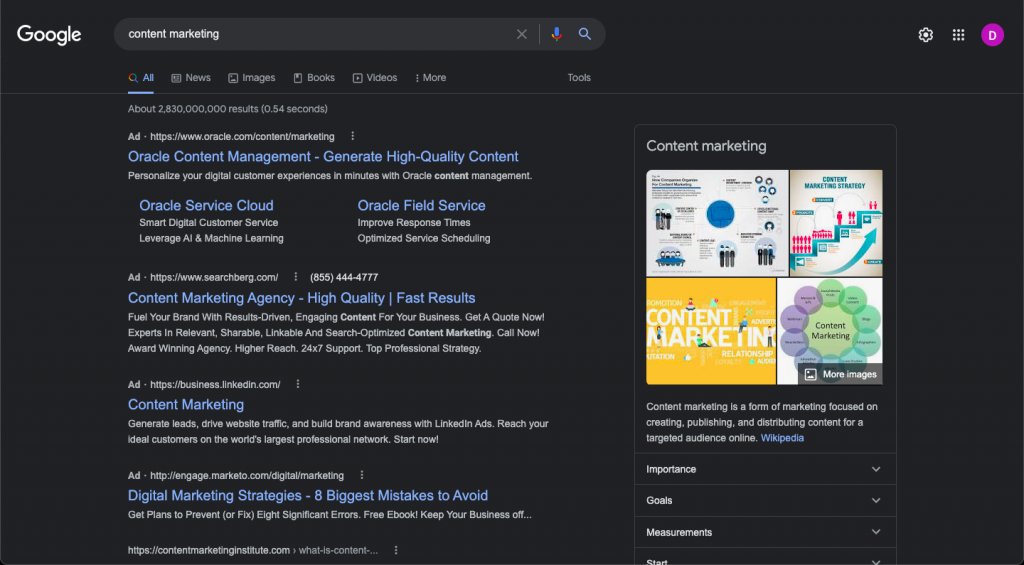 When you put a listing on Google Ads, you bid against everybody else on keywords and phrases where you want to be displayed. Top bidder in the auction gets the top placement when someone searches for that term. Pretty simple to understand.
In practice, this auction model is more complex because there are multiple other paid search impression possibilities. Maybe you don't want to rank on the main SERP — maybe you want exposure on a shopping results listing.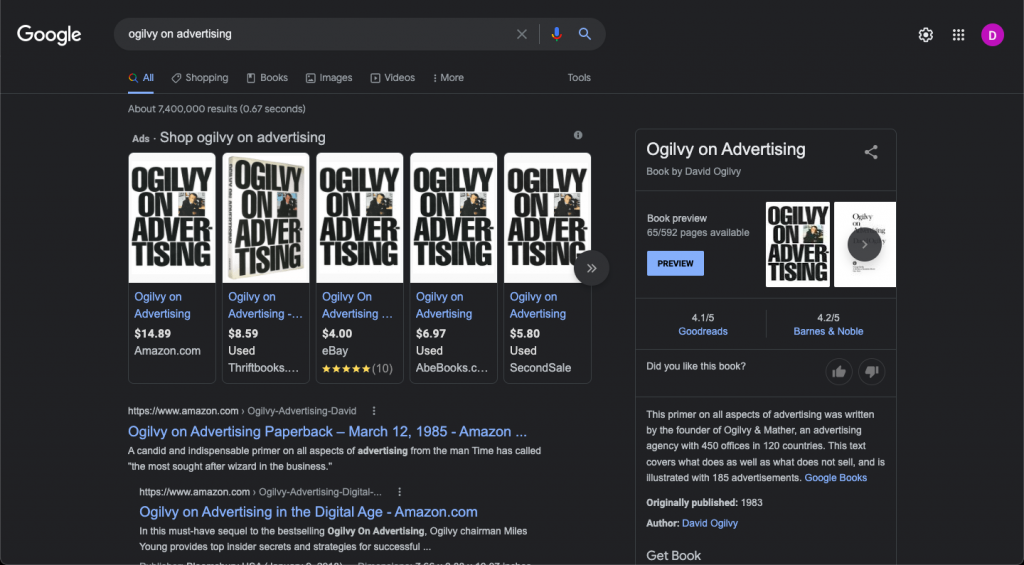 Or maybe you're selling local plumbing services and want a listing on a local search for "plumbing near me."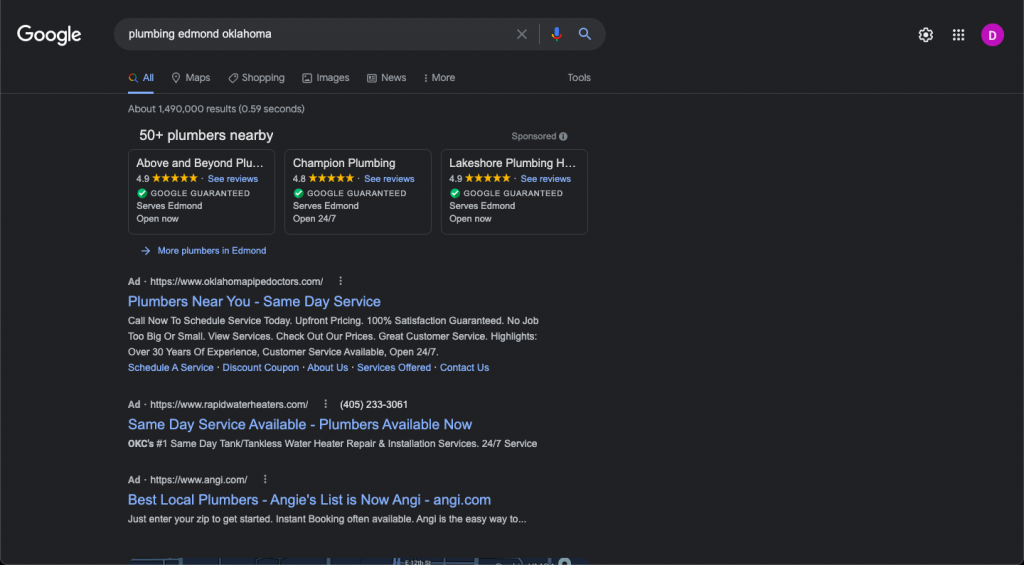 Any of these three paid search options might be viable for your business. Each has an organic counterpart, and organic and paid can work together.
There are many advantages that paid search brings to a search strategy. First, paid search allows you to test keywords effectively. Since 48% of search queries include paid ads, your Google Ads allow you to try out new keywords you're thinking of targeting organically. See what your results look like. Your bounce rate and conversion rate will tell you whether your content matches your audience's intent.
Second, paid search helps your organic content rank. Google's algorithm likes content that people like. That means time on page and link building matter. Paid search will drive traffic to your page, potentially improving both of these metrics. It's like a greenhouse for your content. You can incubate content and keywords in the "greenhouse," then put them outside when they're strong enough to survive on their own.
Local Three-Pack
The local three-pack is the listing of local businesses near a location. Google displays three businesses that match a search for any local query, for example, "restaurants near [city]."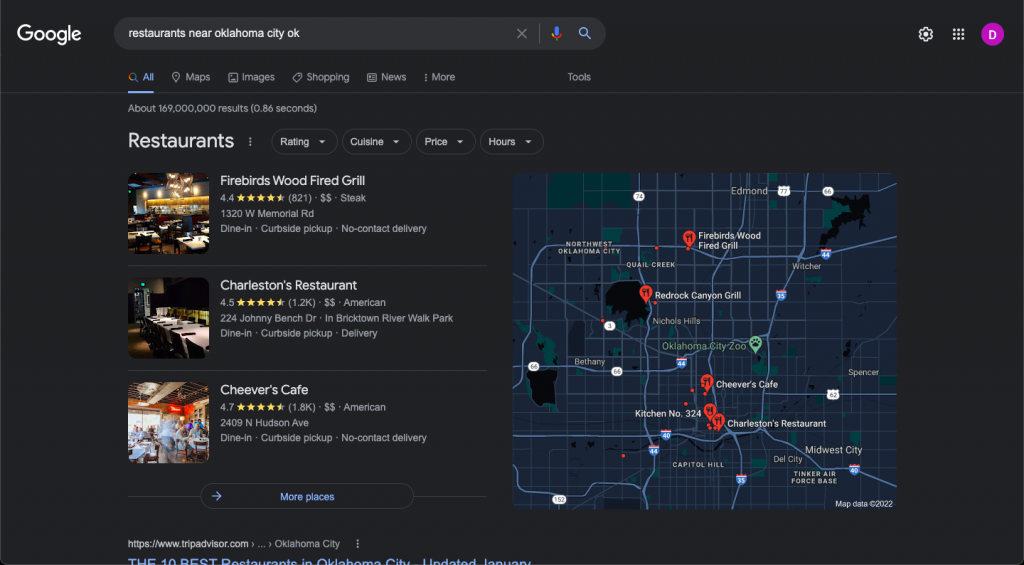 There are three ways you can rank in local results: through paid search, through the local three-pack and through organic search. That gives you three possibilities to capture attention, but the three-pack is the most visible.
The local three-pack pulls information from Google My Business. Claiming and optimizing your Google My Business listing will help you rank here — we have a guide to how you can do that.
Organic Optimization
Social media and digital advertising in general will help you build up your search presence, even though they technically have nothing to do with it.
Links and visits to your site from any reputable source will help you build up your credibility or relevance. Traffic proves your content is relevant and interesting to the audience. If you generate content that gets traffic, Google will improve your ranking on the SERP.
Having a presence on other platforms helps your visibility on Google. That rising tide lifts all boats.
All of these factors work together to create your search strategy for 2022.
Does Search Really Matter in 2022?
Of course it does.
Neglecting the biggest external source of potential traffic to your website is stupid.
But search strategy is about more than just the SERP today. It incorporates your social media presence, your Google My Business listing, your paid search (SEM). It's all-encompassing. Search is a vital part of a holistic marketing strategy. It can neither succeed by itself nor be ignored.
You need SEO if you're going to succeed in 2022. And if you need a little assistance with your marketing strategy, feel free to reach out. We're here to help.
Best Regards,
David Brandon
Copywriter
Rainmaker Digital Services