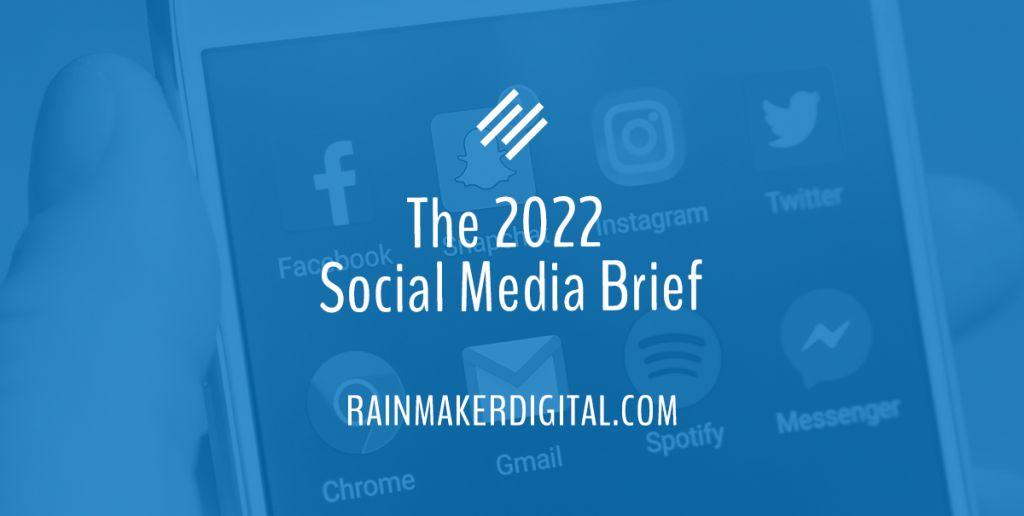 Social media's not just one more piece of the Internet anymore. It's a destination on its own.
Almost 4 billion people use social media worldwide. GWI notes that the average social media user is active on over 7 different platforms each month. Your audience is out there — if you know where to look.
You need to figure out where your audience is and what platforms work best for you, then ration your time and effort. Here's a quickstart guide to help you determine which platform works best for you, your brand and your audience.
Top Trends for 2022
Want to build an impactful social media presence? Stay current. Social media changes on a month to month basis — here's what you need to know in 2022.
Social media is driven by video. TikTok, YouTube, Instagram, Facebook … doesn't matter. Video content fuels social media. People are reading less and watching more. Short-form video, long-form video, doesn't matter: it's working.
TikTok has arrived. There have been a lot of platforms that tried and failed to compete with Facebook and Instagram. TikTok has succeeded where others have failed. It started with Gen Z, but it hasn't stayed there. In spring of 2022, TikTok eclipsed all other major platforms in average time on platform.
Meta is still king. Meta's platforms are a safe bet to succeed — they have the user base, and when they incorporate features from their competitors, they're the ones that usually win. Instagram Stories traces its origin to Snapchat, and Reels are a direct reflection of TikTok's model. It may not be the "cool" choice, but Meta has weathered every storm.
Social media shopping is here. Instagram is the king of social media shopping, but there are others knocking on the door. People are buying straight from social media posts, not just driving people to the website.
State of the Platforms
Each platform has its own strengths and weaknesses. Here are the six most important.
Facebook
Reasons to use it
Facebook is massive. Almost 3 billion people worldwide use Facebook every month. If you want reach, this is where to get it. There's an audience for you there somewhere.
Reasons not to use it
The size might be a problem for some brands — competition is high, particularly for boosted posts and advertising. There are so many people trying to use Facebook commercially that it can get expensive fast. Facebook is also the least "cool" of the major platforms, so if your brand is trendy and youth-oriented your audience may not be very active there.
What's changing?
Facebook's reached maturity — its user base isn't growing the way it did in the past. Monthly user estimates are flattening out, and Facebook's reluctance to share time on site metrics indicates that those might be doing the same. New features targeted at younger users may help. Time will tell if Facebook can break its reputation as the "boring" social media platform.
Facebook's metaverse push may help too. Parent company Meta is building a VR world for people to interact in. What makes the Facebook push into the metaverse so unique is the scale. We'll see if it succeeds as VR headsets become more common.
YouTube
Reasons to use it
Over 30,000 hours of video are uploaded to YouTube every single hour. And sure, it's known mostly for hosting video, but what makes it really interesting now is the strength of its recommendation algorithm. People keep coming back to the platform as they discover new channels.
YouTube ads are also very effective. Internal statistics estimate that 70% of users bought a brand after seeing it on a YouTube ad.
Reasons not to use it
YouTube's focus on long-form video makes it great for any creator who uses that, but the current trend is towards short clips. YouTube's Shorts is trying to play catchup. Also, if you don't have the time, resources or ability to make good video content, YouTube may not be for you.
What's changing?
As YouTube becomes more of a discovery platform than "just" a video host, third-party apps are capitalizing on a new toolset. Tools like Social Bakers and Vidooly help you figure out who your audience is and what they're looking for, as well as what your YouTube SEO should look like.
YouTube itself is beefing up its video offerings beyond just long-form video with Shorts, which competes with offerings from TikTok, Facebook and Instagram. YouTube Live is competing with other streaming services too, including Facebook Live and Twitch.
Twitter
Reasons to use it
Twitter is one of the smaller platforms by monthly active users, but it makes up for it by being the platform of choice for some niche audiences. It's also a driving source of "breaking news." And when people are active on Twitter, they're really active. 80% of all Tweets come from 10% of users.
Tech, finance, political, sports and media professionals all tend to be Twitter users, and if you're trying to build a presence in any of those spaces, you need to be on the platform.
Reasons not to use it
It's niche. Twitter's reach is limited by its user base (roughly 436 million monthly active users, ranking below WhatsApp, Pinterest and even Telegram).
Twitter's format can also work against it. The strength of its 280-character limit is also its weakness. The format makes storytelling much harder. Threading is supported, but it's very easy for a single tweet to get taken out of context and retweeted to a much larger audience. It's best at starting conversations, not keeping them going.
What's changing?
Controversial billionaire entrepreneur Elon Musk is planning to buy Twitter, and no one's sure yet what it means for the future of the platform. Musk has had his run-ins with the platform's management in the past and insists he's a free speech absolutist, which may impact content moderation policy if the takeover goes through. And lately Musk has been making noises about walking away. It's hard to say what will happen.
Instagram
Reasons to use it
Instagram is under the Meta umbrella and benefits from cross-promotion with Facebook. It's more visually focused than Facebook, and the platform is now pushing for video as its preferred content type even over photos.
Instagram's visual format made for an easy transition to social media selling — this platform is a powerhouse for anyone who wants to put their catalog on social media. People can click through product options from both Stories and the regular feed. 44% of users surveyed said they used Instagram to shop weekly.
It's a great way to tell video stories. The Instagram Stories feed is a natural fit for short-form, organic-feeling video content, and Reels are encroaching on TikTok's territory. In fact, Instagram still holds more of Gen Z's attention than TikTok (though the gap is shrinking).
Reasons not to use it
Not everything shows up well visually — I'm a writer, and it's a challenge to make Instagram work for me. You can still do it, as Rupi Kaur shows, but it's not always easy.
Instagram is also a little "slick" for some content. The curated, airbrushed, filtered nature of the content isn't always a fit for brands. Stories can be less produced, but timeline posts have a specific "look" that might not fit your brand ethic.
Regular posting is a must. If you're not able to commit consistent effort to Instagram don't do it.
What's changing?
Instagram's focus on shopping differentiates it from other platforms. It's already the platform of choice for many online stores, and that trend is likely to continue as Meta adds more commercial tools.
People have been predicting the downfall of Instagram at the hands of its competitors for years — Snapchat, Vine, TikTok. Meta will copy its competitors' features and bet on its massive user base doing everything in the same app, and so far it's been proven right. Don't bet against Instagram.
LinkedIn
Reasons to use it
LinkedIn distinguishes itself from its competitors by marketing at professionals, not casual social media users. Almost a quarter of LinkedIn users are senior-level influencers. One in eight are decision makers. 10 million are C-suite executives. And 47% of C-suite executives say they shared contact information with an organization after reading a good thought leadership piece. The stats are clear — want to talk to businesspeople? Use LinkedIn.
Reasons not to use it
LinkedIn is explicitly B2B. If you're after consumers or are a B2C company, focus on platforms like Instagram or Facebook.
What's changing?
LinkedIn saw a big organic reach spike a couple of years ago, and marketers jumped on board in droves. There is a lot more content being posted today than ever before. There's still plenty of reach, but competition is greater and your content needs to be better to cut through the noise.
TikTok
Reasons to use it
TikTok began its life as Douyin in mainland China in 2016. Growth has been explosive — the user base went up over 80% year over year in 2019 and 2020.
TikTok is popular with Gen Z and Millennials, giving it a "cool factor." And because it's smaller and less commercially saturated than mature platforms like Facebook, it can be easier to make your voice heard.
Reasons not to use it
TikTok is a video platform. If your message doesn't translate to video or can't be easily captured in TikTok's style, skip it. That "cool factor" can work against you if your audience isn't into it. As with Instagram, you need to make sure you can sustain regular content and good production values.
What's changing?
TikTok's explosive growth has slowed, and it seems to be transitioning from early adopters to a more mainstream audience. Watch demographics — it may start to resemble Instagram's market more as time goes on and more people slowly join the platform.
Other Platforms
There are a number of other important social media platforms that have massive audiences. Some are even larger than those mentioned above. These platforms serve more specific audiences and could be a good fit for you:
Snapchat: Competes with Instagram and TikTok in the short-form video space. The audience is younger and conversations reflect their interests.
Reddit: An evolution of online forums, Reddit is a collection of user-moderated communities known as "subreddits." Audience is mostly Millennial and college-educated.
Pinterest: A visual platform where users collect visual "pinboards" of other people's content. Audience is 60% women and college educated.
WhatsApp: A mobile messaging platform that makes it easy to stay in contact across international borders. WhatsApp allows users to create groups, message and call contacts. The audience is over 2 billion users strong.
Telegram: Similar to WhatsApp, Telegram is a messaging platform. Its calling card is security — end-to-end encryption, self-destructing messages and other safety features make it useful for the privacy-conscious. The audience skews male, young and tech-savvy.
Twitch: Twitch is a streaming platform. Streamers have their own channels with community features including group chat that runs concurrently with the stream. Fueled by live streaming of online gaming, the audience is young and engaged. As many as 2 million concurrent viewers have been logged onto the platform, which rivals many traditional prime-time television shows.
Discord: Discord is a chatroom, video, audio and streaming platform. Popular with the tech and gaming community, Discord's goal is to fuel community.
Which Social Media Platform Should I Use?
There's no easy answer to that question. There are literally hundreds of platforms out there, depending on how wide you expand the definition of "social media."
Use the information we've laid out above to determine where your audience is, how many resources you can commit and what fits your style best. Don't feel like you have to do everything — focus on 2 or 3 and do them well, then branch out from there if you have the resources and the audience. And if you need a hand, reach out — we'll help you make the most of your social media.
Best Regards,
David Brandon
Copywriter
Rainmaker Digital Services