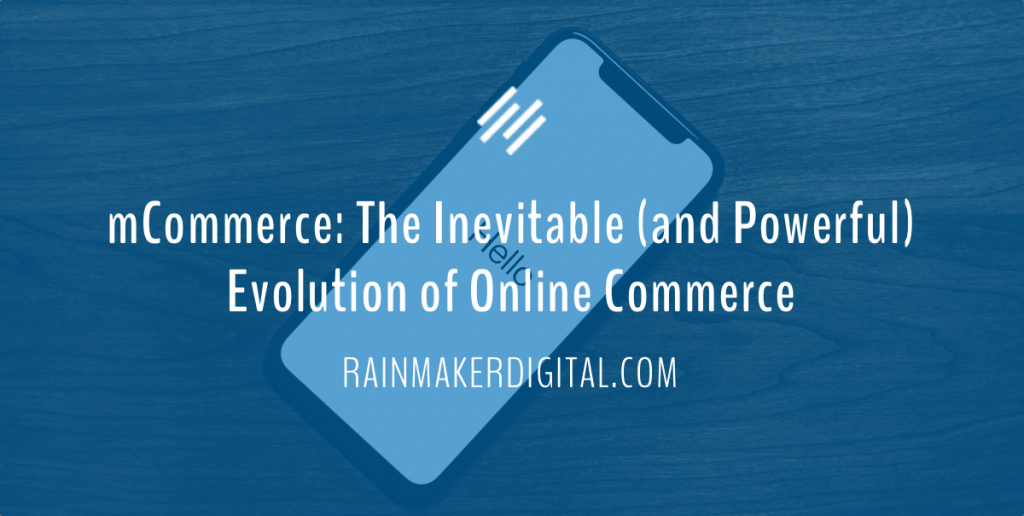 There is a strong argument that this decade will be defined by a very particular type of online commerce.
eCommerce sales were estimated at $4 trillion for 2020 and it is estimated that by the end of 2021, 54% of total eCommerce will be from mCommerce.
Now's the time to understand mCommerce and make sure you've accounted for it in your digital marketing plans. Fortunately, mCommerce is more of a label and a mindset than another technology that you need to learn.
Here's a common definition of mCommerce:
Any kind of monetary transaction that occurs through a mobile device. This includes all types of transactions including person-to-person sharing of funds (like splitting the bill for dinner), traditional purchases on online shopping sites, and in-person payments at retail locations. Essentially, any time a mobile device is used to make a transaction, it's mCommerce.
mCommerce is not a fad or trend. It is a natural progression from traditional online eCommerce that is being driven by the preference that users have for mobile devices over other digital platforms.
The 3 Types of mCommerce
If you have a son (or two) under the age of 25, you're well aware that the phone has replaced their wallet as required out-the-door gear. My younger son doesn't even carry a physical credit card (it's on his phone too).
mCommerce is the way they navigate day-to-day life. There are three main types of mCommerce that impact the market and as marketers, we need to understand each of these and consider how they might impact us or our clients.
The three types of mCommerce are:
Mobile Shopping: The most direct "translation" of ecommerce, mobile shopping is eCommerce on a mobile device. Brands have enhanced mobile shopping through mobile optimized websites, dedicated apps, and even social media platforms.
Mobile Banking: Another very common mCommerce activity is financial management. Unlike online banking, mobile banking typically has some limits on transaction types in order to make activities "thumb scrollable." Mobile banking usually involves a dedicated app, though some financial institutions are now expanding mobile banking activities via chatbots and messaging apps.
Mobile Payments: The most exciting area of mCommerce utilizes technologies like NFC and custom apps to facilitate person-to-person, online and retail transactions. A user's mobile device connects the parties of the transaction, facilitates the transfer of funds and documents the interaction.
Though they have been a work in progress for many years, mobile payments are the most impactful area of mCommerce for marketers. The killer mobile payment app is the Mobile Wallet.
The Mobile Wallet
In the 1980s, we would go to the video arcade and change a dollar bill for "tokens" to play the games.
Fast forward to the early 2010s, we started working with waterparks and family entertainment center clients to help them "sell" the concept of loading a plastic value card (or wristband) with a credit card or a pre-determined amount of money so patrons didn't have to carry a purse during their visit and could make purchases with the ease of a swipe.
While there is a clear benefit to consumers in terms of security, theft prevention and loss, brands found that people would spend more if they didn't have to grab their wallets.
This alternative payment concept has matured over the past decade with technology evolving to become the mobile wallet. The mobile wallet allows a user to load information (credit card, account information, shipping details and preferences) one time and then use that information to make physical or online purchases; they even allow for transfers between two individuals.
The "Pay" apps — proprietary financial solutions like PayPal and Venmo — lead the mobile wallet category.
Users often cite convenience and security as reasons to use mobile wallets. Other advantages include personalized shopping experiences, one-click purchases and contactless purchases.
In an evolving click-and-mortar world, mobile wallets and mCommerce applications will continue to grow in prominence for digital marketing.
Marketing Advantages of mCommerce
Kids of the 80s never left the arcade with ANY tokens in our pockets. Brands today see mCommerce like those arcade tokens. In addition to the mountains of data that they provide, mobile wallets or mobile payment apps will:
Increase conversion rates
Increase customer spending
Drive foot traffic to physical stores
Make loyalty programs accessible from anywhere
Improve offer and promotion redemption rates
Some digital marketers debate whether mCommerce is the future of eCommerce marketing. Debate all you want. Businesses are marketing via mobile payment/mobile wallet solutions because the audience is already there.
If you understand that people prefer to use mobile devices, that mCommerce is already delivering powerful ROI benefits you will quickly realize that there is no debate. The question is, are you on the mCommerce train … and if not, why not?
One more thing …
mCommerce is growing fast. The impact is being felt at the cash register, online and at home too. Like so many other aspects of digital marketing, it is vital to have a general understanding of mCommerce and be willing to explore how its applications can affect your brand.
If you find that mCommerce is a strategy you need to implement, you'll find exceptional user groups and many sources for best practices to help get you started. One best practice that you'll find is start with a strategy — sound familiar?
If the idea of executing on an mCommerce strategy seems overwhelming, know that you don't need to go it alone. We're in this with you. If you need a little help, just drop us a line, anytime.
Best Regards,
Ed Bardwell
President
Rainmaker Digital Services