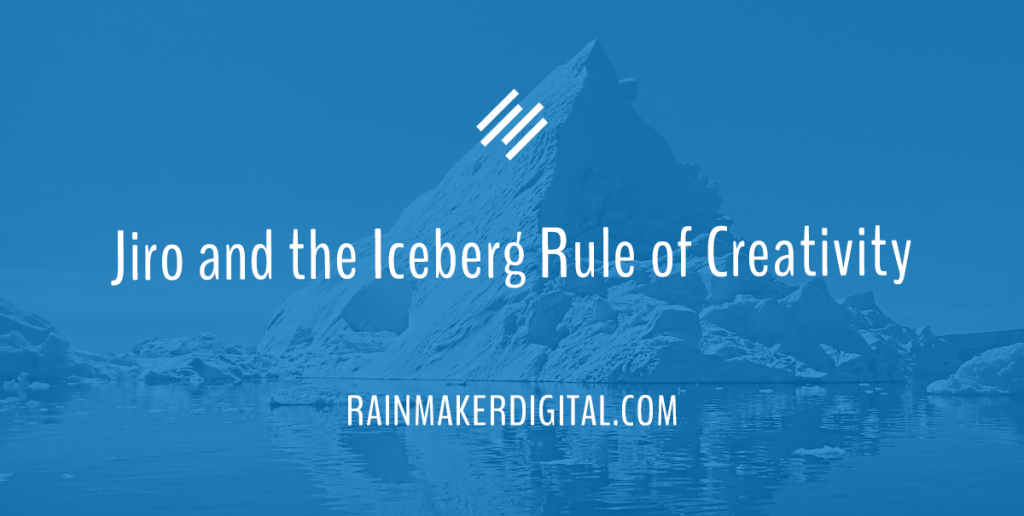 Fish, rice, seaweed, vinegar, soy sauce, wasabi.
These are the components of edomae-style sushi, the type served at world-famous Sukiyabashi Jiro, the first sushi restaurant in the world to earn three Michelin stars and the subject of the documentary Jiro Dreams of Sushi.
Sushi isn't a complex dish. In fact, it's one of the simplest. There is a magic beyond that mix of six ingredients — and there are lessons for content marketers in that.
Tools like AI content writing and automatic ad buying are stripping the human element from our field. Creative is being devalued and "marketers" claim that good targeting is enough to get the message in front of someone and make them buy.
Creativity does matter, despite what these people say. It doesn't replace craftsmanship — it builds on it. Sukiyabashi Jiro and its chef Jiro Ono show us how, with what I call the iceberg rule of creativity:
10% of your success is creativity. That's the part of the iceberg that sits above the water.
90% of your success is craftsmanship. That's the part that sits below the water, supporting the part people can see.
This is why Jiro Ono is the greatest living sushi chef. And it's how you can become a great content marketer.
The Craftsmanship of Jiro Ono
Jiro Ono's restaurant is a temple to the art of sushi preparation. Ono qualified as a sushi chef in 1951 and he still works in the restaurant that bears his name.
Sushi in Japan is treated seriously. It takes years to work one's way up from apprentice to itamae, or sushi chef. Jiro's restaurant is more rigorous than most — apprentices don't even touch food for the first little while, instead focusing on details like the hot towels visitors use to clean their hands. An apprentice usually starts with rice, getting the consistency and flavor perfect. Once the itamae is satisfied with the rice, the apprentice moves up to the various aspects of ingredient preparation, eventually getting the chance to make sushi themselves. It takes years, sometimes decades.
Every ingredient is chosen with care. There's no set menu — the fish is chosen each day at the market, and each individual fish is treated differently depending on taste and texture. None of the sushi is premade — the ingredients are laid out ready to go and then each piece is assembled by the itamae for each particular customer.
This is craftsmanship at its finest. Every step from buying ingredients to assembling the final product is consistent and meticulous. Great sushi comes from great ingredients well-prepared, and Ono's process is designed to make it repeatable.
Technique Comes First
The meticulousness of Jiro Ono may seem absurd. This isn't the thing that makes Sukiyabashi Jiro a worldwide destination. But it's the foundation for it.
In his seminal book Ogilvy on Advertising, David Ogilvy has a chapter titled "How to Produce Advertising that Sells." It's the first chapter of the book. The very first subhead is "Do your homework."
"You don't stand a tinker's chance of producing successful advertising unless you start by doing your homework," Ogilvy says. "I have always found this extremely tedious, but there is no substitute for it." He doesn't start with creativity.
He then goes on to lay out a number of steps for advertisers to produce advertising that sells. Consider your positioning. Find a consistent brand image. All of that comes before he even touches on creativity. Most of the chapter doesn't even mention creativity by name. And in some ways Ogilvy seems to almost disdain it. "'Creativity' strikes me as a high-falutin word for the work I have to do between now and Tuesday," he says later in the chapter. The margin quotes a rival agency: "If it doesn't sell, it isn't creative."
Ogilvy's point about craftsmanship and creativity was this: do the work first.
"Big ideas come from the unconscious," he says. "But your unconscious has to be well informed, or the idea will be irrelevant. Stuff your conscious mind with information, then unhook your rational thought process."
That's the 10% of the iceberg, the memorable, emotional content that sells. It doesn't come from some magic process of the mind. It grows from knowledge, skill and craftsmanship. The 90% has to be there first. Only then does the value of creativity yield the 10% that makes marketing work.
How Jiro Ono Achieved Greatness
The thing that sets Jiro Ono apart is that he constantly works to refine his craft.
He's spent long years coming up with better ways to treat ingredients, figuring out the correct amount of time to massage various tougher ingredients like octopus or squid for maximum texture. He serves each fish at the optimum temperature to bring out flavor and texture.
Even his plating and serving reflects his craftsmanship. Ono looks at the guests as they come in, then customizes his sushi to them. Some pieces are larger or smaller depending on the person's jaw size so they can be consumed in one bite. They're aligned to the left or right side of the plate depending on their handedness.
The 90% of technique and craftsmanship, that body of knowledge that's been developed through years of practice, effort and curiosity, that's the foundation. It's the bulk of the iceberg that lies below the water. It's the thing you can't see.
The tip of the iceberg is the creative inspiration. And it's the thing that sets good apart from great. Ono's still coming up with new ideas, new preparations, new possibilities at 96 years old. There are plenty of people out there who can follow a recipe. It takes creativity to create a new dish.
AI Is Coming For Your Job … If You're Bad At It
The not-so-secret fact of the content marketing industry is that most content out there is formulaic. And that's why AI is starting to be able to produce it. Many of the blogs and articles you read are just rehashes of the top 10 Google results on the subject.
I know. I've done it. There's plenty of ghostwritten work out there where I got paid to write an article on something I didn't know much about — and it's good work. But it's not creative, and it's not great.
If grinding out good content is your job, start worrying. AI is coming for you, and it can read the top 10 articles on Google just as well as you can. And even if AI can't, someone hungry and straight out of school will probably write that article for less money than you.
The 90% will make you a good marketer. But if you really want to stick around for the long term — if you really want to succeed — you need to embrace the 10% of the iceberg, creativity.
What Makes Something Truly Creative?
It's not just something with artistic value. In fact, it often isn't artistic at all. You can be creative in coming up with a solution to a problem, building a new process or making a unique campaign. But to quote Ogilvy's dictum, "If it doesn't sell, it isn't creative."
There are a couple of factors that go into content marketer creativity.
Emotional connection. A buddy of mine once told me that a good advertisement is the writer and the reader both recognizing an underlying truth. I like that. So many of the good campaigns you see rely on emotional connection — think of the Michael Jackson Coke ads, or some of Dove's recent body image campaigns. It has to resonate. People don't usually take action because you convinced them logically. They take action because you gave them an emotional connection to something they wanted to do already.
Novelty. Ogilvy talks about this when he gives criteria for a "big idea." "Do I wish I had thought of it myself?" he asks. "Is it unique? Did it make me gasp when I first saw it?" The Chick-Fil-A® cows are a great example. Be careful, though. Creativity isn't JUST originality. In fact, it often isn't original at all, but iterative: a new twist on an old thought. There's nothing new under the sun.
Durability. A creative idea isn't something people will look past. It's not ignorable. Creativity stands out in a sea of competent but dull content and holds people's attention even if they navigate away.
Creativity is born from craftsmanship — knowledge and skill are the foundations that lead to success. Creativity answers questions that people may not know they have in ways they may not have known to ask. Knowing what answers to create requires understanding and application of knowledge. Apply creativity to your craftsmanship and you'll reach further than you might ever have imagined — just like Jiro Ono.
If you're looking for help with your next campaign, know that you don't need to go it alone. We're in this with you. If you need a little help, just drop us a line, anytime.
Best Regards,
David Brandon
Copywriter
Rainmaker Digital Services