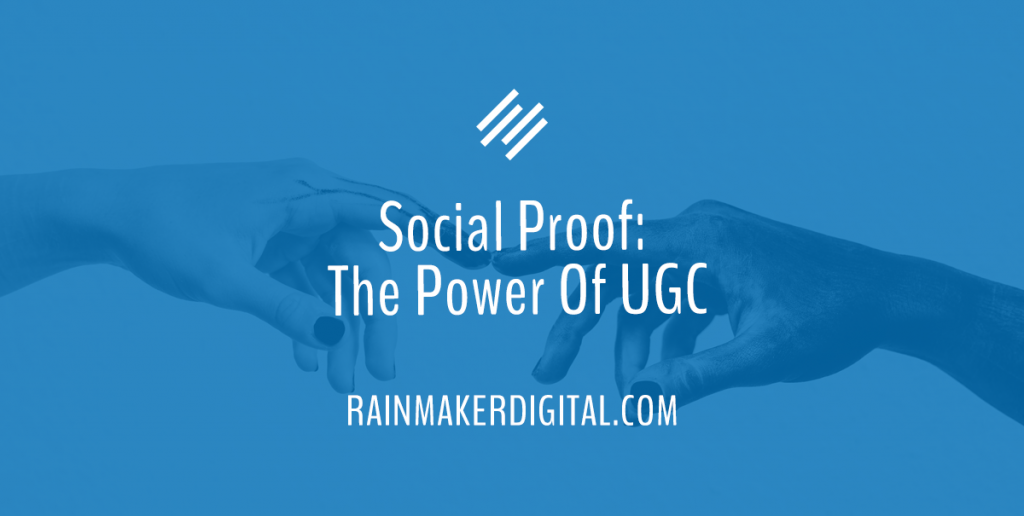 Ever see a Coke bottle with your name on it instead of "Coca-Cola?" That's the "Share a Coke" campaign.
It began in Australia in 2011. The South Pacific division of Coca-Cola printed the 150 most popular first names in the country onto bottles and cans, and a phenomenon was born. People took pictures of their cans and posted them to social media. Cans of Coke became Christmas gifts. Families bought bottles with their loved ones' names on them to send overseas. Sales soared. The campaign generated a huge amount of publicity and goodwill for the company — and that was before it went international.
User-generated content (UGC) spread "Share a Coke" like wildfire, creating a personal connection with their customers and increasing brand credibility.
And your brand can unlock the power of UGC too.
What Social Proof Does for Brands
So why is UGC so powerful?
It leverages a principle that marketer Robert Cialdini first outlined in his 1984 book Influence: social proof.
Cialdini summed up social proof simply: "If you can get people who are similar to the person you're trying to persuade to speak on your behalf, it's a lot easier for you than if you have to try to hammer your message one more time into a reticent mind."
In the years since Cialdini's book was published, social proof has become more visible and important than ever. Social proof is just word of mouth in a digital package. When you ask your neighbor why his lawn is so green and he says "Oh, I used XYZ brand fertilizer," your chances of buying XYZ brand fertilizer go way up. Opinions have been formed this way for as long as people have talked to each other.
UGC became a widespread phenomenon when the big media monopoly on attention was broken. Today, everyone is a media company. We all have a smartphone and a social media account to broadcast our opinions to the entire world. Brands know that.
It's a lot easier to convince people your product is good when their friends are doing the work for you.
UGC is word of mouth for the digital age. Digital content amplifies the power of social proof in a way Cialdini could have only dreamed of when he was writing his book.
The Power of UGC
UGC isn't just a glowing review or an unsolicited recommendation.
That disgruntled employee telling a story about your company on Glassdoor? UGC.
The TikToker who used your product in a dance video? UGC.
Social media makes content easy to share. If a customer loves (or hates) your brand, they want to tell the world. There's a possibility of clout, the dopamine rush from likes and shares, and a chance of going viral. It's just word of mouth — but it's easier and more incentivized than ever before. Today, you don't have to file a complaint about a company to the BBB or send a letter to the editor of your local paper, you just send a tweet.
People WANT to engage with brands and share their thoughts with their friends. It's not just about a transaction any more. It's a relationship. Customers find social capital in the brand and the brand finds validation in their audience. To succeed, you have to find a way to harness the content this relationship generates.
Shaping UGC
Every brand has two stories: the one they tell about themselves and the one other people tell about them. Success requires that those two stories be mirror images.
You can manage the brand story and the UGC from your audience through authentic messaging and authoritative content.
Ask yourself these five questions before you start:
Who in my audience will care about this initiative?
What elements of my brand do people appreciate the most?
When will they be the most engaged?
Where can I reach them most effectively?
Why should they take action?
The answers to these questions will get you started, but there are two major elements you should spend most of your time and attention on as you plan.
1: Find out what your audience wants.
Coke capitalized on something universal its audience could get behind: self-expression. "We gave consumers an opportunity to express themselves through a bottle of Coke, and to share the experience with someone else," said Lucie Austin, the director of marketing for Coca-Cola South Pacific. "The fact that your name is on a Coke bottle, it can't get more personal than that! … Coke is big enough to pull off an idea like this, which speaks to the iconic nature of the brand." There aren't a lot of Coke "superfans" out there, but people liked the idea of something available everywhere that was tailored to them. While they might not have been passionate about the brand itself, they connected to the concept of the campaign.
On the flip side, LEGO is a brand that people are passionate about. LEGO knows that enthusiasts will dedicate thousands of hours and dollars to the pursuit of their hobby. They share photos, frequent message boards and swap build ideas. LEGO's UGC efforts now tap into that passion — the "Ideas" section on their website offers people the chance to actually become a designer. Submitted designs are voted on by the community, and successful designs become sets. There are prizes and competitions all the time. It's a very different approach to the Share A Coke campaign, and it only works because of their passionate, dedicated fanbase.
2: Motivate your audience.
Every person who takes the time to create something based on their opinion does it for a personal reason.
Some people create UGC for recognition within the brand's audience. Bungie, the creator of the Halo and Destiny video game franchises, has a passionate player base. These players constantly create new videos — memes, in-game footage with commentary, weapon reviews, long expositions of lore and backstory. Bungie's "Movie of the Week" feature on their weekly news post gives these creators a little extra incentive to make something good.
Some people create UGC to get something tangible. Starbucks is known for its UGC campaigns, particularly the Red Cup campaign that runs every holiday season. This year they offered a reusable cup for one day only. Some years they offer a prize entry for social media posts about the Red Cup. Getting something tangible is a great incentive for people to post UGC of their brand experience.
Other people may do it to boost their own brand — that's where influencers come in. Influencers are simply people who are respected in their community and garner attention for their position. These people have always existed, but social media has allowed them to monetize their presence more effectively. We normally think about influencers in terms of their value to brands — but influencers can also gain credibility with their audience by landing a prized endorsement (say, Adidas for a fitness guru).
If you understand your audience and can create an incentive they care about, you're well on your way to UGC success.
UGC: Social Proof in the Age of Social Media
Word of mouth has always been effective, and it's even more effective with the tools of the digital age. We're all media companies. We all need social proof, driven by UGC, to succeed. Though UGC may start as a whisper, with sound fundamentals and a focus on the effort, it will grow to a roar. And, if you need a hand creating a plan for your next campaign, feel free to reach out. We're here to help.
Best Regards,
Ed Bardwell
President
Rainmaker Digital Services