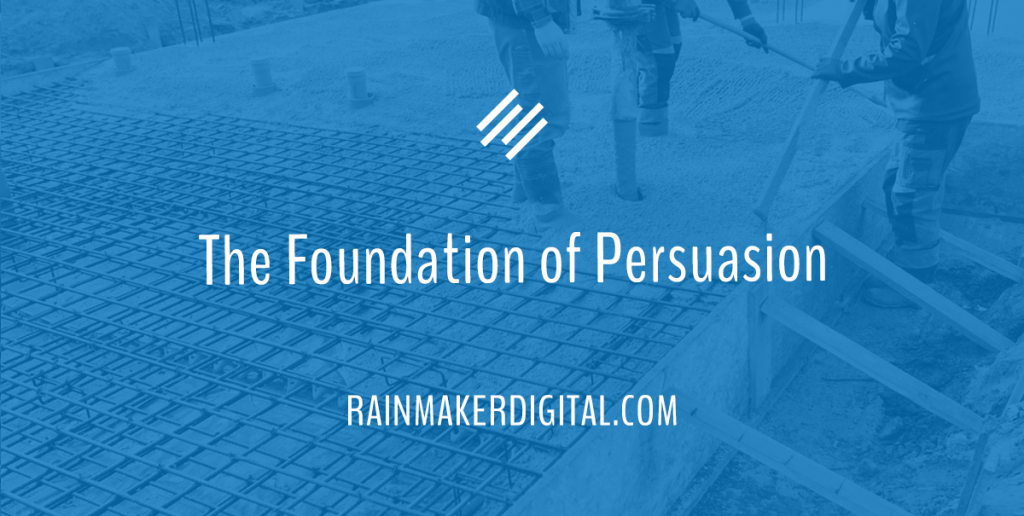 Persuasion is the goal of all marketing.
As marketers, our job is to sell something — to persuade someone to take action. Maybe you're trying to sell yourself. Maybe you're selling an idea, a service or a product.
Content is part of that, and these days it's the most important part.
We're living in the relationship marketing era. Relationship marketing isn't a secret anymore. We've been talking about its importance for well over a decade. You know that you have to use content to build rapport with your audience. And to persuade people, your content has to be built on the right foundation.
In this Dispatch, we'll show you how authority and affinity work together as the foundation of persuasion.
The Foundation of Persuasion
Authority
Authority is how much the audience respects your content. To be authoritative, your content must be useful — not just true.
I've done a lot of ghostwriting, and it's taught me that most of the content on the Internet is replaceable. There are plenty of writers and artificial intelligence (AI) programs who can look at the top 10 articles on Google and synthesize something. Few writers dig deeper and really understand the subject they're talking about.
To be authoritative, you have to raise the bar.
You don't have to reinvent the wheel every time you create content — in fact, you shouldn't. But you should have something in your content that gives the audience insight they didn't have before. A "eureka moment," if you will.
Maybe that insight is in the form of an easy-to-follow list (adman David Ogilvy was fond of these.) Perhaps it's a unique metaphor that makes your point clearer or a memorable acronym. Maybe you have your own internal research with unique insights to share — customer surveys are a prime example of this. You could have personal experience that informs your opinion and makes your perspective more meaningful or interesting.
A good "eureka moment" gives your content authority. You make it clear that you're not just some Joe Schmo who regurgitated the first page of Google results; you've thought about this, and you're sharing something USEFUL.
Authoritative content is true and useful. Both elements must be there to make it persuasive.
Affinity
Affinity is very simple to understand but hard to achieve: it's how much people like your brand.
The major components of affinity are customer service, reputation and brand values. The first component of affinity building is customer service. Treat people well when they have challenges and they'll think better of you — it's not rocket science. A company known for taking care of their customers will be better liked than one that's not.
That leads to reputation, built by word of mouth. Reviews and testimonials fuel affinity. Be sure to cultivate them. When people have a good experience with you, they'll tell their friends. It's the best kind of advertising you can get.
And finally, you have to consider brand values. How much do your values line up with your audience? What do you stand for? It is almost impossible to build affinity with people that hold different values. Imagine Nike (athletic aspiration) trying to convince their audience to buy Nike candy bars or Carhartt (blue collar work) trying to sell slinky club clothes. Audiences find affinity with brands that share their values and do business with those that are aligned with their beliefs.
That trend is even more pronounced in Millennials and Gen Z. 83% of U.S. consumers between 18 and 34 prefer brands that align with their values. 65% have actually boycotted a brand before because of its stance on an issue. Having clear brand values has never been more important to building affinity. Choosing what products we buy used to be "just business;" now, more than ever, it's a decision rooted in who we are and how we see ourselves.
There are plenty of people we may work with and respect for their abilities, but don't necessarily want to have a beer with at the end of the day. The same applies to companies. Just because you're filling a need and offering someone a product or service that's useful doesn't mean they like you.
When people like your brand, they're more likely to be persuaded by what you say.
What Matters Most?
We know what authority and affinity are, but which one do we need to focus on?
Authority has to be first. Content marketing is all about authority. It's the backbone of all modern marketing practices.
Affinity is built on the foundation of authority. Just because you like someone doesn't mean you trust them, and business relationships start with trust. Your audience has to trust that you know what you're talking about and can do what you say you'll do.
That being said, if you're just authoritative, you will lose out. Plenty of brands make better products than their bigger-name competitors, but lose out because they don't have affinity with their customers. Take Sennheiser vs. Beats By Dre headphones. Beats By Dre will never win in a head-to-head quality test with Sennheiser, but there's no comparison when it comes to popularity. The bass-heavy mix Beats By Dre uses is a hit with their target market.
When it comes to persuasion, authority is the cake. Affinity is the frosting. You need both to create an unforgettable dessert and be a long-term success.
Your audience has to understand that you know what you're talking about and that you care about them. Use the foundation of persuasion in all your content marketing to make your audience take action. And if you need a little assistance with your content, feel free to reach out. We're here to help.
Best Regards,
David Brandon
Copywriter
Rainmaker Digital Services