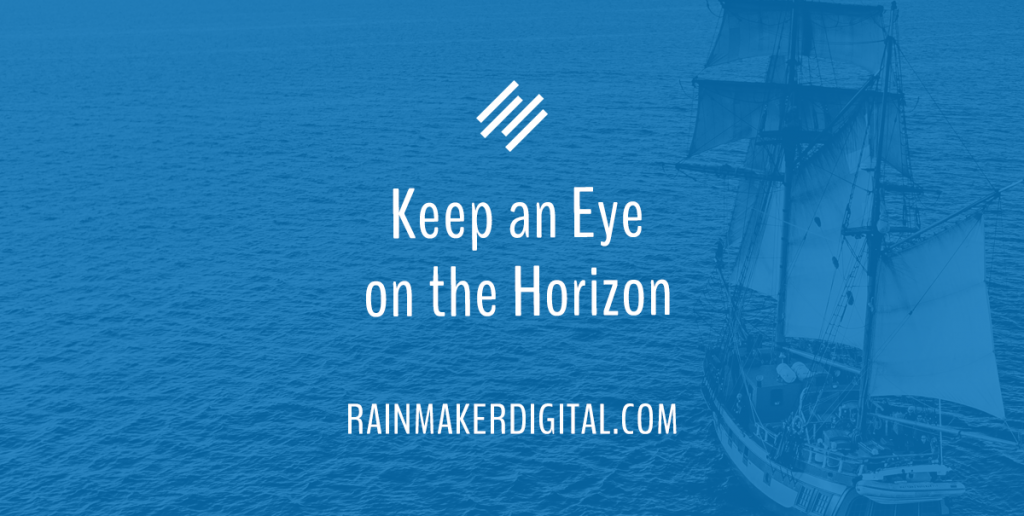 During the Age of Sail, one of the most important jobs on the ship belonged to the sailor in the crow's nest — the lookout.
Sailing ships didn't have radios. They didn't have access to weather reports or radar. There were enemies, storms and the unknown just beyond the horizon.
One pair of searching eyes with a telescope was the difference between success and failure. Staying aware of the surrounding conditions was key.
The same is true for businesses today.
There are many ways businesses keep an eye on the horizon. One of the best tools for companies of all sizes is social listening. Social listening, like a sailor in the crow's nest, provides insight on what's ahead.
What is Social Listening?
Social listening is more than just social media monitoring. Monitoring gives you data on things like your mentions, your competitors' mentions and trends. It lets you build a picture and respond to direct mentions. Listening goes beyond that. It's concerned with seeing trends and conversations, analyzing them and turning them into action. And any brand can do it.
Say I'm doing social monitoring for Cool Widget Company. Monitoring tells me our mentions and retweets are way up. But the mentions are people saying "Cool Widget Company's site threw up a security warning at me." Now I can reply to those people and say "We're working on a fix right now — here's a coupon when the site comes back up."
Listening is about understanding the bigger picture. Cool Widget Company makes screw-top jars targeted at home cooks. Social listening provides the insight that wedding planners are buying and talking up our product. With that information I can target this new audience instead of just reaching them incidentally.
Social Listening Tools
There are a number of tools that can help you with both monitoring and listening. Here are some of the popular options:
Sprout Social: Sprout had one of the first popular tools, and it's still a big chunk of the social listening market. It's widely used by small businesses though it is a little more expensive than other options.
BuzzSumo Agency: BuzzSumo is a newcomer to the space and still adding features — for basic listening it has enough options. It lacks some of the more advanced listening features like influencer identification that other tools provide.
Hubspot: Hubspot is one of the most comprehensive digital marketing tools out there. It provides social listening capabilities, and though those aren't the focus, they're robust enough to be useful — particularly if you already use Hubspot for its other features.
Hootsuite: Hootsuite is one of the older integrated social media management tools on the market. It has some built-in monitoring capabilities as well. Reporting and analytics features have additional costs.
Brandwatch Analytics: Brandwatch is focused on analytics and reporting with an extensive set of features. It is becoming an increasingly popular option with agencies and marketing teams.
This list is by no means comprehensive — there are more tools out there. But these should get you started or point you in a direction if you already have one of them for its other capabilities. Your social listening tool, whichever one you pick, is the "crow's nest" where your lookout is stationed.
Looking Ahead with Social Listening
Now that you have your crow's nest, you need to know what to look for on the horizon.
Knowing what's happening right now is important. You have to be able to see what's happening now and reply to it. But the ability to find new markets through social listening gets overlooked.
Social listening is a tool marketers 25 years ago would have killed for. You have people who will literally tell you what they're buying and why it matters to them, and it can open doors you never would have imagined.
Consider brands like Carhartt or Dickies. They both listened to their market, watched the trends and realized that their original blue-collar market expanded. They took that information and established new messaging. Now they're seeing customers in segments from suburbanites to streetwear fashion.
Iviwe wears the Carhartt WIP Corduroy Coach Jacket, Watch Beanie and Converse CONS.

Shop our full Carhartt WIP selection in CPT, JHB and online.

Exclusively available to Shelflife in SA. pic.twitter.com/96S55WZEYP

— SHELFLIFE.CO.ZA (@shelflifestore) May 1, 2022
Demographic analysis might tell you that hipsters are buying Carhartt beanies, or that skaters started wearing Dickies pants. But the finger on the pulse of the zeitgeist is social listening. Everyone shares everything on social media. And if you're paying attention, you can catch new markets growing right before your eyes and capitalize on them.
How do you spot these new markets?
Look Out for New Personas
Regular monitoring gives you a sense of what's normal. You know what your regular audience looks like; you know the rhythm of their posts. Look for new personas like the Dickies skaters or the Pedialyte party animals. When you start seeing mentions that don't match your usual customer base, don't write them off as outliers. Monitor them.
Look Out for Opportunities
It's not always a matter of completely different audiences. In the examples above, the uses of the product might be different — style vs. practicality. Trend monitoring can keep you abreast of pain points in the industry as well. Listen to the market as a whole and if it's worth it, tailor your product to go after the changing market.
Keep an Eye on the Horizon
The knowledge you glean from social listening can be applied on more than just social media. Don't know whether that new market segment is worth it yet? Find out. Rainmaker Platform and other content marketing tools can help.
Don't let that opportunity pass you by. Keep an eye on the horizon, then act on the information you get. And if you need a hand getting started, we can help — contact us today for all your marketing needs.
Best Regards,
Ed Bardwell
President
Rainmaker Digital Services