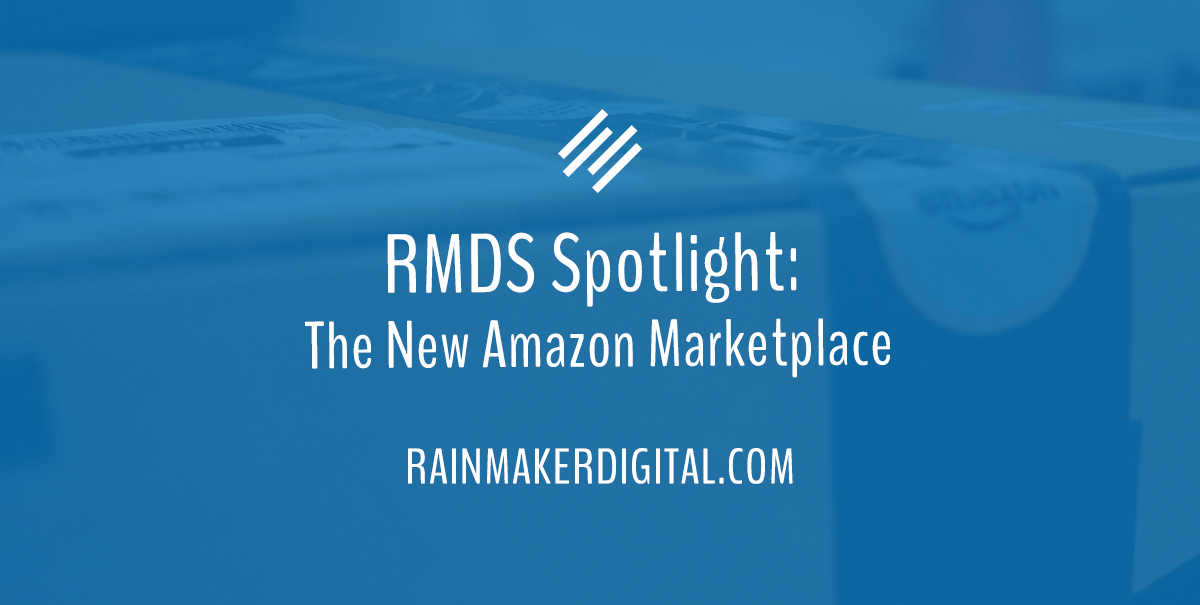 Every time you buy an item from Amazon, there's a good chance it's not actually an item that Amazon owns.
That's the idea behind Amazon Marketplace. This program incorporates non-Amazon sellers onto the platform and has been responsible for around half of all sales over the last few years. One report placed the volume at 62% for 2020!
For years these sellers were mostly invisible and anonymous. It was hard to tell whether a product was coming directly from Amazon or being sold by a third party.
That has changed.
The new Amazon Marketplace is a huge chance for businesses to build their brand. Here's what you need to know.
How Amazon Marketplace Has Historically Worked
Amazon Marketplace, put simply, extends Amazon's inventory. Jeff Bezos realized years ago that to become the "store that has everything", it would be easier and simpler to rely on other people for products that weren't worth Amazon's time to carry.
Amazon Sellers can sign up with the Marketplace and add their products to Amazon's web store. There are two main routes that these sellers take with their products: either they sell products that many people carry and try to capture the "buy box", or they sell products unique to them and try to rank well on Amazon Search.
There's a reason the platform is popular: it allows businesses to sell directly to Amazon's massive user base. Fees can add up fast, but start at $0.99 per unit sold. But the Amazon Marketplace has grown more popular over time, and as more sellers flood the market it becomes harder to own a piece of the sales of one of the popular products. That has forced sellers to diversify, pushing them deeper into the margins.
There are caveats. Though Amazon insists that they do not use Amazon Seller data to determine which products to sell themselves, many sellers accuse Amazon of using their position as a middleman to profit as a competitor. Products that sell well on Amazon may wind up with an Amazon-labeled competitor priced lower (for example, the Basics brand, which hurt many sellers of similar generic products).
Amazon's unique position as both middleman and competitor has placed it directly in the crosshairs of legislators. The resulting legal pressure is changing the way Amazon does business.
Legislative and Competitive Pressure Forces Changes
Amazon has battled counterfeiting over the years, and many of the measures it has implemented in the last six years have been focused on slowing down counterfeiters. Its brand registry is designed to legitimize sellers that would otherwise be mostly anonymous. It has also beefed up measures that remove bad actors from the platform. This has resulted in some legitimate companies getting banned, creating a secondary market of Amazon-adjacent "fixers". These consultants are often ex-Amazon employees who help banished sellers clear their names of whatever review buying, counterfeit selling or other problem they have been accused of.
For years, the army of Amazon Sellers in the Marketplace was largely invisible and hidden behind the "buy box". The company changed that in September of 2020. For the first time, addresses and business names were made public on the U.S. Marketplace. Sellers were also able to add other relevant information. Some think this was a result of a Homeland Security report on counterfeiting that came out around that time — Amazon is constantly battling counterfeit goods, and making that information public helps their reputation for transparency. Amazon still insisted on all communications going through its branded platform, though.
Amazon also faced heavy antitrust criticism in 2020 with Jeff Bezos answering questions before a congressional committee. Many of the most contentious issues involved Marketplace. Lawmakers focused on Marketplace as an area of potential antitrust violation.
Competitive pressure has forced Amazon to rethink its marketplace model as well. Shopify, Magento and other platforms are offering much more flexible platforms and a greater ability to build a brand. These platforms let companies own buyer information directly. For some, that outweighs Amazon's reach advantage.
With the twin pressures of legislation and competition chipping away at its base, Amazon had to move. And move they did.
Reaching Customers Directly (Through Amazon)
Amazon Stores began to change that, as the company allowed brands in good standing to create pages that showcased their wares. Stores lets sellers, vendors and agencies create their own Amazon page with their products. They can tell the brand story, show best-selling products, curate collections and do many of the other things that they would do on their own website. An Amazon Store also serves as a landing page for Amazon ad campaigns, particularly for Sponsored Brands (the ads at the top of a page of Amazon search results).
Amazon Posts allows brands to create regular updates that link to product pages, with a post setup similar to Instagram. These are served to users in conjunction with that company's products and may serve as an additional source of advertising. This program is currently in beta.
But the most surprising change came in April 2021 when Amazon announced that they are now allowing sellers to contact customers directly. Amazon's Store Pages and its beta testing of Posts were the first indications that something was changing. The big news is Amazon's new tool, called "Manage Your Customer Engagement" or MYCE.
This is a big deal for Amazon. The online retail giant has historically been accused of trying to reduce the visibility of businesses on Marketplace. Amazon's MYCE enables communication between sellers and customers beyond returns and issues to create tangible interaction with customers.
Nothing Amazon has offered to this point offers what MYCE does: direct marketing to customers through email.
What MYCE Means for You
MYCE is a templated email service that runs through Amazon. Like many other components of the Amazon platform, it is highly tied in to Amazon itself and doesn't offer a lot of flexibility.
MYCE does not:
Allow companies to capture or see the email addresses or personal information of the people they are sending to. The email is built within Amazon's service and sent through its servers with Amazon branding in addition to the seller's. Only people who have chosen to follow the brand on Amazon will receive the email.
Give sellers the chance for two-way communication. MYCE is a broadcast email, and again, sellers do not have access to personal information.
Hand sellers creative flexibility. At the moment there is only one template – a new product email. All assets have to be uploaded through Amazon and approved by a moderation team. And, the process can take up to 72 hours.
MYCE has several benefits that you can take advantage of:
Amazon's reach lets you reach a bigger market. There's a reason even the last holdouts like Nike are moving to the Amazon platform: the market is just too big not to. Businesses can drive customers to the Store page from their inbox. Now that is a big deal.
Store pages now matter more. A well-built Store page as a landing page matters for internal Amazon advertising and display ads, but it's even more crucial now that you're able to email customers updates and catch them from another angle.
Sellers can double up their marketing. Getting people to follow on Amazon is important now. Sellers who get that follow from people who have already opted in on their website get a free extra "touch" in.
Store pages, Posts and MYCE are slowly bringing more visibility to Amazon Marketplace. They allow brands to maximize their reach. Follow marketing best practices and you can build effective Amazon listings and you take advantage of Amazon's tremendous reach.
If you feel like you don't know where to start with an Amazon marketing strategy, don't worry. We're here to help. Drop us a line anytime.
Best Regards,
David Brandon
Copywriter
Rainmaker Digital Services