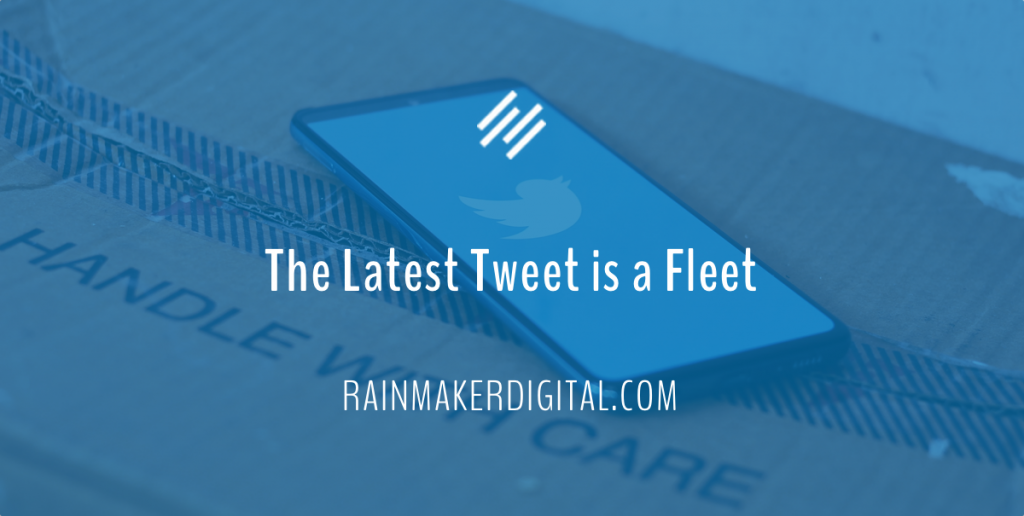 Twitter Fleets are the latest arrival in social media content innovation. Rolling out globally in November 2020, Fleets are Twitter's response to the "expiring" content trend like Instagram Stories and Snaps.
While it is hard to overlook Twitter's desire to create must-view content that brings users back to the platform every 24 hours, Twitter claims that the goal of Fleets is to reduce "pressure" on users to create profound tweets or perfect content.
This article looks at the marketing potential of Fleets and outlines how brands can utilize this content innovation to build audience engagement via Twitter.
Introducing Fleets
Since the global rollout, Fleets have been met with mixed reactions. Some users have expressed that Fleets could be the perfect vehicle for misinformation or disinformation in politics, cyber-bullying, and news while others see them as the next great version of Twitter.
Though general use is currently modest, many celebrities, influencers, and social media brands have jumped on Fleets. Most are using them to publish ephemeral content just like Stories and in fact, many fleets are copied or borrowed from these other short-term content expressions.
Early testing in Italy, Brazil and India suggests that Fleets will help new accounts and brands find their audience faster than tweets and help those users become more comfortable about sharing thoughts and opinions without the risk of creating permanent content that will haunt their digital presence forever.
While it is unclear whether Fleets will explode like Stories, the fact that content-rich, marketing-savvy users have engaged does suggest that digital marketers need to understand Fleets, know how to fleet Fleets (Twitter is using the word as both a verb and a noun), and be prepared to include / exclude them in a content plan.
Fleets are created from the home page, not the profile page like tweets. The other big difference is that Fleets are only available on mobile devices. Like tweets, Fleets may include text, a video, or photos. To create a fleet:
Click on the Compose Fleet Icon: You should see a plus icon at the top left of the home page on your mobile app. Available Fleets from accounts you follow will be to the right.
Add Content: There are editors to insert copy, images, and videos. You can import from your camera roll or capture in real-time. An interesting enhancement is you can add an alt tag to an image. Like other expiring content, background customization and layout options allow you to resize and personalize a Fleet.
Tap "Fleet" and your message will be immediately available to followers at the top of their feed.
Remember, only followers and those that go to your profile see Fleets. In other words, Fleets won't build audiences though they are great ways to engage.
Since Fleets don't allow for likes or retweets, user interaction must be measured by user action or follower direct message (DM) if the brand has DMs open. Brand accounts can see which followers have interacted with the Fleet by tapping on the "Seen By" functionality.
In other ways Fleets are similar to tweets; you have the ability to delete Fleets and all Fleets must comply with all Twitter Rules. Twitter does alert accounts that a copy of a Fleet (and any live broadcast that might be included in a Fleet) is maintained for a "limited time after they expire or are deleted to be able to enforce against Fleets that are found to violate our rules."
Setting Sail (or is that Sale?) with Fleets
Like all social media innovations there will be a learning process with Fleets and they may turn out to be the next great thing or the next Quibi. You should take a close look at Fleets and determine if you think it can help you build engagement with your audience.
If you answer yes, give it a try and if no make sure to keep an eye on Fleets as they develop. A key benefit that Fleets share with stories and snaps is the element of time. Their short duration can create anticipation and spur immediate activity. These types of communications are great for creating urgency, exclusivity, and excitement.
You will need to make a major time commitment for success with Fleets. In addition to a significant content development plan, you will need to invest in resources to deal with the resulting DMs from audience members.
DM's are the primary engagement opportunity for Fleets creating a quick engagement point that can quickly establish stronger relationships, but only if your team is prepared to handle the volume. People will expect an answer to their Fleet DMs just like other forms of person-to-person social media.
In terms of content development, Fleets present Stories-like content opportunities on Twitter. For B2B brands, this means that Fleets will be great content opportunities for:
Innovation / Stand-out Fleets: When a new innovation like Fleets gets the amount of press that it has, using the feature is a great way for a brand to reaffirm its leadership. In the case of Fleets, the app layout places Fleets at the top of follower feeds and will immediately "prove" that users should be following.
Ask a Question Fleets: Fleets will be a great method to generate direct input from followers. "Which feature should we build next?", "Where should we have our next happy hour?", or even "Who's your favorite podcasters?" will all feel like personal / informal questions that can help drive real business-building decisions.
Limited-time offer (LTO) Fleets: With a 24 hour lifespan, Fleets represent a great opportunity to add a sense of urgency to any message, call-to-action, or offer without the traditional email bombarding or digital hype that often is needed to motivate audiences. The offer ends when the Fleet changes.
User Generated Content (UGC) Fleets: Fleets provide the perfect platform for the gold standard of all social content, UGC. Since you can include a tweet, user images, videos or text in a Fleet, this feature is ideal for encouraging (or discouraging) users to create and share content. Expect to see brands combining questions, innovation, and LTOs in Fleets with a goal of generating UGC.
A Fleeting Thought
Social platforms are continually introducing, evolving and eliminating features. At RMDS, we do recommend investigating, understanding, and testing Fleets to see if they represent an opportunity for business-focused creativity that can drive business for you or your client.
If the idea of testing or creating a Twitter Fleets strategy seems overwhelming, know that you don't need to go it alone. We're in this with you. If you need a little help, just drop us a line, anytime.
Best Regards,
Ed Bardwell
President
Rainmaker Digital Services