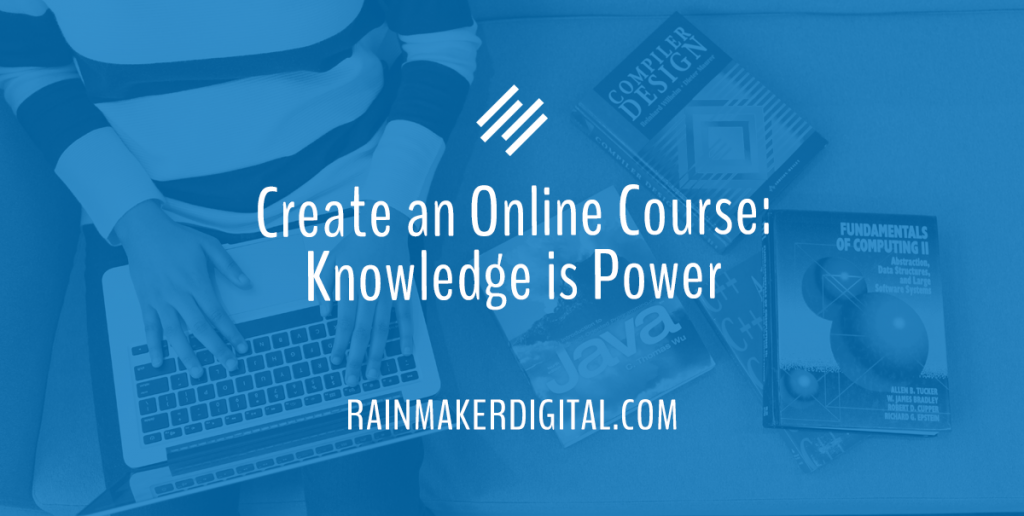 The best tools, location or product selection in the world don't mean much if you don't know what you're doing. Your business is a success because of YOUR KNOWLEDGE — and that knowledge is a powerful marketing resource.
One of the easiest ways to turn your knowledge into profit is to create an online course. Here's how you can use an online course to put your industry knowledge to work for you.
Why Courses?
Let's start with reach.
There's a huge appetite for edutainment and online learning. The e-learning market is expected to reach $350 billion by 2025. Platforms that offer courses are exploding — take Coursera, for example. Coursera has seen 438% growth in five years. As people wake up to the opportunities e-learning creates, they're flocking to courses in droves.
And if you're worried whether people will pay you for a course, don't be. Less people might click into a paid course, but engagement and completion rates are both better for paid courses than free courses.
Best of all, you can monetize your knowledge at scale with a course. It's an asset you can sell over and over. There's no inventory and little overhead.
Which Businesses Can Benefit from Courses?
Courses are for any business that uses knowledge to stand out from the competition. That's a much broader category than you might think.
Knowledge is the standout factor for many businesses. If you're in a non-differentiated market (one where you're selling a similar product or service to your competitors), knowledge gives you a way to set yourself apart from the competition.
Most people think of SaaS and service agencies first, including marketing companies and service providers. You might think of professional services in knowledge-based professions too, like doctors, lawyers, accountants and stockbrokers.
It's more than professional services, though. Niche retailers with specific product knowledge can use courses to build their audience and establish authority in their field — from exotic fish to rare coins. And in fields where service is the main point (like carpenters, landscapers, or dog groomers), courses can help them stand out in a crowded industry.
Protip: There are legal limits to what can be shared in many knowledge-based professions (lawyers and doctors, for example), but those limits can work to your benefit. Include a "have more questions" or "need more details" follow up and your course becomes a lead magnet.
A huge variety of our Rainmaker Platform clients in many different fields use courses — from traders like Dynamic Traders to physiotherapists like Sunyata Movement Studio. Almost anyone can create a useful course — we've seen that over the years.
Your business could almost certainly use courses to reach your audience. Now you have to figure out how.
How to Present Your Course to the Public
The first thing you need to decide is how you want to present your course. You can deliver your course to the market in a few different ways:
Free: No friction, no worries about accessibility. Highest possible reach but engagement is often lower; people don't usually value a free course as highly as a paid one.
Paid: A course can be locked behind a paywall. With better engagement, paid courses create a powerful barrier to competition and establish the business as the expert. They're also a great way to build your income stream.
Engagement: The course is part of a broader subscription or membership, social action, or email address capture. Engagement courses are good ways to establish that the business belongs in a certain community or has the expertise to be considered a viable business partner.
Protip: One of the best ways to get attention for your course is to distribute a free lesson. YouTube is a great place to do this if your course is video — put the first lesson up on your channel and make it available to the public. Remember, YouTube is the second largest search engine. An open course is a great way to find new audiences.
Or, put the first lesson behind an email capture so the audience can try before they're forced to buy. A course is a commitment. Let the audience get a taste first before they commit to the full course.
Most major website platforms (including Rainmaker Platform) will let you gate courses behind memberships or paywalls and set up email capture forms. Look for providers that make course creation, publication and maintenance easy to manage. The goal is to share your knowledge and generate revenue, not become a web producer.
Once you know how you're going to present your course, you need to set it up.
Choosing Your Course Topic
A great course explains everything the audience needs to know about a topic in an easy-to-understand package.
Start by selecting a topic that you know well and your audience (customers) is interested in. It needs to be narrow, but deep enough to require more than one article or video.
Bring your audience a topic that's specific and relevant to them. I'm a cocktail aficionado; "How to Make an Old Fashioned" wouldn't move me as a course. But "The Old Fashioned as a Drink Template" would work. It's narrow — it's something I can't just search up on Google — but it's also a deep enough topic that you can create multiple lessons.
Find a reason for people to listen to you. Maybe it's your proven results — you did X, you got Y. Maybe it's authority — you've done something really interesting that people will remember. You might be known for efficiency, or breadth of knowledge, or your previous experiences. Whatever it is, lean into YOU. You don't want your audience searching Google only to find someone else offering the same information BEFORE they find YOU.
Course Structure and Content
Once you've figured out what you want to talk about, you need to set a structure for your course.
Any major course creation platform will make this easy. LearnDash's content structure is a good one to start with.
Course: An overall topic that you want to learn about, broken down into specific sections. For example, "How to Build a Bookcase."
Module: A module is a section of a course. A good module for the bookshelf course might be "Building the Shelves."
Lesson: A lesson is the individual section of a course topic — for example, "Cutting the Shelf to Size" or "Sanding the Shelf Surface." Each lesson may include topics and quizzes.
Outline your course before you start and make sure the overall process makes sense. You'll also need to figure out what types of content works best. Many courses include video — some are all video. Some courses are only text and images.
Building Your Course
There are a number of solutions for course creation — Rainmaker Platform includes two learning management systems (LMS). Many customers use our native tool, and interest in our LearnDash integration continues to explode. The LearnDash blog is a great resource for course creation advice, regardless of the LMS you select.
Build a course and start taking advantage of it to generate new business, retain customers and build your brand. Use it as a centerpiece of your content marketing efforts.
A course is one of the best ways to put your industry knowledge to work. Want to create your own? Rainmaker Platform has course creation built in, and Rainmaker Digital Services has a professional staff that can guide you through the process. We've done it for many people over the years. We're here to help. Just drop us a line, anytime.
Best Regards,
David Brandon
Copywriter
Rainmaker Digital Services