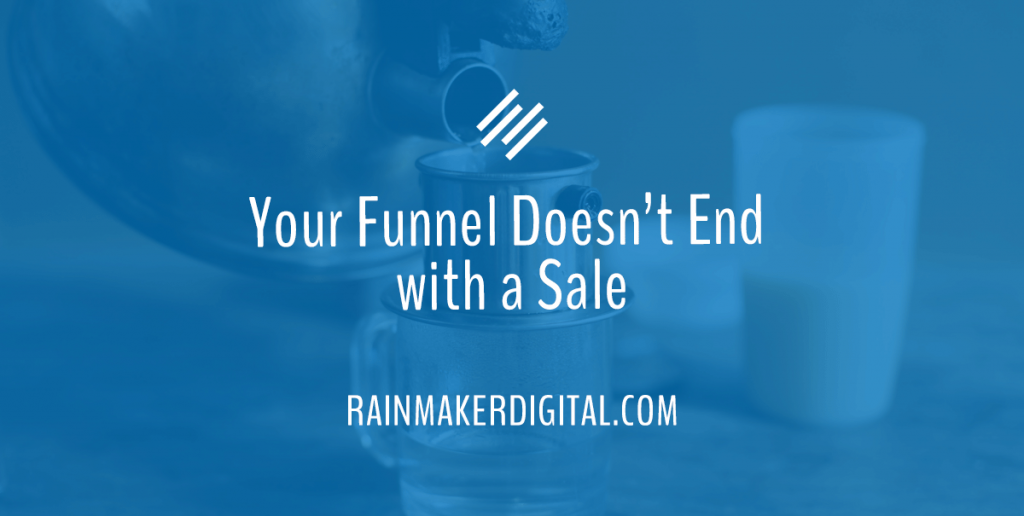 Funnels are everywhere, especially in sales.
Prospects go in the top of the funnel, they come out the bottom as customers. It's a simple principle, and we've written about it before. But your relationship with your customer doesn't end at conversion.
That first sales funnel is more like a first date. You need to put in work afterwards to actually build a relationship. Learn how to follow up after a sales funnel.
The Sales Funnel and Its Pitfalls
The "sales funnel" has been around for well over a hundred years. The idea is to share content that motivates action based on a customer's stage in the user journey:
Top of funnel: People are trying to learn. They aren't looking at you specifically. This is where you catch their attention.
Middle of funnel: People are looking at your product or service. You've aroused their interest, and they're thinking about working with you.
Bottom of funnel: People are ready to act, and you're a part of their decision-making process.
When you convince them, they act — make a purchase, download a file, sign up for your program.
The funnel model works great for visualizing how to get someone to take an action. But it has its limits. It doesn't capture the user journey after that point.
The goal of modern marketing isn't just a sale. It's a relationship with your audience — the chance to turn them into advocates, not just customers. And that means changing your thinking.
Go Further than the Funnel
A funnel is simply a user journey. You lead your customer down a path from education to action. Once they've finished that journey, you need to hand them a map to the next action.
A lot of companies realize this, but the effort doesn't always follow. Acquisition is more exciting than retention, even though retention sees bigger returns. More companies need to realize that they're leaving money on the table by not nurturing their customers after the sales funnel.
Did you realize that you only have a 5 to 20% chance, on average, of selling to a new customer?
You have a 60 to 70% chance of selling to an existing customer. And increasing your retention rate even 5% can boost your profits by at least 25% on average.
It's much harder to get a new customer than it is to re-engage with someone who already knows who you are. Think about your business's relationship with customers the same way you do your friendships. Who's going to listen to you more, your friend or a stranger? There's a shared history and a level of trust there when your customer knows you. You don't have that with a new prospect.
When a customer goes all the way through your sales funnel, you've established a basis for a relationship. You need to follow up.
What to Do After the Funnel
There are three components to your post-funnel strategy.
Offer Engagement Opportunities
Give your customers an opportunity to continue to engage with you.
Companies like Amazon will reach out after a purchase, thanking the customer for their purchase and offering a selection of items they might be interested in. They also reach out and ask for reviews or feedback.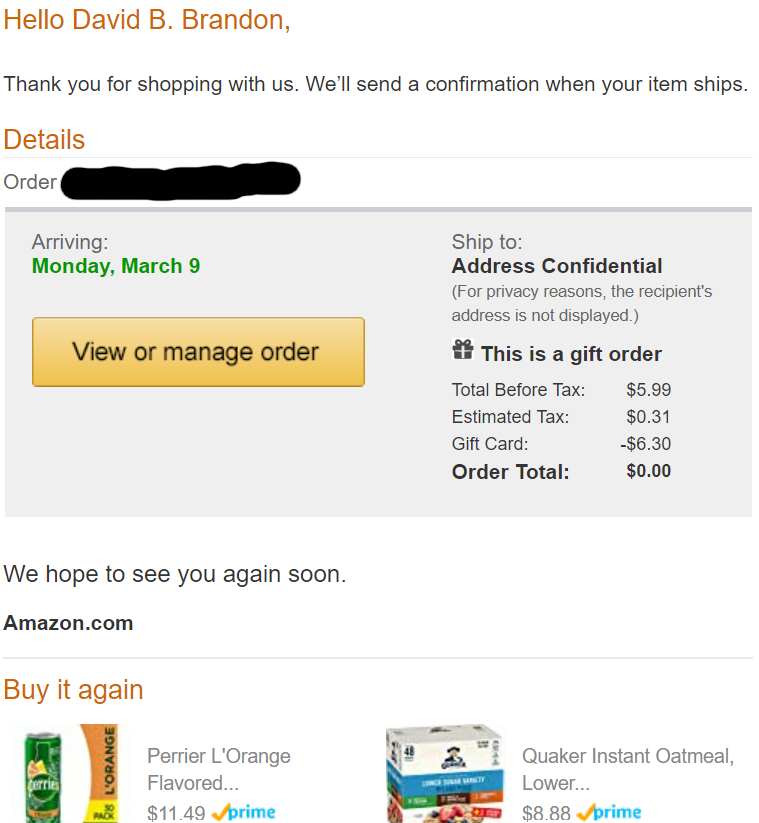 This example is just a basic recommendation, but you can go beyond basic recommendations by using cross sells, upsells and next sells to reach out to your customers. Don't know what those are? We'll use a fast food order as the example.
Cross sell: offering products that complement the one that was just bought. This is like asking "Do you want fries with that?" when you order a burger.
Upsell: offering an upgrade on the product that's being bought. Basically, you're asking "Do you want to add cheese to that burger?"
Next sell: offering an exclusive deal to people who bought a particular item. This is the equivalent of saying "Hey, thanks for buying our burger. Here's a coupon for chicken fingers next time."
Engagement is more than just sales, though. If your funnel isn't aimed at sales, offer tangible benefits that extend beyond just money. Build connections between your brand and your customers. Respond quickly to any feedback you get, particularly on social media.
Non-sales benefits can include:
Credibility. If you're soliciting podcast guests or something like that, they get to piggyback off your credibility. Continue to engage with them and show the benefits of an ongoing relationship.
Connections. Some campaigns revolve around building connections with your customer base. For example, if your funnel was aimed at driving signups for a Facebook group, you might send out a digest of important posts in that group to improve engagement.
Exclusivity. I'm a subscriber to a couple of Substacks, like Marc Stein's NBA dispatch. Stein sometimes breaks news in his emails. That's a benefit I appreciate. Hearing about something before it breaks to the general public or being part of an exclusive group drives engagement for some people.
Build Loyalty
Great post-funnel customer engagement often revolves around a loyalty program. If you've ever bought something from Lowes or Home Depot, you've probably heard a pitch for their loyalty program — and it works. I worked in the trades for several years and at the commercial counter at one of those stores. Even the most old-school tradesmen would often use programs like MyLowes to organize their receipts and keep track of their purchases. They stayed loyal to whichever store their loyalty program was with, unless that store was too far away from the jobsite to be practical.
Memberships are a great way to build loyalty too. You can offer exclusive benefits, early offers and useful information for people who are part of that in-group. Not everyone will sign up, but the ones that do will create a core audience you can reach out to moving forward.
A membership can be free or paid. Often, the free membership will have higher tiers that are paid — the benefits and education from the free membership whet a customer's appetite for the deluxe option. Continue to provide value and your customers will feel a sense of loyalty to your brand.
Turn Customers Into Advocates
Loyalty can eventually become advocacy, but a customer doesn't become an advocate overnight. You need to offer them avenues to become part of your brand, and it needs to be worth their while.
Offer people a benefit to introduce their friends to you. There's a social cost to them for doing that. They won't do it unless they really feel like you're worth it. Maybe they get a percentage off or a freebie with their next order (and extend that referral benefit to their friend too).
Affiliate marketing is a great way to turn a customer to an advocate. It's a simple, often-used model; if you've listened to a podcast or watched a YouTube video lately, you've probably seen someone giving out an affiliate code for MeUndies, Raid: Shadow Legends or ZipRecruiter. Affiliate marketing is often lumped in with influencer marketing, but an affiliate link or code works just as well for a mailing list as it does for an influencer. Make advocacy appealing to them, like Brian Clark does here in one of his emails for Unemployable: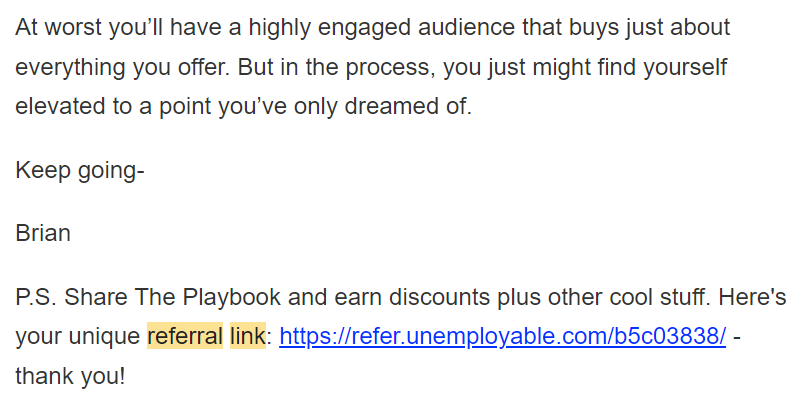 A great way to turn a customer into an advocate is asking their opinion. Ask customers for reviews. In-app messages work if you have an app; email is a great option if you're not using an app. 93% of purchasers say that reviews influenced their purchase.
Opinion doesn't just have to be reviews. You could solicit input on the product you get — for example, online games often ask their audience to vote on which cosmetic items they would like to see in the game. It gives people a feeling of agency and connection.
Delight your customers, then ask them to pass that delight on to others. That's how to create advocates — and advocates are the key to growing your business. There's no advertising force as powerful as good old word of mouth.
Go Beyond the Funnel
A sales funnel is critical for your business. But your customer engagement doesn't stop when they go through the sales funnel. Don't just think of sales. Build a sustainable relationship with your customers — we can help. Want a hand with your post-funnel engagement? Just drop us a line, anytime.
Best Regards,
David Brandon
Copywriter
Rainmaker Digital Services