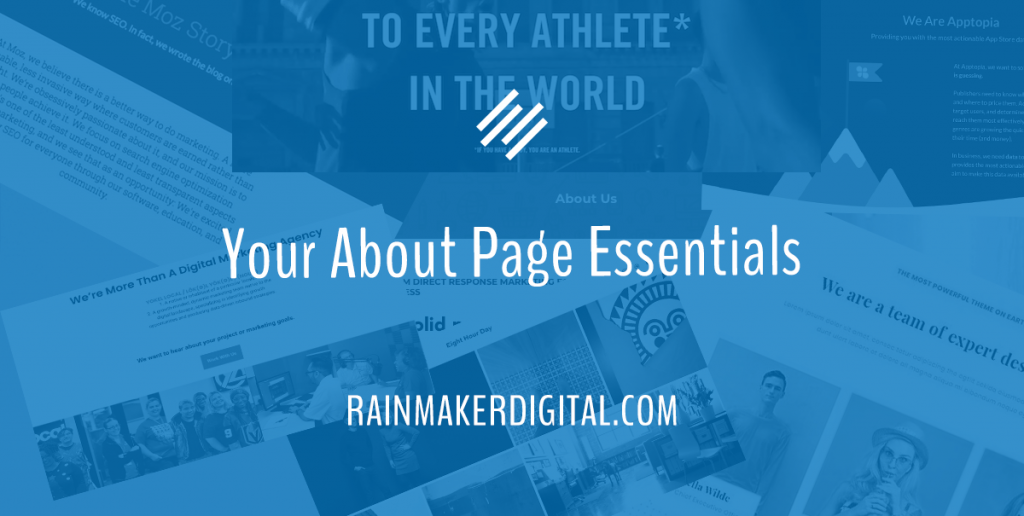 "Hi!"
"My name is —
"What?
"My name is —
"Who?
"My name is —"
I'm not an Eminem fan, but even I know his name is "Slim Shady."
This was the first thing most people heard from him, and for the next four minutes and twenty-nine seconds he explained exactly who he was.
When you write your About Page, you're doing the same thing.
"My name is — Rainmaker Digital Services."
"My name is — Boeing."
"My name is — Hubspot."
And if you want to have the same kind of success that the skinny Detroit kid had, your audience needs to be just as sure of who you are. There are a lot of brands that fail to explain who they are on their About Page, even some who should know better.
Your About Page is the face you present to the world. It's usually the second or third most visited page on your site after your homepage.
The page needs to clearly express exactly who you are in order to be effective. It deserves some extra attention.
What Your About Page Needs
Start by assuming that your site visitor doesn't know anything about you. Some people will come to your site directly or maybe click through from your social media and know something about you. Others may come through search and have less of an idea. Your About Page has to give them all the information they require to decide whether they want to engage with you.
When someone leaves your About Page, they need to know you, your company, your personality and your performance — and they need to understand what you can do for them.
Profile
Your About Page needs to tell your company story. Explain the brand and give a brief history. It could be as simple as "We were established in 2006 and here's what we do" — not every company needs to be Askinosie, Allbirds or Tom's.
If it's important to the story, talk about the leadership of the company — past and/or present. Some personal brands are intertwined with the organization — think Bill Gates and Microsoft, Steve Jobs and Apple, Brian Clark and Copyblogger. If that is part of your story, it needs to be on your About Page.
Employee bios can be part of your About Page. This is especially common with brands where the employees and their experiences are the main reason prospects select a partner. Agencies, law firms and many professional services organizations benefit from including key employee bios on the company's About Page.
Here are a few considerations for your company profile:
Who is the company? Founders, current employees, etc.
What do you do? What's your business? What isn't your business?
Why do you do what you do? Every business has a reason that goes beyond making money.
What is the origin story? Tell the story of how the company got to where it is today. That provides insight into the character of your business.
Where do you operate? Even in a digital world, people want to know where you do business.
Again, not every company will need all of these. But all companies should consider them — and have a good reason to use or not use each.
This About Page from Ignite Social Media is a good example: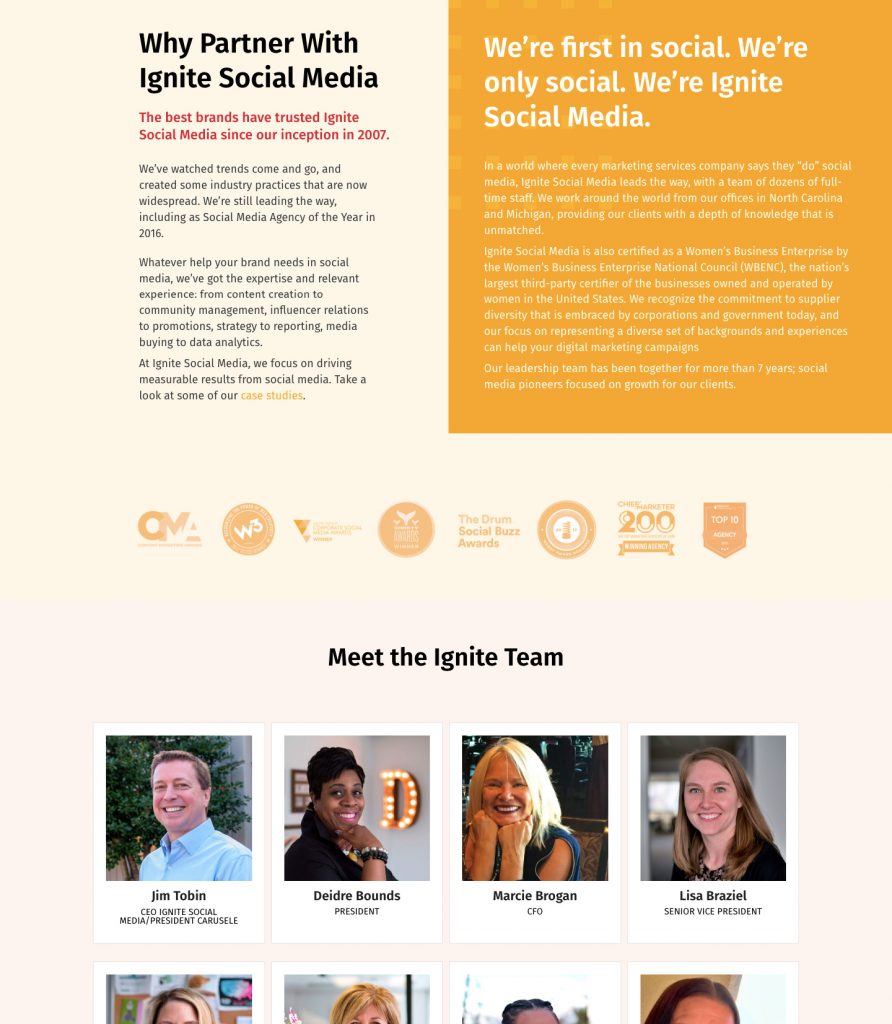 Read the page and you have a real sense of the business and whether you want to do business with them.
Personality
Your brand story needs to have color and style to illustrate the personality of your company. That doesn't mean it has to be personal — but it DOES need to fit your business.
Look at Bernadette Jiwa's About Page: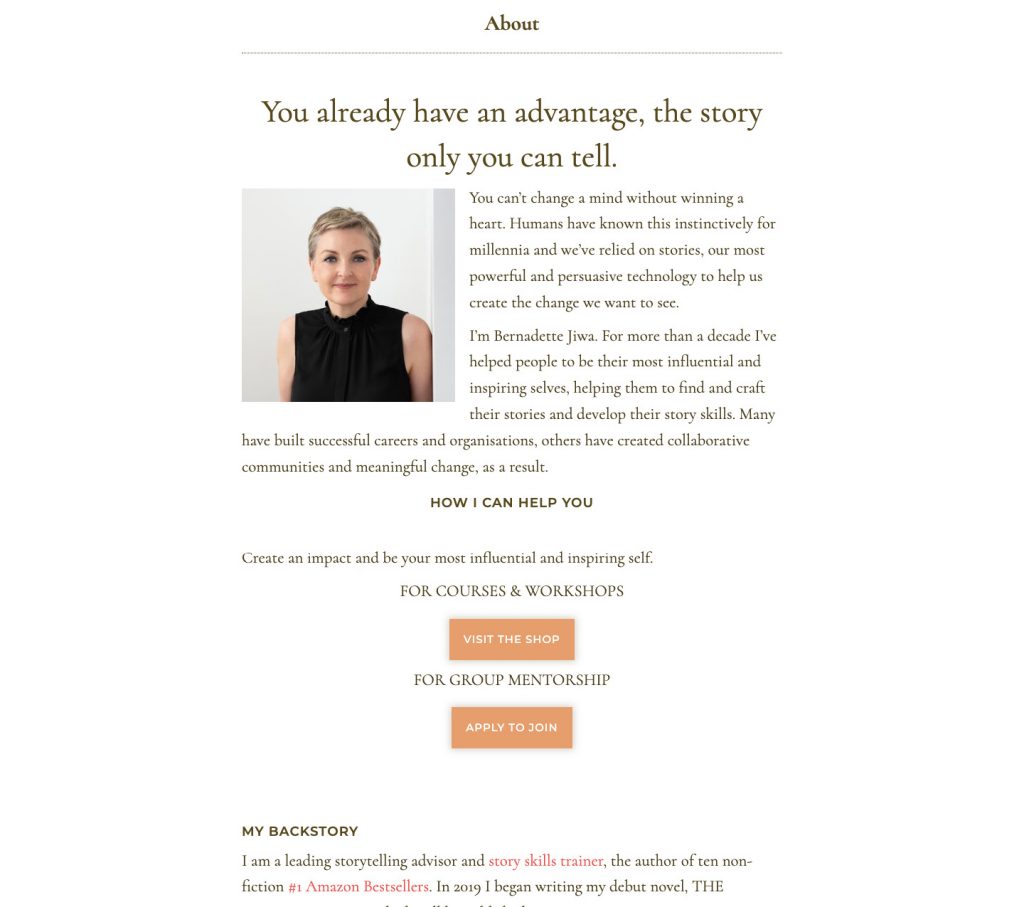 If you've read any of Jiwa's work, you'll recognize this as her writing. The tone, the focus on stories … her voice carries through. Even if you never read below the fold on her About Page you have a good idea of who she is and what she stands for.
Consumers prefer to buy from brands that they believe understand them. 88% of customers say they're more likely to buy from a brand they believe is authentic, and 66% say that transparency is one of the most attractive features of a brand.
Creating those customer perceptions starts with your About Page.
Performance
Share your success. Highlight previous projects, awards, certifications, statistics and testimonials.
Testimonials are powerful on an About Page. Anytime you can get someone outside of your organization to say you've done a great job — especially someone who already has a reputation — use it. Over 70% of consumers claim that testimonials impact their buying decision making.
Successful projects are great additions to the About Page. Add a link to your portfolio as well. Both will help convince people of your legitimacy.
Awards and certifications reassure your audience that you do good work and are a part of the broader industry.
46% of consumers would pay more for a brand that they trust. All of these pieces that show your performance will help you build that trust with your audience. Use them.
Hubspot does this well. The statistics section at the bottom of the page shows their legitimacy — it's a form of social proof. "Everyone else likes us, so you should too."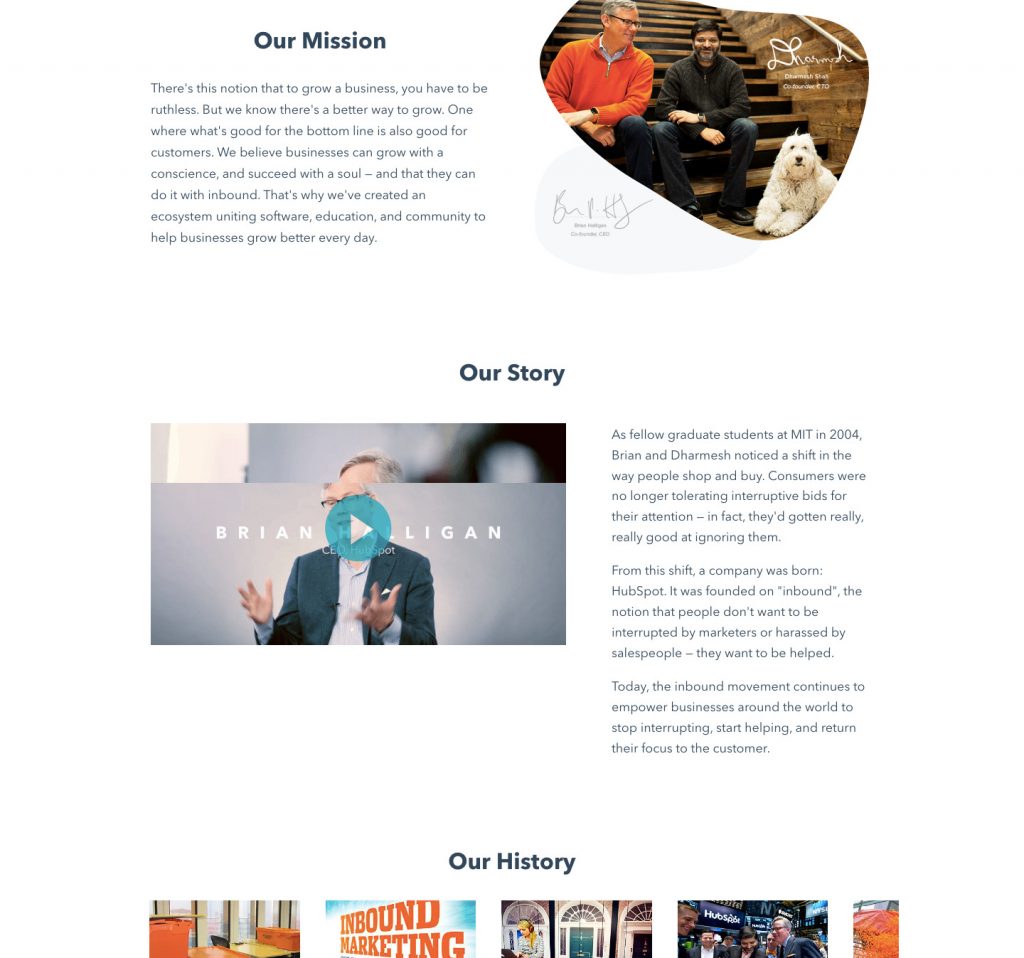 After the About
Now that you've shared your story, give site visitors the chance to act. It should be a natural progression to add a CTA to your About Page if you've done a good enough job explaining how you can help them. It's not a landing page per se, but it is one of the most important pages on your site. It will drive sales — if you structure it right.
Use your About Page. It's a powerful resource that too many brands treat as an afterthought. Build a strong profile. Put a little personality in. Showcase your performance. And if you're having any trouble, reach out to us — we're here to help.
Best Regards,
David Brandon
Copywriter
Rainmaker Digital Services