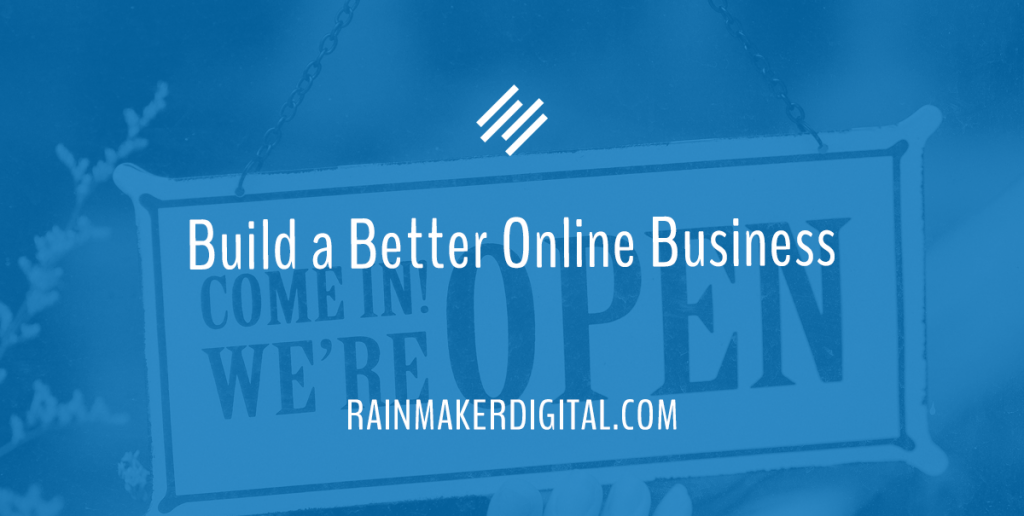 It's the beginning of January, and that means New Year's resolutions.
It's a great time to make a resolution to build a better online business in this coming year. Here are the five steps to follow to make your business a success in 2023.
#1: Commit to Publishing Content Regularly
We're all media companies now; in 2023, you can't be on the Internet and not publish content (or at least, not if you want to be successful).
Your goal in publishing content is to keep your brand in front of your audience. Why?
Awareness: Regularly published content keeps your message top of mind for your audience. If you're the first brand that comes to mind when prospects are looking for a product or service you provide …  you win.
Profit: You can significantly boost your average ticket value when people know just how many services and products you can provide them. Regular content gives you more chances to tell your audience what you can do.
Referrals: When you're regularly creating content, you're more likely to generate referrals. You'll be the first name that comes to your audience's mind when their network of contacts asks for services you provide. And you can amplify the effect by including incentives for referrals in your content.
But don't just publish any old thing. You need a message that fits your audience's needs. Look at the conversations they're having — social media makes this easy. Use surveys to find out what they want to hear from you. Listen to their feedback.
Keep your brand in front of your audience. Publish content your audience is interested in regularly. Everything else you do with your online business flows from this.
#2: Build Site Auditing Into Your Standard Processes
You should be regularly checking your site — even if you just built it. Perform audits at regular intervals to make sure all the content on your website still meets the goals it's meant to achieve.
The interval will vary by industry, but we recommend a minimum of a yearly review of the basics:
Contact information: Hours, address, phone numbers, socials. These can get overlooked when they change if you're not diligent about website updates.
Employees: If you have people associated with your company, make sure you regularly update any pages that include them (for example, an About page, or references to a founder or partner that may have left the company).
After that, as time allows, check out the business-building pages of your site.
Pricing and inventory: Easy to miss, hard to get right — especially if you're doing it manually and not pulling it from an inventory management system.
Products and services: These get phased out and new ones get added in. Make sure you haven't missed anything.
Finally, take a look at the overall philosophy, vision and mission of your site. People change. Brands do too. If your mission or the way you articulate it has changed, your pages should reflect that. Your About page is the most important piece of the puzzle here — it should tell people what you do and why you do it. Keep it up to date.
Dig deeper than you think. Go through every page. I've done a couple of content audits in my time, and you'll be surprised which pages need updating — it's not just the ones you look at first, especially if you have a site with more than 10 pages. Budget the time and resources at least once a year to audit your site.
#3: Don't Just Tell, Show and Sell
Too many businesses have what we call a "brochure site." It could live on its own as a brochure — there's no extra functionality beyond what you'd find in a print publication. That's not taking advantage of the opportunities the web gives you. Digital marketing is about telling your customers a story, but it's not just about storytelling. It's about storyselling.
Telling is what most brochure sites do. Storyselling is deeper. It means using all the tools at your disposal to immerse them in your story — video, podcasts, how-tos, courses. Create an experience your customers will engage with, not just one more page they're going to scroll past. Then offer them a way to buy.
It's easier than ever to create content that serves your audience's needs. Video and audio editing tools are more available than they've ever been with free tools like DaVinci Resolve and Audacity — and most social media platforms have tools built in. And blogging should be built into any website platform you use (like Rainmaker Platform).
This is something too few businesses do. I'm actually trying to get one of my friends who runs a niche brick and mortar retail business to do it right now — they're in a field with a ton of specialized knowledge, and most of the business they do is local. Brochure sites don't add functionality to a brick and mortar business, but storyselling allows businesses like theirs — and yours — to scale. Showcase your knowledge, package it in a way that grows your business, and you'll be able to "show and sell" online.
#4: Engage Your Audience Through Social Media
Social media isn't a megaphone. It should be a conversation between you and your audience. Invite input — ask your audience's opinion, give conversation prompts, say something they haven't heard before.
One of the best ways to engage your audience is to invite user-generated content (UGC). Brands like Starbucks do this well by offering rewards and recognition for tagging the brand on social media, even re-posting the user to their main accounts if the content is good enough.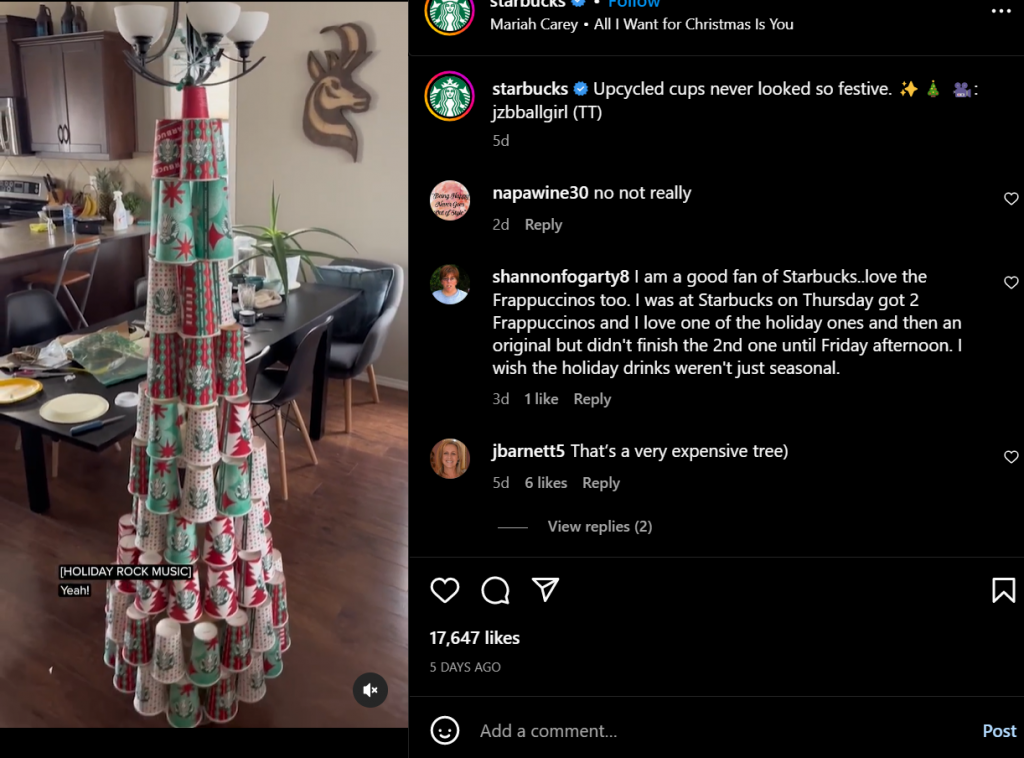 Highlight the positive or interesting things your audience says about your brand and use them to show your audience value.
#5 Build Your Email List
Finally, get permission to talk to your audience one on one.
This usually means email. Email is the most powerful form of one-to-one communication. You need to get permission from your audience to send them emails; if you send messages to people who haven't given you permission, you'll not only turn them off, you'll be at risk of legal trouble.
The best way to get that permission and build your email list is to create something that provides them value, then put access to it behind an email capture. There are a number of options.
Checkout: Give your email address for receipt and order updates. Add a checkbox for updates for ongoing communications and offers.
Discounts, specials, upgrades: Everyone loves a deal — people will often give information for it. Limited time and edition offers fit here too. Add a site-wide form that makes it clear that people will "get a deal" if they share their email.
Free knowledge resources: The most powerful way to get permission is to trade a user's email address for exclusive knowledge that immediately establishes your authority. Knowledge can be shared in the form of courses, eBooks, calculators, whitepapers, reports and services are all often used to gain email addresses.
Any or all of these allow you to capture email addresses and engage with your customers in a one-on-one conversation. Use the opportunity. Don't ignore it.
Get Your Online Business In Shape
These five steps are the key to creating a better online business in 2023. Keep this resolution and you'll be on the right path for growth in this coming year — and years to come. Need a hand putting it into practice? Just drop us a line, anytime.
Best Regards,
David Brandon
Copywriter
Rainmaker Digital Services