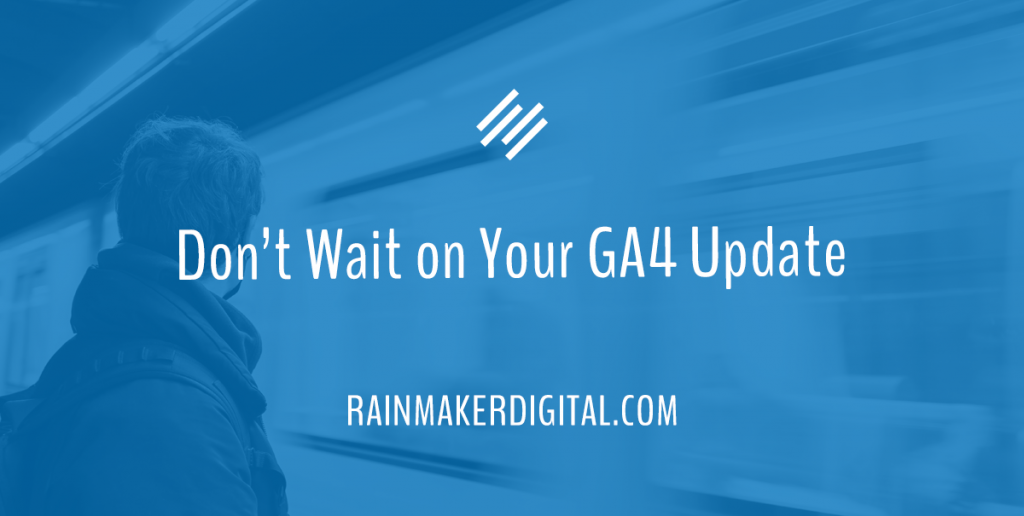 Google not only runs the search engine market — it runs the analytics market too. Over 50% of the Internet uses its products Universal Analytics (UA) and Google Analytics 4 (GA4).
Universal Analytics is going away in July 2023. For most technology companies, that might be a footnote. But this is Google we're talking about. It's a big deal, because GA4 isn't just an upgrade. It's a complete revamp of Google's analytics technology and data collection methodology.
GA4 is designed from the ground up to work with new privacy regulations like GDPR. It includes new predictive analysis tools, allows more control of data, increases mobile capabilities, and integrates better with other Google tools. It's future-proofed in a way UA isn't. In short, it's worth the upgrade, although it will cause headaches in the short term.
The company is forcing all UA users to migrate to GA4. Up to this point you could use either or both, but if you don't plan to switch to a completely different analytics provider, you will have to switch to GA4 by July 2023.
Don't wait till the last minute. Now is the time to migrate to GA4. Here's what you need to know when you're switching.
Going from UA to GA4
Even though UA is technically the third version of Google Analytics, GA4 isn't just an upgrade to it. It's foundationally different.
GA4 focuses on predictive analytics, not just reporting, and the reporting capabilities are extended. Some analytics that were only available on a limited basis in UA (GA3) are now part of a regular subscription. There's also a free connection to BigQuery built in so you can build your own SQL interactions with the database. And the reporting includes powerful AI-driven statistics that predict future audience behaviors.
GA4 has full cross-device and cross-platform reporting. In UA, user ID was tracked separately from other data, which could make it challenging to form a full picture of the user journey. Now Google uses all the identifying factors at its disposal together to track a user's identity.
GA4 tracks events, not just sessions and pageviews. This is the biggest difficulty in the UA to GA4 switch. You're starting from square one. The building blocks of your data are different. Every action a user takes is considered an "event" — Google makes it easy to track the major ones, and you can also set up parameters to track any number of events. It's more powerful than UA, but it takes some getting used to.
Changes to Be Aware Of
You'll find a lot of old or updated options in new places. Here are some specific areas you'll find different.
Goodbye, Bounce Rate — Hello, Engagement Rate
Bounce rate is one of the classic SEO statistics, measuring how many people come to your site and immediately leave. GA4 flips that idea on its head.
The new analytics platform measures engagement rate — the number of people who have what Google defines as an "engaged session" on your site. That's a session that's longer than 10 seconds, had a conversion (a click or form fill), or included two or more screen or page views.
Goodbye, Hit Types — Hello, Events
All the hit types you got used to in UA are gone. They're not in their own separate buckets by default anymore. They're all counted as events (as Google notes in this dryly funny graphic):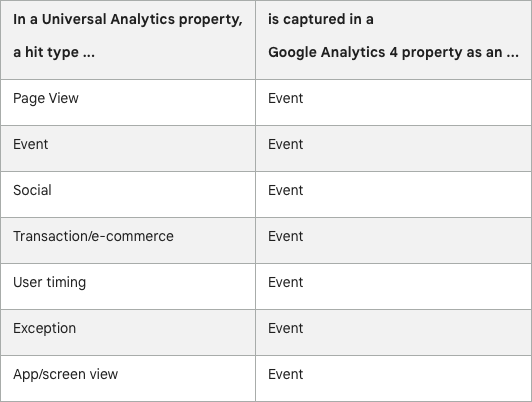 Instead of tracking these individually, Google just notes that an action occurred and allows you to define each event's parameters.
Events can be incredibly specific, depending on the parameters you choose. You could decide to create an event around a user visiting a specific page on your site, clicking a custom button, adding a T-shirt to their shopping cart and leaving the cart abandoned. The event-based system is much more flexible, though the setup may take more work.
Goodbye, Views — Hello, Data Streams
UA used "views" to display data and analytics for a specific property. You could set up multiple views under one property, but each property would automatically have a view created.
GA4 uses "data streams." In Google's words, "a data stream is a flow of data from a customer touchpoint (e.g., app, website) to Analytics." You can set up data streams for each touchpoint.
Hello, Information
GA4 has multiple ways for you to view your analytics information. You can add custom reports just like you did in UA, but now you can add them directly to navigation. You can also use the new "Explorations" area to explore your data through dashboard-like reports. And if you want to find something specific, just use the search bar — it's good at figuring out what you're looking for.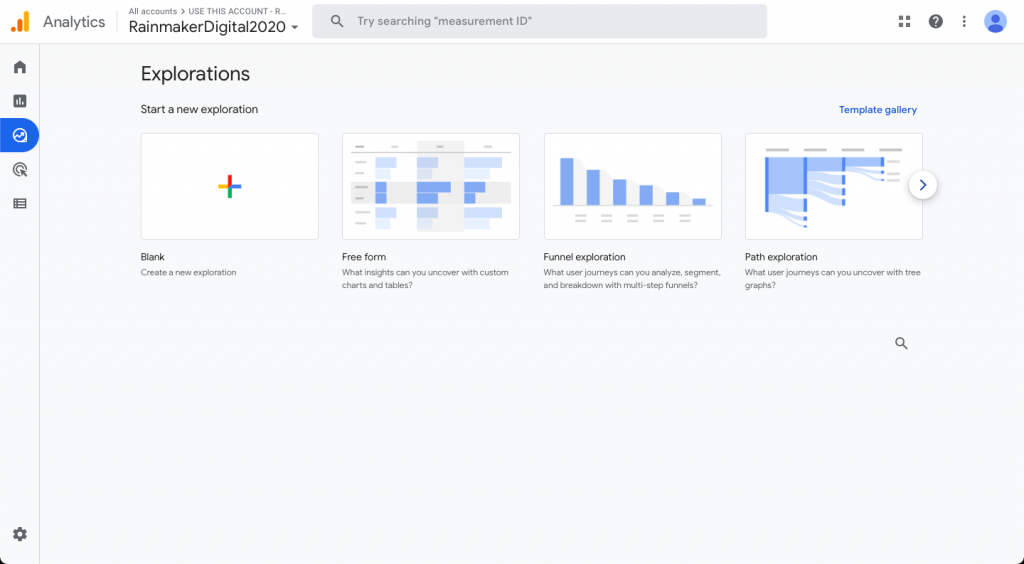 Getting Started
"This all sounds great," you might say. "But how do I set up GA4?"
Google has an excellent walkthrough with more details, but here's how you can get started.
Assuming you already have an Analytics account, when you click "Create Property" from your admin dashboard you will now create a GA4 property ID. Add in the details for that property (name, time zone, business size, etc.) and follow the wizard.
You will need to add a data stream that Google Analytics will track to your new property. Choose whether you want a stream for a website, an iOS app or an Android app. Add the unique IDs (app ID or URL) for your app or website — consult Google's walkthrough for specifics if you have trouble. Make sure you enable enhanced measurement, especially if you're just starting out. This will set you up with basic events and their parameters, like page views and file downloads.
Now you add the tag to your site. If you're on Rainmaker Platform, you can easily add it to the whole site through the header scripts field in Design > Appearance > Scripts > Header Scripts (contact us if you need a hand finding this). Most CMS will allow you to add the tag in a similar way. You can also add the tag to each page's head manually if you have to, but we don't recommend it — it's way more work to update, easy to miss a page, and you have to manually add it for each new page.
Preparing for the End
Set your site up with GA4 now. If you're already using UA, use both UA and GA4 so you have time to understand the differences in the two versions. Learn how GA4 works so you're ready when UA hits its end of life in July 2023.
Analytics are crucial for your content marketing success. Want to set up Google Analytics 4 on Rainmaker Platform, but aren't sure how to do it? Reach out — we're here to help.
Best Regards,
Ed Bardwell
President
Rainmaker Digital Services