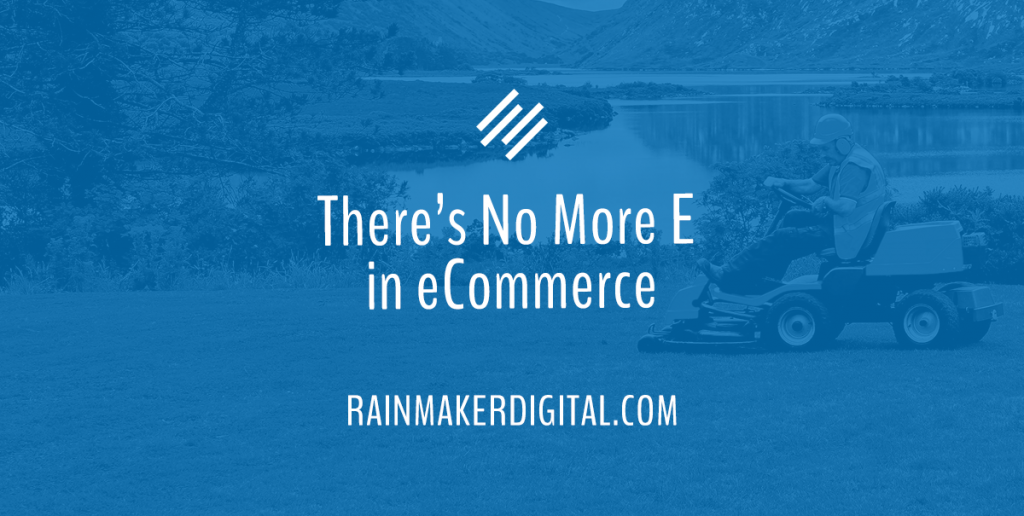 Forget the "e." eCommerce is just commerce now.
COVID-19 changed the game. Businesses that relied solely on foot traffic realized all at once what we marketers have been saying for years: technology is not a choice anymore.
If you dropship cutting boards from China, you know eCommerce is for you. But you may not realize — if you mow lawns in Paducah, Kentucky, eCommerce is also for you. Technology has changed the game for service companies too. We'll show you how to sell your services online.
Use eCommerce Principles
Selling services today requires the same principles that eCommerce companies have used to sell products for years.
Who's Your Customer?
Understanding your customer is the fundamental principle of sales. It's even more critical with service companies.
Some services have to be sold locally. A small lawn management company markets directly to the local community — you can't mow lawns where you don't have a presence. Other service companies aren't limited by geography. A marketing consultant or writer can sell to anyone around the world.
Local or regional businesses need to be aware of what's happening in the community. Stay tapped into reviews, watch when local events are happening, engage with local influencers. Make your site and your social media engaging for people who want to buy your services.
National or international businesses have a community too, just not one limited by geography. Your content can't be general — you have a niche, after all — but it's not tailored to a certain geographical location.
Where's Your Customer?
One of the biggest lessons a fisherman has to learn is that sometimes if the fish aren't biting, it's because they aren't there. Finding out where people are looking for your services is critical. If you're in finance, marketing or writing, Twitter might be the main place. If you're in B2B, maybe it's LinkedIn. Visual arts? Instagram. Home repair or landscaping? Angie and Nextdoor. And Google is always important.
This is where content marketing comes in. The first thing a lot of people do when they need help with a problem is run to Google. Give them something to find.
If you can demonstrate that you're an expert, you'll be head and shoulders above most of your competitors. That takes more than "just write a blog." You need to build a base of content to reach your customers.
How Do You Reach Your Customers?
Dan Bailey is a great example of how to actually reach your customers.
Dan and I connected through Twitter — we're both huge basketball fans and bonded over our love of the game. I didn't realize he was also a session drummer, and a good one at that. Dan's played for Christina Aguilera, Onerepublic, B.o.B., Father John Misty, Aaron Lee Tasjan and more over the years. His primary moneymaker is recording sessions and tours.
Now — Dan could probably rely on word of mouth to make a living. He's a good drummer, and after 20 years of it he's pretty connected too. But that's not all he does.
Dan built a site that offers drum courses for sale. Then he got out and promoted himself. He regularly posts videos of his current work on Instagram and hosts Q&A sessions where he'll post his answers on his Instagram Story. Then he'll point people to his website to buy the course.
In doing so, Dan's built a small but steady income stream that supplements his recording work — while also showing people that he knows what he's doing and raising his public profile. And it helps him book recording sessions. It fuels sales for his services which in turn drives more traffic to his site.
It's a smart move, and one you can do yourself. Use your content to build your profile and sell your services. This obviously works for products too, but there are other things that only service companies can take advantage of.
What the Internet Does for Service Companies
Online opens the door. You're available 24/7/365. You're not stuck with time or geographical limits. You can sell services online, anytime. Better yet, unlike product-only businesses, there are tools that help you sell — tools for scheduling, payments, and more.
Scheduling. Take advantage of online schedulers and booking. One home inspector I know literally just sends out emails with a CTA, and a link to his scheduler — he books a ton of business that way.
Availability. Availability is huge. People don't just think about needing your services from 9 to 5. Be ready whenever they decide to engage. Look at something like Lowe's install portal — you can sign up for a consultation anytime.
Scalability. Want to scale your business? The Internet makes it easy. There are job boards, forum groups and social media that will allow you to reach potential resources as well as engage with customers. One of my former freelance employers found out I was looking for writing work through my Twitter account, read my work and I had a gig. He's built a small stable of freelance writers that way.
Reach. For service companies that aren't limited by geography, the Internet is a game changer. Direct response copywriter and consultant John Caprani lives in Ireland, but works with clients around the world. In the old days, he might be limited to the market in his small Irish town. Now he isn't.
The Internet also makes memberships and subscription services way easier. An emerging trend is service memberships. For example, customers may want lawn care — but they want predictable timing and predictable costs with no hidden fees. A membership works great for them.
It works for the company too. Memberships provide recurring and predictable revenue, managed scheduling, and staffing requirements. The customer pays a certain amount per month, you take care of whatever they need in their yard. You set up the membership on your website, then point people there to augment your physical presence. Get people to think of you as part of their lives, not just a one-time transaction.
We're not suggesting you close down the brick and mortar side of your business. Augment it. Multiply its effectiveness through technology. Tools like Rainmaker Platform will help you sell your services in ways you might never have thought about.
eCommerce is Not a Choice
eCommerce is mandatory for all businesses, whether service- or product-centric. If you're not selling your services through your site, you're missing out. Embrace the power of the web and help your business succeed. And if you need a hand, contact us today — we're here to help.
Best Regards,
David Brandon
Copywriter
Rainmaker Digital Services