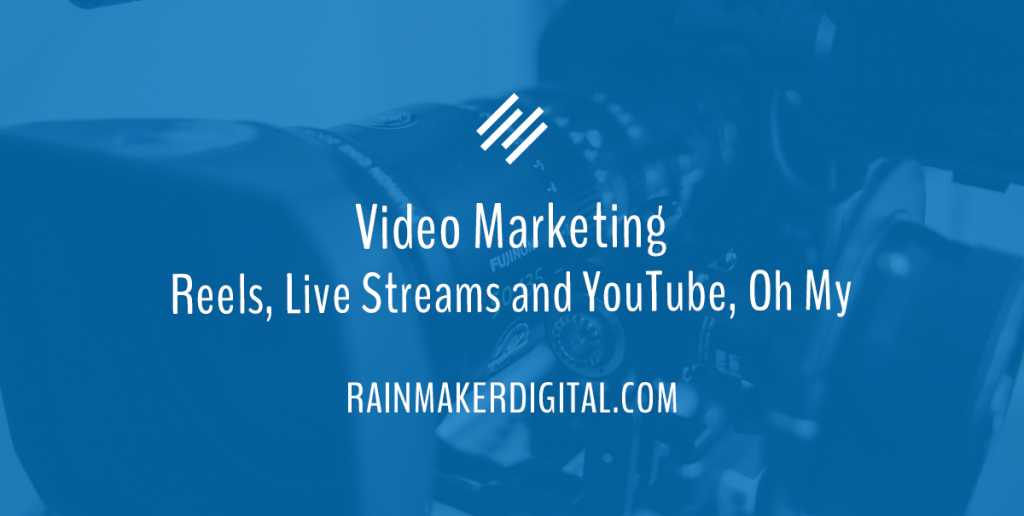 Many of us have heard the TechCrunch estimate that users around the world watch 1 BILLION hours of YouTube… each day. Since that estimate came out in 2017, we've had a global pandemic accelerate changes in user behavior, TikTok has exploded, Netflix has replaced cable TV in many homes, Facebook and Instagram have gone all-in on video, and YouTube results now show consistently on search engine results pages for a broad variety of topics. There is no argument. Video is a primary, digital content format.
As traditional media and new media have converged, the line between traditional media and new media has faded away. Everything is media and marketers are in the media business. It is critical that we understand the full array of the media options available and what the audience expects. This must include video and its potential to help us share our ideas and tell stories.
This article shares the growing importance of video marketing, common formats, and some tips for success.
Video Is Not Optional in 2021
The explosion of video online proves that the audience is in control. According to Google, we have entered the Age of Assistance.  B2C and B2B consumers now have sufficient technology and bandwidth to demand "instantaneous and effortless" access to content. Video satisfies these demands. Consumers can watch a video faster and without the effort of reading.
Combine this demand for content with the radical shifts in behavior that we've all made during the pandemic and you'll see that video is no longer an optional marketing format. Video creates emotion faster than text and it cuts through the digital noise better than static media. As importantly, social media and mobile technologies have made it easy for every brand and business to create video that competes with Madison Avenue for consumer attention.
Best of all, Big Tech (FANGAM) is fully committed to video content and rewarding content creators that produce and publish video. Use video and be rewarded with better search results, additional audience reach, and a competitive advantage that will expand over time.
Video Formats for Marketing
Most clients agree on the importance of video in their digital marketing but assume that they need significant production budgets to compete. They're wrong. Over the past year, we've Zoomed through our day-to-day lives and seen Facebook Live video lead the evening news. We've learned that it isn't the quality of the video production that matters, it's the content. Just like any other form of content marketing, the success of video marketing content is driven by the story. The best news about video is that there is a format for every content goal:
Making a First Impression
For brands that are looking to find new audiences or energize existing audiences with a new product, start your video marketing strategy with 3 – 5 short videos (under 45 seconds) that can introduce and explain your offering.
An extremely popular first impression video is the animated explainer video. These videos use simple animation to share key attributes. These videos establish the benefits of the offering and quickly declare the unique selling proposition (USP). Best of all, these first impression videos allow for the personality of the brand to come through. From funny to serious, casual to formal, and laid-back to uptight, first impression videos are the business cards of today's content marketing efforts that will guide the viewer's perception of the brand's personality, authenticity, and authority.
Tell Me More
Use video like every other digital format. Align it to your overall marketing strategy and content mix. One of the great opportunities for video is for long format content. Examples include How-To videos, training, and pre-recorded seminars/webinars. While there is no recommendation on maximum length and there are many great examples of videos that are over 60 minutes, our video producers typically target up to 3 minutes for how-to videos, 30 minutes for training, and 45 minutes for webinars.
Keys to success with long format video:
Include on screen branding
Use captions throughout
Separate content elements (steps in a process, sections of presentation, etc.) with on screen titles/graphics
Include a timestamp so viewers can scroll to the section of the video they want
Make it Reel, I Mean Real
Speaking of the audience, one of the fastest evolving areas of video is live streaming. From behind-the-scenes peeks at how the sausage is made to real-time conversations with experts "in the office," live streaming creates a perceived intimacy and connection between the viewer, the content, and the brand.
Live streaming video does require a bit of additional work before you turn on the camera. You need to make sure that you:
Select the best channel for your audience, your brand personality, and your message.
Script the stream. Though you shouldn't over produce a live stream, you need to make sure that the video achieves its goals. If you're going to walk around the office with a camera, make sure that the people that you're going to point the camera at know you're coming and are ready.
Curate the content. Like any other piece of digital content, plan to reuse the video after the stream. You may want to cut it into snippets for additional outreach or social posting, edit it for different audiences, or review it internally for training and customer support. I especially like taking premium / members' only live streams and cutting out juicy content to use as sales content to drive additional memberships. There is power in "as seen in last week's live stream…"
A Final Word
Today, 80% of web traffic is video. While there will always be a place online for the written word and marketers will need to account for text, video will only continue to grow in importance. That said, it is just a format and success comes from the same place as every other communications format – a great story.
If the idea of building a video strategy seems challenging, know that you don't need to go it alone. We're in this with you. If you need a little help, just drop us a line, anytime.
Best Regards,
Ed Bardwell
President
Rainmaker Digital Services