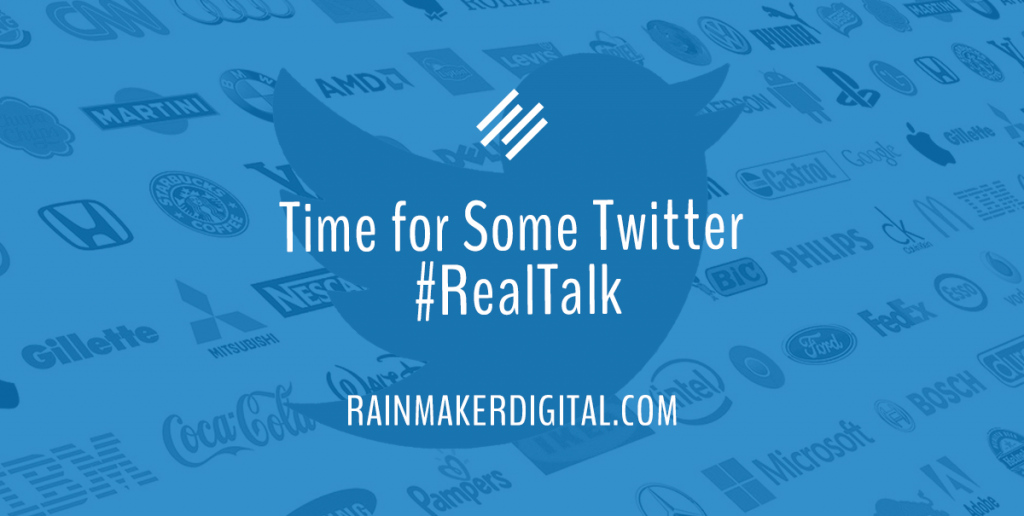 Twitter's Conversation Report has been a mainstay for marketers analyzing the platform for years. But this latest version, called "#RealTalk," is a little different. This one focuses specifically on how brands can succeed on Twitter — and what pitfalls can hurt them.
Twenty brands submitted their data for the study, and Twitter mined that data and 10 years of their internal information for insights. Here are three key insights from Twitter's #RealTalk report.
People Are Listening To Brands
According to the #RealTalk report, 7 in 10 people want to hear what brands have to say. They say "Brand Twitter" is one of the best parts about Twitter.
People like being talked to by brands. They don't just want to talk to their friends and see their Tweets — they're OK with your content so long as you're providing value in some way.
Some accounts are funny — Wendy's, for example.
We're not going to lose sleep over someone we had to Google. #NationalRoastDay

— Wendy's (@Wendys) January 12, 2022
Others focus on information — like Copyblogger.
16 Knockout Article Ideas: How to Write Regularly for Your Blog https://t.co/heH8K3TJFg

— copyblogger (@copyblogger) January 13, 2022
Some, like Dodo, have built their success on heartwarming or emotional stories.
This woman left the cat alone with her dog for a few hours — and couldn't believe what she walked into 😭 💗 pic.twitter.com/0Eo2FIYPZZ

— The Dodo (@dodo) February 15, 2022
All three of these brands are powerful players, and their Tweets drive content that is shared far beyond Twitter.
To get traction on Twitter, provide value to your target audience. Do people care about what you're putting out, or is your content all about you? Your social media should include promotion, inspiration and information (what we call the PII™ digital marketing framework), but the ratios will change based on what your brand does and what your audience looks like.
Maybe you're leaning on humor too much. Twitter has become less tolerant of brand humor as its audience has broadened. One out of two users say that brands that only rely on humor and jokes (Wendy's or Steak-umm, for example) can feel outdated today. The platform has changed. Eight in 10 expect brands to change and evolve their tone as time goes on and tastes change.
Your Twitter persona is defined by the topics you talk about and the community you engage with. These have to match if you want people to continue listening, and you have to constantly stay on top of what people are interested in. Tastes change and audiences evolve.
The rewards are there for brands that can stay on top of their Twitter presence. Engagement with Brand Twitter is up by double digits year over year. Retweets, Tweets, quote Tweets and replies have all significantly increased. Take advantage by reaching the people that really want to engage with you.
Be Authentic
Another key insight from #RealTalk is that brands need to be authentic.
Any time you join the conversation on Twitter, it has to feel meaningful. People need to feel like you belong — that you live in the middle of the topic and the community.
Your audience pays attention and wants you to be aware of the world around you. 61% say you should acknowledge crises. 48% say you should weigh in on social issues. Buying decisions are no longer "just business" for a lot of people. They make their purchasing decisions and decide who to support based on the things they care about, and if you don't align with that, you can't join the conversation.
Jumping into a hot-button social issue with something self-promotional comes off as tone-deaf (see the Seahawks for an example).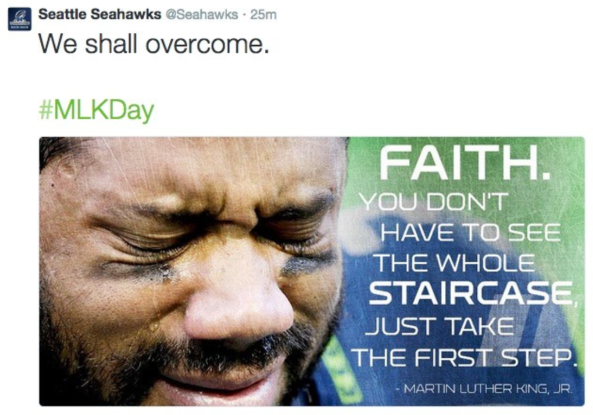 Russell Wilson making the Super Bowl didn't have much to do with Martin Luther King Day, and the Seahawks had to delete the Tweet after public backlash. Make sure that if your promotion relates to something social or political, it has meaning for that community.
You also need to make sure you're taking care of everybody in your community. It's easy to make a persona and expect that everybody in that cohort cares about the same things, but Twitter's research indicates that communities are fragmented. 8 in 10 people surveyed thought that brands should reflect the full diversity of their customer base. 83% said they were OK with being addressed directly as a community on social media, so long as it was done with respect.
Your community and the topics you talk about need to match up. Make sure they do, and make sure you stay authentic to who you are and what your audience wants to hear.
Stop Copycatting
The last major insight from the #RealTalk report is that brands too often sound identical to each other.
Most brands aren't getting those strong reactions because they stick with their safe, established brand language and catchphrases. The audience gets tired of the same old stuff. They hear it from every single brand, and every Tweet blends together into a vast ocean of noise — nothing stands out.
Twitter put together a test for the #RealTalk report. They stripped all recognizable branding from a number of brand tweets, then asked people to identify which brand they came from. Only one in three people could choose the right brand from a list of five options.
Brands use the same keywords, the same Tweet length, the same archetypes. The way that brands approach things often sounds the same, regardless of business model.
Do you sound the same as everyone else?
Twitter rewards uniqueness, but most brands lean into sameness. It's easy to play it safe with your brand. But people are listening, and they want to get to know the authentic you. Be OK with not being everyone's cup of tea. Find your tribe, as Seth Godin would say.
To succeed on Twitter, brands need a strong sense of who they are. Boldness creates a strong emotional reaction, and positive reactions to boldness outweigh negative reactions on Twitter. People appreciate when you let the veil drop and let your audience really know who you are.
You can't be everyone's favorite brand. Somebody's going to dislike you. So make sure your community that cares about the topics you post likes you — those are the only people that matter.
Tweet the same thing as everyone else and you'll lose following, stop gaining reach and fall into the noise. You'll be just one more voice in a chorus of many. Stand out. Be different.
Making Your Twitter Count
#RealTalk makes clear what we've known for years: it's crucial to know your customer. You have to be authentic. And you need to talk about the things that you and your target audience care about. You need to create your own voice and tone. In other words, your Twitter presence follows the same rules as every other piece of content marketing you create.
Make your Twitter account count. Be who you are, not who you want your audience to think you are. You don't need a persona — you need personality.
Use the insights from the #RealTalk report to make your account better. And if you need a little assistance with your social media marketing, feel free to reach out. We're here to help.
Best Regards,
Ed Bardwell
President
Rainmaker Digital Services