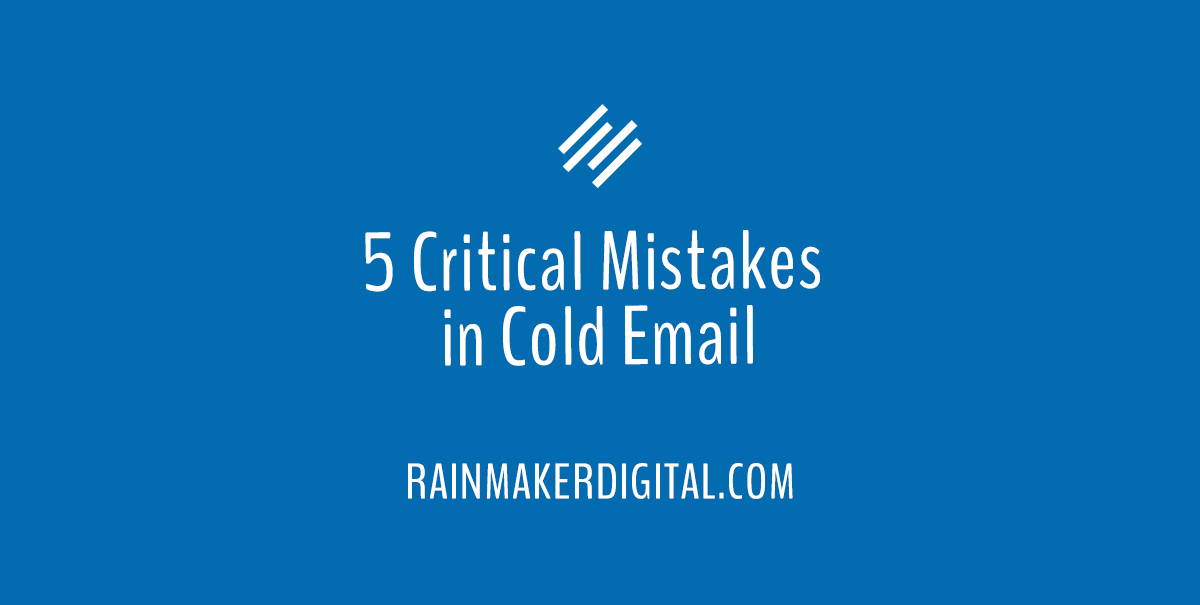 Cold email is one of the easiest, most affordable ways to connect with people and companies. Your message goes straight to their inbox. And if they like your approach, you'll have the beginnings of a relationship.
A well structured outreach campaign can generate 5 or more positive replies for every 100 contacts. But for all the advantages of cold outreach, there is quite a bit that can go wrong. Campaigns that aren't set up correctly will massively underperform.
In this article, lead generation expert Matthew Murray explores five critical mistakes companies make when sending cold emails — and what to do instead.
#1 – Don't Introduce Yourself
Many cold emails begin by introducing themselves. The first line will read something like:
"My name is Vince and I'm in charge of client solutions at VinceTech."
This seems like the polite thing to do. After all, we should introduce ourselves when meeting someone for the first time, right?
No. Or at least not in this case.
The first line in your email is valuable real estate. Use that space to provide the reader with a compelling reason to keep reading. It's where you set the 'hook' for the rest of your email.
This first line is doubly important because many email clients have a preview pane that shows the first part of the email. If your first sentence is interesting it'll potentially help you increase your open rates and engagement.
Cold emails need to be as short and impactful as possible. Ideally your message will be less than 100 words. So don't use 15 words to restate information that's prominently listed in your signature. If they want to know more about your role at the company, they'll just glance down to see who is sending.
#2 – Broad Targeting
In lead generation, sales targeting is everything. If you have a compelling message, but share it with the wrong people, you won't get strong results.
People are very happy to receive emails that add value to their lives.
But the only way to send high-value messages is to work with small data sets. Which is why it's so important for marketers to "niche down."
Think of it this way. A message that is equally applicable to 1,000 people has no unique value to any of them. It's just too broad!
Instead, segment your data set into small groups. This will enable you to focus the message in a way that's personal and relevant to the recipient. In other words, make it about them!
For example, the owner of a small jewelry shop and the owner of a small restaurant share some commonalities. For instance, they both run a small business.
But that's pretty much where the similarities end. They have very different needs, priorities, and things that keep them awake at night. You can't treat them as though they are the same.
You'd be better off crafting a campaign dedicated to small restaurant owners and another for jewelry shop owners. This will keep your message on target and relevant to the recipient.
#3 – Inadequate Time Allocated
Email doesn't have many large, direct costs, so the ROI is very high.
But there is a trade-off.
What you save in dollars needs to be made up with a time investment. It takes a lot of time and effort to set up and manage a program properly.
One of the biggest mistakes companies make is not allocating enough man-hours to their cold email campaigns.
Here are some of the steps that require a significant time investment:
Researching the companies and decision makers you want to contact. You need to find their professional email addresses.
Cleaning the data for use in your emails.
Personalizing messages so they are 100% unique to every person on your list.
Maintaining and cleaning your data throughout your campaign.
If you try to cut corners with cold email your campaign will fail. So before you decide to start, understand there is a real time commitment required to make it work.
#4 – Telling People What You Do
Another common mistake in cold email is telling people what you do. Some senders include 10 or more bullet points detailing the various services they provide.
No one cares.
For email to work, you have to communicate real value for the receiver.
Telling people how you can help them doesn't meet the standard of real value. Instead, think about things from THEIR point of view. What's keeping them awake at night?
Maybe you've worked with a company in the same industry. How did their situation change after you helped them? That's REAL value.
So avoid the impulse to share what you do. Instead, take the time to understand the person you are reaching out to. And make an effort to see how you can make their lives better. Your email will get a much better reception if you do!
#5 – Undervaluing Others' Time
Most cold outreach programs end with a CTA that involves setting up a time to speak. For example, "Here's a link to my calendar. Why don't we book a time to speak next week?"
It's understandable that you want to meet with your prospects. But do they want to meet with you?
People are busy! So requesting 30 minutes of someone's time is actually a really BIG ask.
You have to make sure your email offers a TON of value. That way a meeting request seems like a logical next step. Otherwise, why would they bother? Before you launch your outreach campaign, put yourself in your prospect's shoes. Would you act on your email? How confident are you?
Start sending emails in very small batches – just a couple a day. If you aren't getting the results you anticipated, then add more value.
You'll get positive results only when the value you offer exceeds the perceived cost. In this case 30 minutes of someone's valuable time.
Send As You Would Receive
If you still aren't sure how to send a truly great outreach email then go through your own inbox. Are there any cold emails that caught your attention? What made them different from all the rest?
The best outreach emails are intentional. You are contacting the recipient specifically. You know what challenges the recipient is experiencing — so have an idea about how you can help.
Send the type of messages that you want to receive. It's as simple as that.
If you make your messages short, interesting, and helpful then your campaign will generate leads.

About the Author – Matthew Murray
Matthew Murray is the director of Sales Higher, a B2B lead generation firm. Sales Higher finds decision makers interested in your solution. You just need to pick up the phone to connect with warm prospects.

If the idea of creating cold email that generates leads seems like too much of a challenge, know that you don't need to go it alone. We're in this with you. If you need a little help, just drop us a line, anytime.