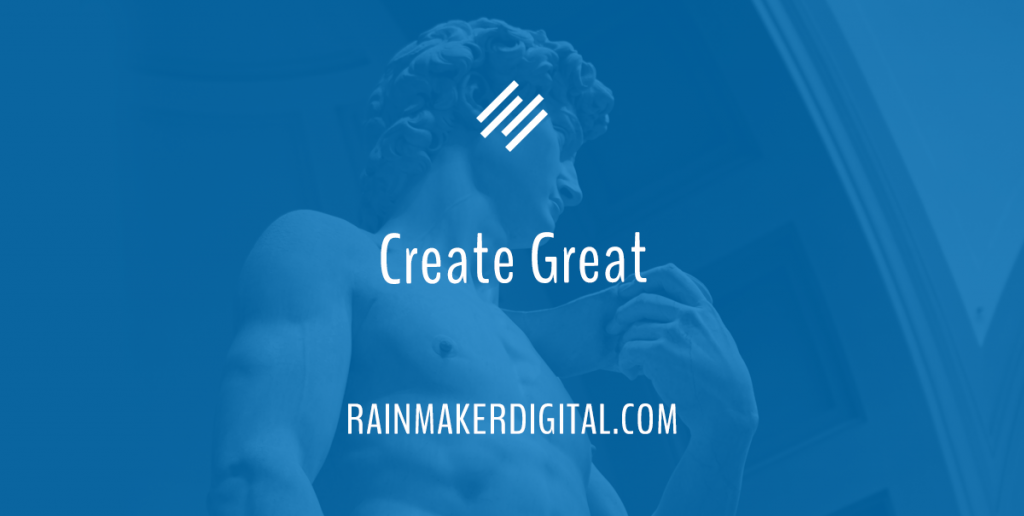 "That's about 92% of the way there," my voice teacher said.
I had been offered the chance to sing a solo in an oratorio. My voice teacher and I had been working on the piece for months. Two weeks before the performance, he leaned back in his chair, skewered me with his eyes and told me exactly what he thought.
"That's not necessarily a compliment," he said. "92% of the way there is competent. It means you don't sound bad. But that final 8% is the difference between amateur and professional. For this, you need to sound professional."
I haven't stopped thinking about that final 8% since.
Everyone knows the basics of content marketing: pay attention to the details. Spend the right amount of time. Provide value to your audience. Sure, the nuts and bolts may change — every brand communicates with its audience differently — but the fundamentals are there.
How do you take your content marketing from good to great?
Create Great
Tim Ferriss is famous for his self-help books like The 4-Hour Workweek. He's a talented dilettante who shows you how to get very, very good at something quickly by just learning the major principles.
Ferriss isn't wrong. If you're smart, diligent and focused, you can pick up the basics of a new field fast. But no one will mistake someone who picked up a basketball two years ago for Stephen Curry. The muscle memory, the nuance, the recognition of plays … there are so many aspects of the game that contribute to making the greats GREAT.
Remember this: in any field, the difference between good and great isn't linear.
It's exponential.
The fundamentals are always there. The way you apply them changes. Steph Curry and Rec League Ronnie at the YMCA may both dribble the same ball. Both may have the same shooting fundamentals. But the difference in performance is night and day.
You watch the details. You spend time on your marketing. You provide value. Congratulations — you're "92% of the way there." Now it gets hard. Here's the path that takes you from good to great in each of those areas.
Attention to Detail
We're not talking about things like grammar, spelling or production quality here. It goes deeper than that.
Look at successful creators and you'll see what I'm talking about. For example, "Binging with Babish" is an iconic YouTube channel. Host Andrew Rea makes dishes from film and TV for this show. It's tightly scripted, fun and visually appealing.
Recently, though, Rea made some longer "Botched by Babish" videos. These are completely different from the standard tight format, and they show the entire process of the dish from beginning to end.
And that means everything, good and bad. They have hours of footage to cut down. From forgetting to turn on the camera and missing half an hour of footage to failing for hours at steaming eggs, the Botched videos show the days of anguish, frustration, work and triumph that lead to a single 10-minute video.
That editing process takes it from good to great.
One of my favorite articles is a John McPhee New Yorker piece titled "Omission". Go read it now if you have time. (Seriously, stop reading my piece and go read McPhee's — he's a far better writer than I'll ever be.)
McPhee talks about the process of "greening," where a writer would have to cut lines from their piece with a green pencil to make it fit. An article might be sent back from the typesetter with a note that said "green five," which meant five lines had to go.
As his colleague Calvin Trillin noted, "The greening I did in Time … convinced me that just about any piece I write could be improved if, when it was supposedly ready to hand in, I looked in the mirror and said sternly to myself 'Green fourteen' or 'Green eight.'"
Great creators pay attention to the details. And when you're trying to go from good to great, a lot of that detail isn't in what you put in. It's what you leave out.
Details vary, but attention to detail can't. Ever. Your word choice, attention to detail, grammar, spelling, all that … each of those may depend on your audience and intention. Make sure that every word, every image, every element is chosen with intention.
Value
The Internet would be vastly improved if brands only talked when they actually had something to say.
My mom used to make a dish called "bubble and squeak" on Sunday mornings. It usually consisted of chopped up and reheated leftovers from Friday or Saturday night with eggs, onions and potatoes. It was good. But I don't think I'd want it for every meal. (Sorry Mom.)
Most content is like my mom's bubble and squeak: a chopped up, reheated synthesis of the top 10 results on the Google SERP, bound together with a little bit of branding and maybe a CTA at the end. It's all the same leftovers, even if you mixed in some egg, potato and onion.
When I was hired here, Ed challenged me early on. I was cranking out content without thinking about it. I'd done a lot of content mill writing to put food on the table, and it took time to break that mindset. "Why do we need to have an opinion on this?" he would say. "What do we have to say about this that hasn't been said before? If it's important but well covered, what's our interesting angle? We can't do the same thing as everyone else."
Content must be selfless. It cannot be selfish.
If the only reason you're creating content is for SEO, or because you need to care about it, you'll never put in the effort the work requires to be great. It won't resonate with your audience the way it should. Great content focuses on delivering value, not providing it as a side effect.
Time
You need time to create and edit your content. But great content requires more than just lead time.
Great work needs fermentation.
Let me explain. If you've ever made pancakes or cornbread, you've made a kind of "quick bread." You mix up the batter, you pour it in a pan, boom. Done. They're good, but there isn't a lot of depth, structure and complexity of flavor.
Now try making sourdough bread. First you need a starter, which in itself takes time to develop. Then you need to mix the starter with the ingredients, let sit, fold, let sit, let sit some more, flip … I don't even know all the steps because I don't make sourdough bread. I just watch how to make it on Bon Appetit. It is WAY too much work. It takes days.
The end product, though? Delicious. Nothing like it. That's because of the fermentation. Fermentation takes those ingredients and transmutes them, creating something greater than the sum of its parts. But it only works when given time to develop.
You need time to unpack the subject, learn whether it works best in one format or another, figure out what's really important and what's just chaff. Great content needs time to develop, just like sourdough bread.
Take this article, for example. This piece was originally very different. I brought the topic up a couple of months ago, and it had been on my mind for six. A month ago I tried to write it and wound up with a completely different article. We've talked through this one on at least three separate occasions. And the end result is what you see here — literally nothing like what I started with, and a vastly better product.
Building Success
Sustainable success doesn't just come from consistent, fundamental content. It doesn't just come from an interesting creative vision. There's more to it.
Fundamental content keeps you from failing. That one-off passion project might get some temporary attention. But to really have staying power, you need the extra 8% — the margin between good and great.
Leave out the parts that don't matter. Make selfless content. Use time as a tool to let your content develop. That's how you can make your content marketing great. And if you need a hand with your content marketing efforts, contact us today. We're here to help.
Best Regards,
David Brandon
Copywriter
Rainmaker Digital Services