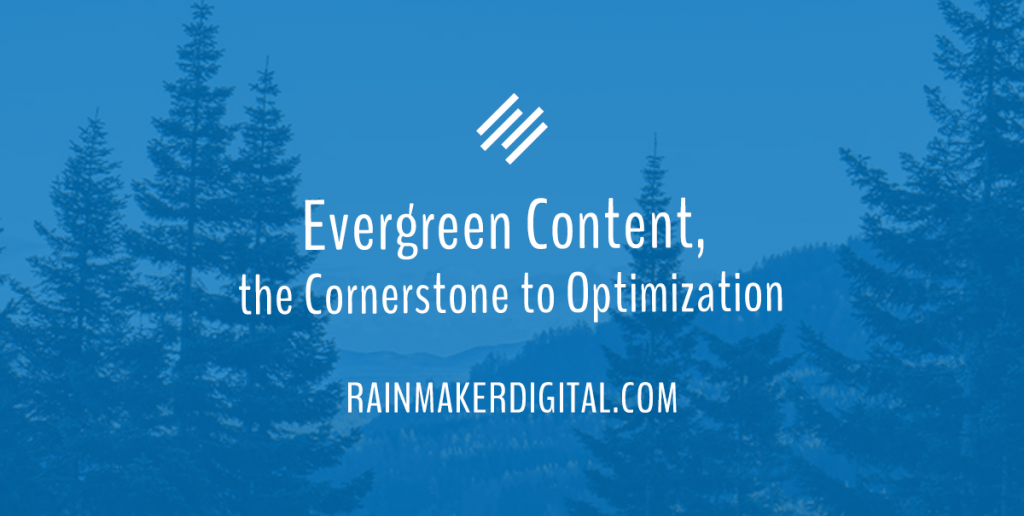 Evergreen content is the cornerstone of the website's message and the foundation of the content strategy. An axiom of marketing is you can't be everything for everyone. That is especially true with a website and the content on it.
Evergreen content is also known as cornerstone content. The idea behind this content is that it is "evergreen" (always fresh or valuable to readers) and establishes the core message (the cornerstone or foundation) for the site. As importantly, this content establishes the message framework that all other content on the site will build upon.
With the ever-present goal of being ranked on search engines, evergreen content sacrifices "newsworthiness" for the long-term value of "relevance" to build traffic and audience around a central theme. Relevance (along with strong SEO principles) is the key to successful evergreen content that is ranked on search engines,
This article dives into defining evergreen content and content formats that work well for delivering it.
What is Evergreen Content?
Great evergreen content gets ranked on search engines. Ranked content helps sites generate (or drive) traffic, build brand awareness, and differentiate the site from the competition. The answer to the question, "what does the audience need to know about the website" can guide efforts around evergreen content.
Generally, evergreen content is top-of-the-funnel, basic content that is essential for an understanding of what the website or business is all about. Before you start writing you must determine what people need to know about your business and take time to:
Research audience activity – Analyze keywords, visit sites that show up when you search on the keywords from your cornerstone content, and review competitor content.
Consider optimization – If you write content and it doesn't get ranked, it's failed. This is especially true of evergreen content. Do everything possible to create content that search engines will rank. The most critical optimization opportunities are the URL, the page and section titles, keyword-rich content (at least 500 words), and links to other relevant articles. Be sure to make linking to this content, fast and easy; ideally, someone should be able to get to this content from the home page.
Make the content shareable – Create content that readers can leverage for their own purposes, include on their site, or share on social media. Use easy-to-read URLs, invite readers to like and share on social media, and write in a manner that allows readers to add their POV to your evergreen content for their own purposes.
Collectively, the results of these three tasks will give you the information you need to write.
Great evergreen content leaves out the fluff and focuses on sharing useful, valuable, and meaningful content that users need.
Top 5 Evergreen Content Formats
Different types of content have different potential impact. When focusing on search engine ranking and evergreen content, avoid trendy and sales content. Use content that informs and engages. The Top 5 evergreen content formats are:
#5 – Tools and calculators
This content format is great for websites that compete in highly competitive industries that don't have a lot of differentiation. Tools that help visitors find / calculate information for other purposes encourages interactivity and bookmarking. Examples of this type of evergreen content include builders for code, reports, forecasting, and keyword generators. The downside to these tools (or they'd be ranked higher…) is that often users remember the tool, not the site or the brand behind the tool.
#4 – Testimonials
The 4th best option for evergreen content is testimonials. Digital and social have made the power of "influencers" and "advocates" explode. We believe the reviews and testimonials from strangers as much as our grandparents trusted their neighbors over the back fence. In fact, 88% of viewers use reviews and testimonials when making online shopping decisions. Testimonials are one of the easiest forms of content to collect, curate, publish and update. The only limiting factor to the value of testimonials is that users have a degree of skepticism about them.
#3 – Tips and tricks
A class evergreen content format is the long-form tips and tricks articles. Every business has expertise that can be structured as advice that users can use. Include tips that immediately differentiate the site and the brand. Combine a tool or calculator within your tips to create a great evergreen piece. A unique advantage of this type of content is that you can establish brand jargon that integrates your messaging into the general conversation. Be careful to avoid tips and tricks that are time-sensitive or reflect on a moment-in-time to minimize the need for updates and the risk of being found and considered outdated.
#2 – Case studies
The only word-of-mouth content better than a testimonial is a full case study. A key attribute of a search is the "problem / solution" goal. Users have a "problem" and the search engine wants to provide a "solution." Evergreen content that presents the problem and solution together makes it easy for users to imagine you helping them with the same issue. "I have that problem and you helped consumer XYZ with that problem… can you help me too?" We've seen email and chat inquiries that have included links to case studies with that exact question, "can you help me too?" Creating an evergreen article with case studies for the 2 – 3 main challenges that the business addresses is a powerful asset.
The challenge with case studies is the creation. In some verticals, content creation like photography (before and after) and legal approvals can slow production. And some clients are cautious that the case study may share trade secrets. Still, if you can navigate the external and internal content challenges; case studies are a perfect match for SERP visibility.
#1 – How-to guides
The most powerful evergreen or cornerstone content is the how-to guide. As search continues to infiltrate how we live our lives, creating content that search engines can recommend that explain "how to" do things will only continue to grow in importance. By adding in how-to content, that can include video, websites can create immediate authority with new users. Provide step-by-step guides, using your products, services, or expertise, that validates your website's expertise and creates a monumental barrier to competition. Some clients resist the how-to guide because they don't feel they have the expertise to publish the content. However, except for fields with licensing, the community defines who is an "expert." Assume you're the expert and share your knowledge with a how-to guide.
Final Thought
If you're like me, you think of evergreen content as written text, especially for B2B and B2C services, but text isn't the only form of searchable content. In fact, with YouTube now being the second most used search engine and over 60% of web content being video, now's the time to start creating video cornerstone content. All 5 of the evergreen content formats can be easily adapted to video. ProTip: Include a transcript of your video content (like you might do with podcasts) to create additional keyword-rich content that is highly searchable on both Google and YouTube.
The good news is that all content, regardless of media type, follows the same rules. Learn the rules, apply them to your content, and start driving traffic to your site.
If the idea of adding evergreen content to your marketing efforts seems challenging, know that you don't need to go it alone. We're in this with you. If you need a little help, just drop us a line, anytime.
Best Regards,
Ed Bardwell
President
Rainmaker Digital Services