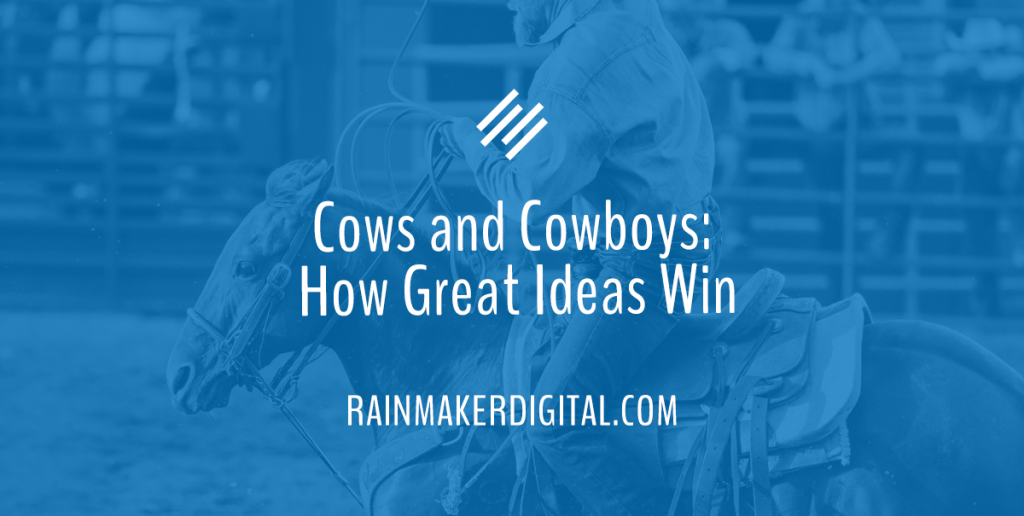 The cowboy's cigarette droops loosely from his mouth. His hat is white, clean, untouched by dust.
He's the Marlboro Man, an image that's lasted since iconic advertiser Leo Burnett started the campaign in 1955.
Think of the iconic campaigns you've seen and how many channels you've seen them on. Chick-Fil-A's Holstein cows. The "PC vs. Mac" campaign. "Where's the beef?" From cows to cowboys, there's something memorable at the heart of each one.
Great campaigns grab attention, and they're remembered for years afterwards. Regardless of your opinion on cigarettes, you know exactly who the Marlboro Man is. The year the campaign began Marlboro went from a tiny brand to fourth in sales. That one idea sold $80 billion of product. It's arguably the most successful advertising campaign of the 20th century.
What makes a campaign great?
It's not the channel or the medium. It's deeper than that. It's the idea — and there are three principles you need to capture in that idea, no matter what channel you use.
Value Creativity
Great creative is platform-agnostic. Sure, you might need to adjust slightly for each channel. But the idea driving the message stays the same.
Think of the Chick-Fil-A® cows campaigning for you to eat more chicken: that concept plays everywhere – on billboards, social media and TV alike. The formatting might change but the fundamental idea stays the same.
A good campaign has solid fundamentals. It's targeted well, uses the proper channels, "follows the recipe," if you will. All of those are a given for success. The anatomy of a good campaign isn't some great secret — any marketer worth their salt knows how to build one. But "great" means going beyond the recipe.
A great campaign has everything a good campaign does — and it has the secret sauce of a unique creative idea. Ideas like the Marlboro Man or the Chick-Fil-A cows have staying power. They resonate with consumers, which makes them last — and it makes them effective across every channel.
Good creative is hard to quantify with numbers, which is why it doesn't always get the attention it deserves. The only thing you can say about good creative is "it works." It grabs and holds attention. It's memorable. And it creates buzz — people talk about it. That means greater reach.
The nuts and bolts targeting numbers get more attention sometimes, often because it's easier to sell the C-suite on numbers that graph out well on a Powerpoint than a creative idea they may not actually get.
And that's understandable. Most of marketing is craftsmanship. It's technique, refined and honed over time. Just about everybody can pick up the basics — anybody can follow a recipe. But it takes someone creative to make the recipe delicious.
Technique is the 90% that gets your message seen. Creativity is the 10% that generates results. It's the difference between good and great.
Stay Authentic
A great campaign resonates with an audience because they connect with the idea. And that idea has to be an expression of who you are. If it's not, sooner or later your customers will sniff it out.
One of the most infamous examples in recent history is Pepsi's Kendall Jenner ad, widely criticized for trying to cash in on the political turmoil at the time. There was no real connection there for Jenner's magical bridge-building between police and protestors. It rang hollow. Pepsi® had no well-known history of corporate activism, and people didn't think it was authentic. The brand took a hit from the campaign and had to apologize.
Contrast that with a company like Patagonia, which literally ran an ad campaign asking people not to buy their products. It actually drove sales. People realized Patagonia was putting its money where its mouth was. Environmentalism has always been front and center for Patagonia, and its marketing and advertising supports that message.
No matter what channels you use, you have to be authentic. Don't put up a fake front. That not only includes campaigns that don't align with who you are, but things like bad products, taking advantage of a vulnerable audience or fear tactics. You'll probably make money in the short term. You'll also do irreparable damage to your brand in the long term. It's not worth it.
Know Your Channels
Creativity and authenticity are the foundation for a platform-agnostic campaign, but there's no escaping the fact that you need to understand your channels. A great idea won't just be usable on one channel. It will be universal.
Channels are tools — they aren't the end product, they're the method you use to share your message. It's a rookie mistake to focus on the channel instead of building a campaign with some portability. That being said, the tools you use matter. Every tool in a tradesman's toolbox has a purpose, and you won't go far if you use them for the wrong thing.
Everything starts with a website you control. That's where every piece of content and branding you do lives. Algorithms and platforms die, but your website is something you can own. Think of other channels as tools to amplify and extend your message.
Social media has the potential to greatly enhance your message. There are a number of different social media platforms, and you have to choose which are the most effective for your message. Figure out where your current and potential audience are and go after those. There's one caveat there, though: don't ignore Facebook. It's the big one. Most people use it and the targeting is excellent.
Email is the most powerful element in any digital campaign, and SMS ranks right there with it for some specific scenarios. You're talking directly and personally to somebody — and they've given you permission. They still have great open rates and response rates. And everyone has an email address or a number that can receive text messages — you can cast a pretty wide net.
Offline methods can still work too. Outdoor advertising is still highly effective for local businesses. Direct mail still delivers and print has its uses. Every doctor's office has magazines. People still read.
A lot of marketers start a little bit backwards when they're designing campaigns. They lean into "which channels are we using" instead of putting the emphasis on the idea. A great idea will be portable. Get the idea right first, then make it fit the channel.
The Three Principles of Successful Campaigns
Creative, authentic campaigns will succeed — especially if they're designed with an understanding of the channels they run on. These principles help you create ideas that become successful marketing campaigns.
If you're trying to build a marketing campaign that succeeds, we can help. Know that you don't need to go it alone. We're in this with you. If you need a hand, just drop us a line, anytime.
Best Regards,
Ed Bardwell
President
Rainmaker Digital Services