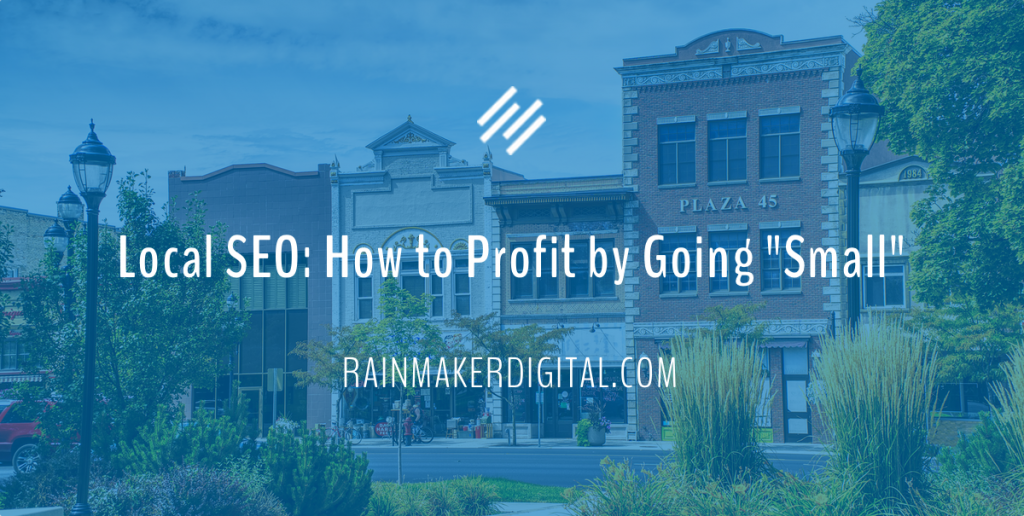 For small and mid-sized businesses, one of the most lucrative opportunities for ROI (return on investment) is local SEO. Local search engine optimization (local SEO), like general index (national) SEO, is the process of influencing the visibility of a website or a web page on a web search engine's unpaid results (SERP- search engine results page).
Research shows that the higher a site or page is ranked on a SERP or the more often a site or page is displayed on the search results list, the more traffic a site will get. And more of the right kind of traffic is critical for more sales.
Hidden in the definition above is an SEO gold mine that the national index doesn't have – Maps. Not coincidentally, the most important map application belongs to the biggest search engine – Google. Any serious conversation about local SEO starts with location, location, location …
Optimize Your Google My Business Listing
Over 25% of mobile searches for "something nearby" lead to a purchase and the "Maps Pack," the first three search results listings on a Google map, generate 25% of click results. For local SEO, getting in the Maps Pack is key to revenue generation.
To get your site in that consideration set, you need to verify your business through Google My Business. By verifying your business you will show up on the maps listing and be given priority for mobile results when people search for "something nearby," that relates to you.
This entails building your listing with basic business information; encouraging customers to leave reviews (be sure to respond when appropriate) and uploading appropriate photos. Google claims that including photos in a Google My Business listing increases clicks by 35% and requests for directions by 42%.
As users move more and more to mobile and voice search, tools like Google My Business will become increasingly important. Best of all, updating your Google My Business listing will improve your visibility on Google Search, Google Maps and the Local Finder.
Optimize Content, Links, and Meta with Location Information
As obvious as it might sound, one of the most overlooked aspects of any geographical SEO, and local SEO in particular, is the inclusion of geography in the content, in the internal links and embedded in the meta data. It really is as simple as including "Your Town" with "Your family dentist."
This takes some time and discipline to create consistency but adding locations will immediately improve local SEO performance and the national index when someone includes a location in the search. When combined with the next tip, local SEO sounds a lot like real estate marketing, "it's all about location, location, location."
Remember Your Neighbors
I live in Dallas, TX. Yes, the actual city of Dallas. But, like the DALLAS Cowboys and FC Dallas, over 82% of Dallas residents don't live in Dallas. Regardless of the size of your community, the people of the community know there are major differences between neighborhoods and communities.
People searching locally will know these differences and expect business in their communities to know them too. If someone is in Plano, they aren't going to search for "tacos in Dallas" if they're hungry. They'll be searching for "tacos near me" or "tacos in Plano."
Understanding WHEN and WHY people search is especially important if you have two or more physical business locations. Both revenue and SERP rankings will suffer if Google shows your prospective customer the wrong location.
An easy way to get hyper-local is to build individual pages for the areas you serve. For even a single-location business, I would build separate location web pages for the communities around Dallas; places like Richardson, Garland or Oak Cliff that are all within driving distance for the same brick-and-mortar location.
The content on these location pages can be similar (remember, don't duplicate the content) but include "proof" that your Dallas taco shop is friendly, within easy driving distance of the searcher's location, knows the community and has the delicious barbacoa taco that people are craving.
Content is the validator to Google local listings and a page that confirms that you serve a named community will gain relevance for that search. Consider adding these community pages to the navigation menu for even more value.
BONUS POINTS: If you can grab a URL that combines your location and your services, local SEO value will increase even more!
Think Like the Searcher
All search engines, and Google in particular, work hard to provide search results that meet users' needs. For local SEO, these efforts have focused on mobile and voice search. Google gives priority on local searches to sites that are mobile-friendly.
With 90% of smartphone users using their devices for local searches, Google wants to share content that meets their needs. The main items people are looking for when searching local on a mobile device are reviews, directions and how to contact.
Making your site mobile-friendly for contact information is a great way to start. Commonly referred to as "the NAP", name address and phone are vital for local SEO. Make your NAP HTML crawlable (don't stick it in a photo). Also, make sure your phone numbers can be clicked and called from a browser. Lastly, link your address to your Google Maps so people can get immediate point-to-point directions.
The more your site reflects how users use content, the more likely a search engine is to rank you high on local searches.
Optimize Your Local Presence
Google has a 90%+ market share in search; Google Maps only has a 70% market share. Even though both dominate their categories, this 20% difference is useful for local SEO.
Take advantage of this 20% delta. Find the time to make sure your business listing is verified and current on these other online directories – Apple, Yelp, and Bing. Depending on your vertical, you should also consider your listing on vertical directories like TripAdvisor, Open Table, and Home & Local.
To get the greatest value from these additional directories, be consistent. Use the same information for each individual listing. Include slight edits to eliminate duplicated content and align with the voice of the audience (this is particularly useful on niche directories.)
One Last Thing …
Local SEO is still optimization and starts with content just like general index optimization. Great content targets and focuses on your local area. In combination with content that understands why people search for local solutions, is the foundation for success.
Like general index SEO, be sure to follow the latest Best Practices for optimal effect. Add in recognition of the value of 3rd party directories and the use of mobile devices for local searches and you'll find your way to increased traffic and increased revenue.
If the idea of executing on a local SEO strategy seems overwhelming, don't go it alone. We're in this with you. If you need a little help, just drop us a line, anytime.
Best Regards,
Ed Bardwell
President
Rainmaker Digital Services