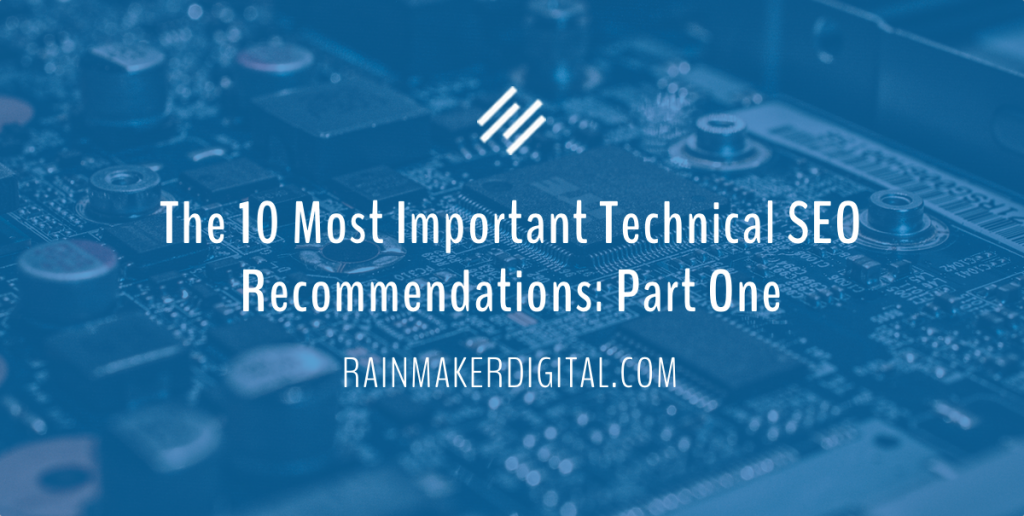 Continuing our goal of sharing information and insight on digital marketing to help people focus on their business, this week we share the first of a few articles on the technical details of Search Engine Optimization.
I promise you won't need a degree in computer science or SEO "certification" to understand these more technical details!
A key thought before we get started. The search engines, Google in particular, are ALWAYS updating the way sites are ranked. The algorithms that rank sites are constantly being tweaked to make sure search engines are showing the 'best' (a very sketchy term) results.
Because of this, successful SEO practitioners must continuously update their skills. In fact, smart customers hire SEO practitioners and consultants based on how they keep their knowledge current. Hint: this is a great question to ask when interviewing for SEO.
This short article is not intended to inspire you to become an SEO expert but rather to put you in a position to better understand what's involved in "ranking first on Google." Search optimization has many facets. Don't forget that the most important criteria for getting your site displayed in a search engine results page (SERP) is great content.
Over the next few articles, I'll share the 10 most common Technical SEO recommendations to improve a site's ranking. There is enough detail here to help you understand what needs to be done, though understand that there are professionals that spend their entire time on just one or two of these many recommendations. SEO is a very complex discipline and knowledge is the first step to achieving results.
With that, let's start with our first three SEO recommendations (these are listed in no particular order) …
1. Site Speed
The first recommendation is to optimize your site. Recent research shows that as many as 47% of consumers expect websites to load in a few seconds. You can't build engagement or even sell a product, if your site doesn't load … fast.
Slow sites kill marketing performance and search engines penalize slow sites with lower rankings. Take a look at your site's speed. If it isn't what you want, ways to improve site speed include:
1. Hosting: Be sure to select a host and hosting package that will deliver the site speed you expect. While "cheap" doesn't necessarily mean "slow," hosting is a service where you get what you pay for. First meaningful (or content-full) paint (how fast content is delivered to the user) and first CPU idle (how long it takes a page to be minimally interactive) are critical metrics to look for when you're trying to achieve good search engine rankings.
2. Content Optimization: This speed enhancement recommendation focuses on the data that a server has to share with a user's browser. Content optimization reduces the amount of work (data) that has to be requested and sent to create a user's experience. The most important considerations are:
HTTP Requests: How many times does the browser and server (and other servers) have to interact? Less is more … and faster. Remove any unwanted/unneeded files. From minifying to combining files, make sure that you're only including content that's needed to create the best user experience.
Optimize/Compress Images: Cell phones have made creating great media easy. Unfortunately, people load large files that servers have difficulty loading. There are optimizing tools that you can use before you load media to a server as well as tools that you can use on the server to create versions of media that users can view quickly.
Optimize Files: In addition to HTML, most web pages include CSS (for stylizing the HTML) and JavaScript (for functionality) to create a user experience. These files can get very large. See if some of the code can be removed, deferred until the user needs it (does the file need to be loaded before the user uses it?) or compressed (rewritten or reconfigured) to serve it up more quickly.
Some users become obsessed with site speed. One caution: don't allow your desire for speed to detract from your user's experience or the quality of the content.
2. Mobile-First
Today, mobile-first, mobile-optimized or simply mobile friendly are no longer buzzwords. Search engines change their ranking rules based on user behavior. Given that estimates show that as much as 65% of user searching is mobile and conservatively over 52% of all internet traffic is mobile, search engines now reward sites that focus on the mobile user experience.
To optimize your site for mobile, consider:
Structuring your site for the smaller screen. In most cases, this means less (yes, LESS) content on any one page. Rather than long rambling articles, use short synopses to introduce content and then divide the page into multiple sections so users can swipe and save your content.
KISS! Unlike desktop designed websites, mobile-first sites strive to keep navigation, styles and content simple. Similar to the minimalism design movement online, mobile design focuses on giving the users what they want, fast and easy. White space, clean lines, simple fonts and logical layouts. Tiny buttons, giant forms and full-page backgrounds are not mobile friendly.
Make your CTA (call-to-action) mobile. Assume your user is on their phone; make forms and calls-to-action reflect that form factor. Put any forms in the middle of the page so users don't have to swipe left and right. Include options for users to click-to-call and embrace SMS/text.
As a content marketer, don't let mobile "scare" you or deter you from your goal of establishing authority and authenticity. Mobile optimization is an opportunity.
Is now the time to convert some of your written content to a podcast or video? Use optimization as a reason to explore the future of your content strategy and improve your site rankings at the same time!
3. Site Link Building
There are two parts to link building — inbound and outbound links. It wasn't too many years ago that "inbound and outbound" links were the best way to improve SERP rankings. There were (and still are) vendors that would sell sites links on sites with high page ranks.
Fortunately, Google has found ways to minimize the 'gaming' of the algorithms with links. The theory behind valuing links is that if you link to sites and sites link to your site, there must be content that people want to see. The theory is sound, and it remains a key to establishing relevance (importance) to the search engines and to improving ranking.
Start with adding links on your site to complementary content on other sites. Regardless of the purpose of your site, find other sites that would benefit your users. A couple quick illustrations of outbound link building:
If you sell a product, find a user group, a manufacturer or an industry certification that you can include that shows that you're actually engaged in what you sell.
If you sell a service, include links to other thought leaders in your category or clients that might reflect well on your expertise.
For new sites, outbound link building is a great way to establish that you belong (and should be ranked!)
Once you have content and outbound links, consider reaching out to some of those sites, businesses or organizations and ask them to include your site within their content. Link swapping is still a common behavior and it can generate results. Press releases, social media, influencer content, and guest posting are all powerful ways to build links. There are still many ways to buy links through advertorials, sponsorships and paid services.
Be careful with purchased links. Google's tools are learning the difference between a legitimate industry sponsorship and a blatant attempt to buy links to improve rankings.
Like other forms of media, link building is both art and science and can effectively help you improve your site ranking.
Ready for more?
In part two of this technical SEO series, we continue this overview of the elements of Technical SEO and look into addressing code errors, including tools for mapping the site (sitemaps, canonicals URLs) and improving content density though elements like alt tags for images.
If the idea of executing on an SEO strategy seems overwhelming, know that you don't need to go it alone. We're in this with you. If you need a little help, just drop us a line, anytime.
Best Regards,
Ed Bardwell
President
Rainmaker Digital Services