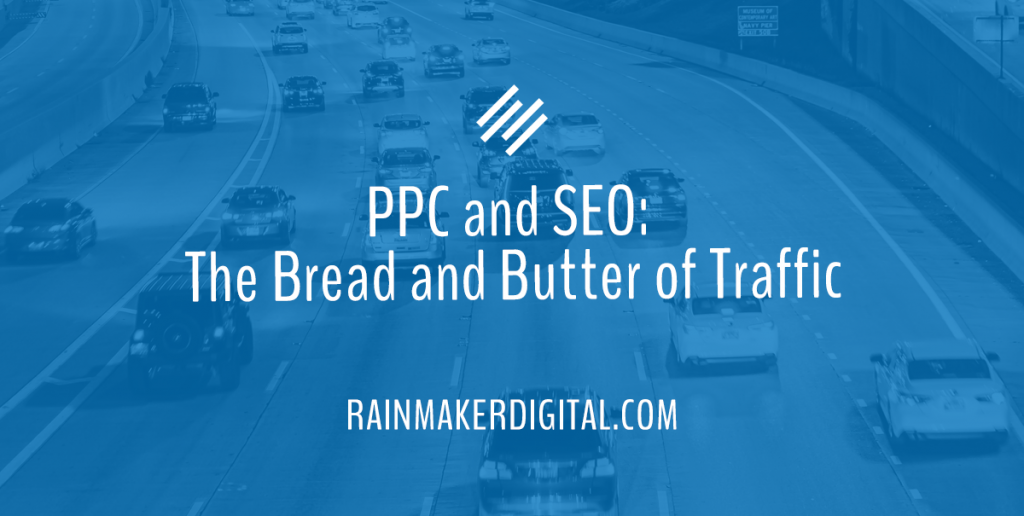 PPC and SEO are completely separate tactics.
Or are they?
It's easy to think of paid search and organic optimization as unrelated items on your marketing checklist. But that would be a mistake. The truth is, Google's SEO and pay per click (PPC) models are symbiotic — they work best together, and the result is greater than the sum of its parts. And you can harness that extra power to build traffic to your business's website.
Google PPC vs. SEO
Let's take a look at a Google search engine results page (SERP):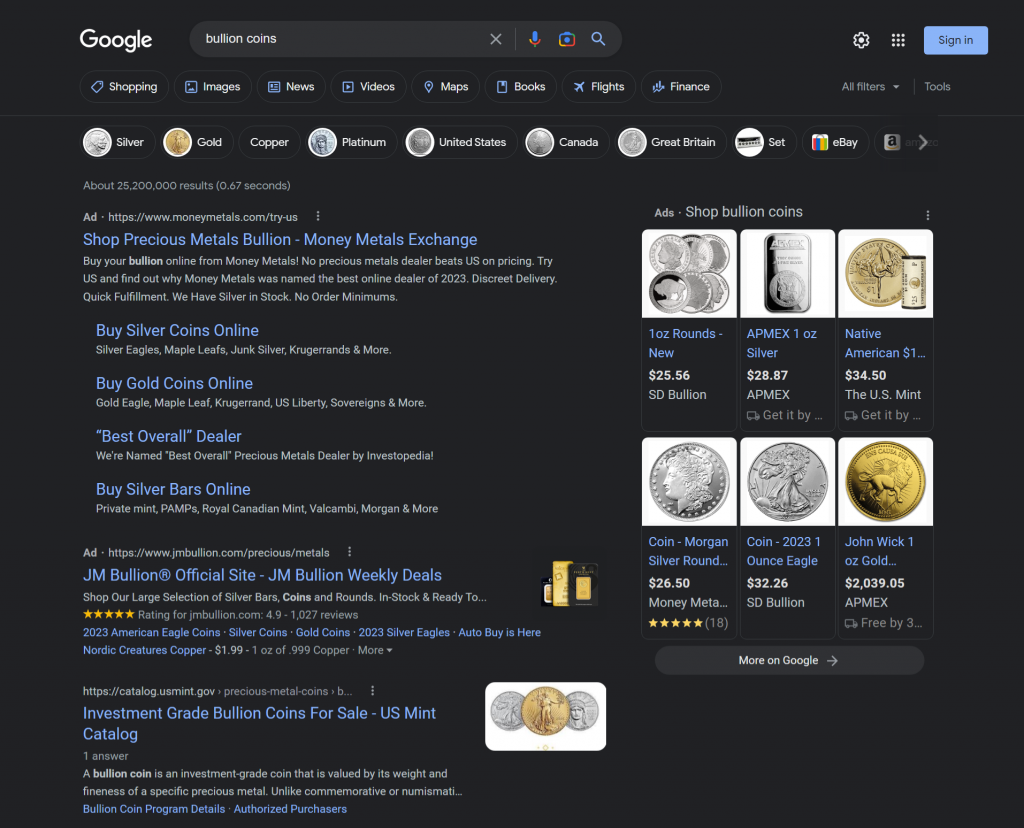 Notice the first two results are ad listings, either responsive search ads (with all copy manually created) or dynamic search ads (some copy pulled automatically from the website).
Then on the right you have shopping ads.
Finally, down at the very bottom of the screenshot, you can see the first organic result. On my laptop, I actually had to scroll down to see this listing. Everything on my screen when the page loaded was a paid listing.
As you can see here, there are a lot of different PPC options available on Google, and they show up in the prime positions on the page. Organic listings appear below the PPC.
Why does this matter?
There's one thing you'll notice about this page: despite the fact that organic and paid listings work entirely differently on the back end, they're displayed together on the front end. Your audience doesn't care whether a link is paid or organic — they want the answer to their search query.
You have to consider each SERP holistically, rather than as two separate systems. You could put out great content around a keyword and rank high on the SERP, but if your competitors are buying all the ads on the page, you might not be driving the traffic that your organic rank and great content should get.
How SEO and PPC Can Work Together
You should make paid and organic search complement each other. Take advantage of both to improve visibility and drive traffic. Here are some ideas on how to use them together …
Finding New Keywords
When you put together a PPC campaign, you're targeting a list of keywords or phrases — when people search for your keywords, you have a chance of being seen at the top of the page.
You can use this as a research tool to find new keywords for both PPC and SEO.
By default, Google Ads uses "broad match" to target your keywords. That means it will serve your ad to keywords that are related to the keywords you chose, in addition to exact matches. You can narrow this with phrase matching (using "" around the keyword to match with phrases that include its meaning) and exact matching (using brackets to only bid on keywords that exactly match the meaning of your keyword). Here's an example from Google: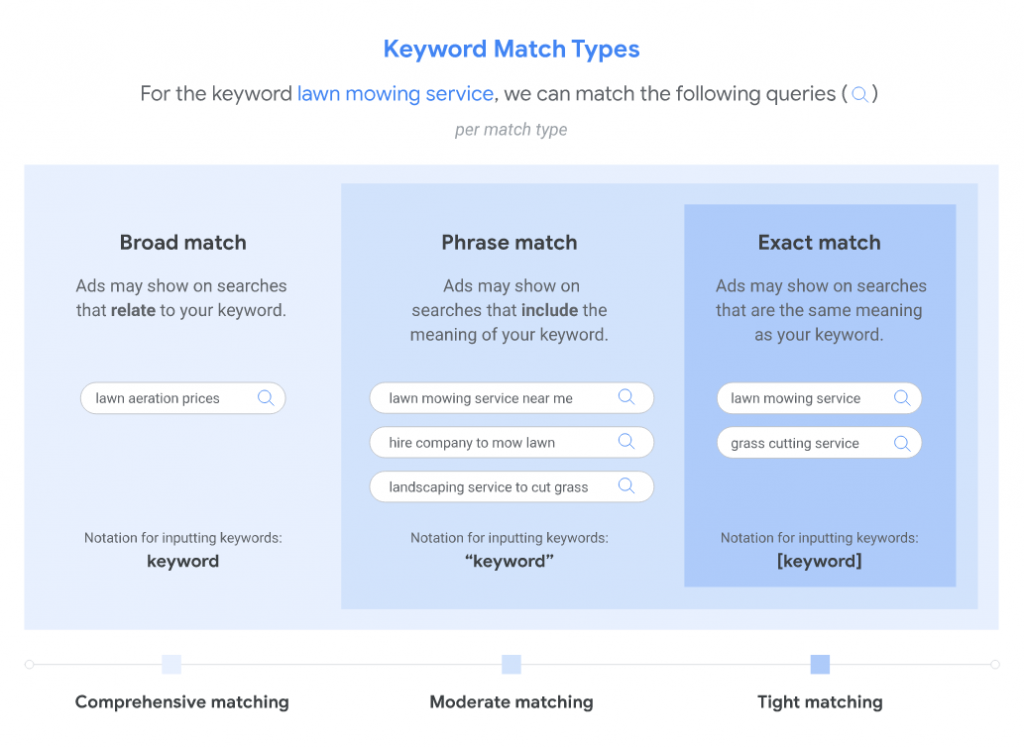 Using broad match or phrase match can help you find keywords you might not have thought of. You can use those keywords to narrow your PPC to exact match, as well as target new search terms with your SEO.
If people are seeing your ad through these broader matches on keywords, it's a good indication that your company fits what they're looking for. Use that knowledge to inform your content marketing and build organic traffic. Check your search terms report on your PPC terms, then use any outlier keywords that are getting good responses as targets for your SEO efforts.
Boosting Your Organic SEO
Take another look at the SERP example above. If you'd had an ad in that upper section of the page, it would be seen first by the audience — and if you had good organic placement as well, you'd also be seen as you scroll further down the page.
Audiences don't discriminate between those two. They're on the same search page. You might think that if you had an ad running, it would cannibalize your organic SEO traffic —- but Google's own data says that's not true. And in fact, some third parties indicate that far from them working against each other, ads and organic listings work symbiotically. In other words, they feed into each other. Google calls this "search incrementality."
There are a couple of reasons for this.
First, when you have multiple listings on the SERP, you increase awareness of your brand. The more times an audience sees your company's name on queries relevant to their interests, the more likely it is that they engage with you. Even if the audience knows one listing is an ad, the fact you spent money on PPC indicates you're less likely to be a fly-by-night. You are an authority on the topic of their search query.
Second, you have to consider the amount of real estate you take up on the SERP. If you have multiple listings on the page, you're crowding out other companies that could be listed there. It's more likely someone will click on either of your listings because there are less options.
Creating Backlinks by Demonstrating Authority
I've clicked on a Google ad or two in my day — you probably have too. Maybe I didn't buy from them that day, but if they had good content and a product line that matched what I was looking for, I'd keep coming back.
That's a benefit, but it doesn't directly benefit your organic listings. What it does, though, is create backlinks. This benefit is tied directly to the strength of your content and will improve organic rankings. Here are some ideas for evergreen content that can help you create backlinks:
Calculators and spreadsheets: Any calculator or spreadsheet can help you build backlinks if it's useful for your audience. The NBA salary cap is a hobby of mine — Spotrac is my go-to resource, and I link to their spreadsheets whenever I write about team finances.
First-party data: If you have good first-party data to draw insights from, it's a great way to drive backlinks. Marketers and writers are always looking for sources to link to and this is one of the best ways to get them interested.
Unique content: Don't publish just to publish. If you have something unique to say — an interesting angle, a firsthand account, something to add extra context to your content — use that.
Whitepapers and eBooks: A good whitepaper or eBook is very strong backlink bait. Create a resource that your audience will want to refer to again and again — and make sure you put a few key stats or takeaways in the description of the page so you can generate backlinks.
If your content marketing is good and you're creating strong evergreen content, people that come to visit through your ads will come back. That doesn't directly translate to ROI on a PPC ad. But more eyeballs on your evergreen content means more backlinks, which helps your total website traffic and your SEO.
Use PPC and SEO Together
PPC and SEO aren't apples and oranges. They're more like bread and butter. You might be able to get by with one or the other — but you're going to do a lot better with both. Use them together on your site to build your traffic.
Need a hand using either of these? We can help. Rainmaker Digital Services has a long history working with both PPC and SEO, and we want to help you reach your goals. Just drop us a line, anytime.
Best Regards
David Brandon
Copywriter
Rainmaker Digital Services