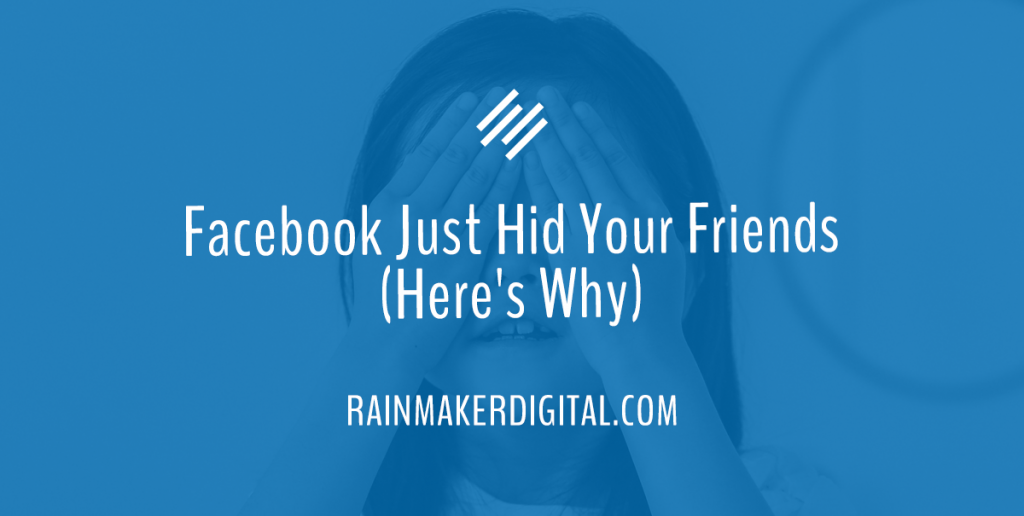 Facebook started in 2004 as a place to connect with college friends.
It's not that anymore.
Facebook quickly grew, absorbed Instagram and created new markets. Every few years a new challenge arose, and it weathered every storm.
Until now.
For the first time in a long while, Meta (the parent company of Facebook and Instagram) is showing signs of slowing down. Its market valuation has suffered. Though profits are still huge, upstarts like TikTok are threatening its superiority. And Meta is reacting to market conditions.
Almost three billion people are monthly active users on Facebook alone, so when Meta moves, the whole world reacts. Its latest changes give us key insights into its vision for social media. And you need to understand what Meta's algorithm changes mean for you.
The Threat to Facebook's Dominance
TikTok is the biggest current threat to Meta for a couple of reasons. There are two elements people are looking for with their social media right now. Meta is weak on both, and TikTok is strong.
Tailored algorithmic content recommendations
Short-form video
TikTok is driving these technologies, but other platforms like YouTube and Twitch are providing consumers options as well.
Mark Zuckerberg goes after any changes in the market. This one's no different. He bought Instagram when it began to compete with Facebook. That move isn't happening with TikTok; regulatory pressures and TikTok's foreign ownership and meteoric rise make that unfeasible.
Instead, Meta is changing the way Facebook and Instagram work.
The TikTok-ization of Meta
Instagram recently changed its front page feed to an algorithmic, video-based content scroll similar to TikTok's. It provoked an outcry. Social media mavens Kylie Jenner and Kim Kardashian posted their dislike of the change, and they weren't the only ones. The pushback was so massive that Instagram chief Adam Mosseri had to publicly roll back the front page feed change.
Facebook's changes are massive, too; the Home feed is now showing content recommendations, pushing updates from your friends and pages to a separate Feeds tab.
Mosseri and Zuckerberg have been clear that this is the new direction for both platforms. They may adjust as they go, but it's part of the long-term plan — and that's true for social media in general.
As Facebook goes, so goes the world. Video content and the recommendation algorithm are here to stay. Meta's changes are the most visible symptom of an industry-wide shift to video first content.
What Does Meta's Move Mean for You?
People who follow and like your page aren't the most likely to see your content anymore. As the recommendation algorithm takes over, who your audience follows will be less important. What they watch matters more.
Great content is more important now than ever.
That doesn't mean high production value; in fact, many of the most popular videos, creators and accounts on these platforms aren't pursuing high-quality production. Great content outweighs production value.
Don't believe me? Ask Brandon Conway, the mechanic who posted a Michael Jackson cover as his first video and woke up the next morning with 125,000 followers. And he's not the only one. If people are interested in what you post, it will get traction.
Great content wins, regardless of polish or follow status. You can't lean on the idea that people will see your posts automatically.
Succeeding in the New Social Media Landscape
You need three things to succeed with the social media changes that are coming:
Expertise. Know what you're talking about. Make sure it's clear in your video content. Present it in a way that the audience can understand. Better yet, make content that the audience can share or incorporate into their own posts.
Consistency. Post regularly. It doesn't have to be every day, but you need to be churning out a decent volume of content on a regular basis that your audience can plan on. Don't get caught in the trap of just posting things to post them, though. Remember quality first.
Authority and authenticity. Even more critical now than it was before. Who you are as a brand needs to come through your content.
If you're not putting out something people want to watch, algorithms won't pick it up. If the algorithms don't pick it up, you get no traction. Simple as that.
Take our client CoupleStrong, for example. They've leveraged social video for their business. CoupleStrong posts simple, authentic videos on their TikTok account. And their account has grown rapidly; though each video doesn't necessarily get a ton of views, they've been able to grow their following to over 33,000 people in less than 6 months and have videos with over 1 million views.
There's no trick or algorithm hack — just good, authentic content posted consistently. Focus less on polish. Focus more on useful and meaningful content in an easy-to-digest format.
Don't Fear the Algorithm
Facebook and Instagram are changing fast, and 3 billion people are going to be affected. The changes coming to some of the world's biggest social media platforms have a lot of brands running scared.
They shouldn't.
If you're creating interesting, unique, authentic content, it's not hard to transition to something that will succeed on TikTok or the new Facebook, Instagram or YouTube Shorts. Great content will win — so make great content. And if you need a hand, contact us here at Rainmaker Digital Services. We're here to help.
Best Regards,
Ed Bardwell
President
Rainmaker Digital Services