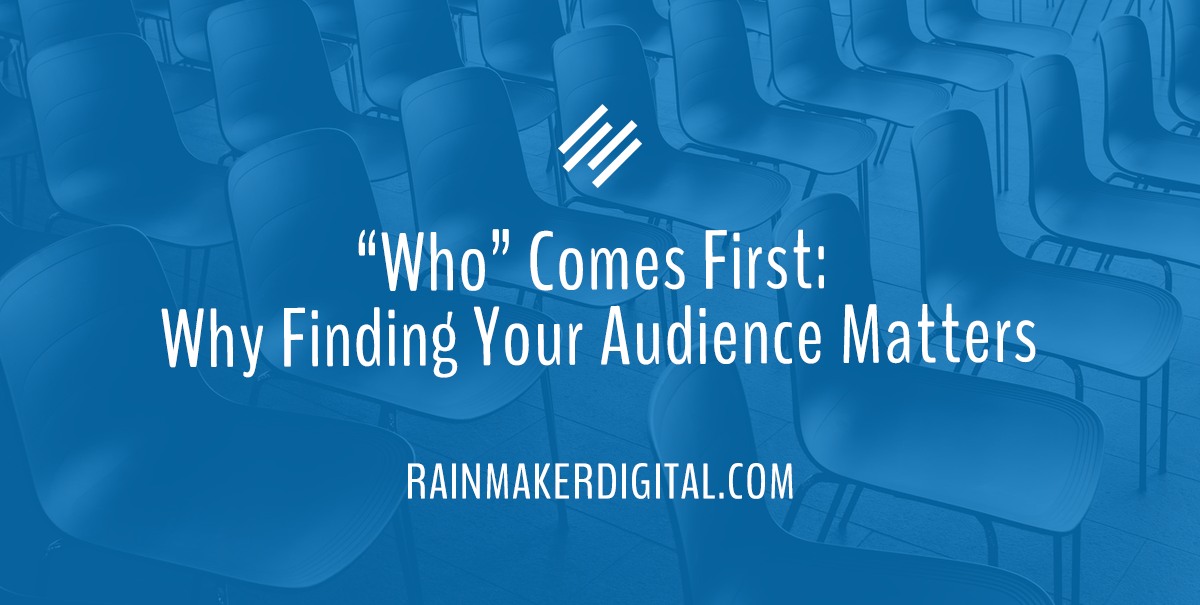 Your message isn't the most important part of your marketing plan.
Do you know what is?
You might have an amazing message, but if you can't identify your audience, you'll fail. That's the brutal truth. Choosing the right audience isn't just an important piece of your marketing — it may be the most important piece.
To understand this, let's look at an example of a company that did it right: Patagonia.
How Patagonia Found Their Tribe
Yvon Chouinard's company Patagonia is an incredible example of the power of choosing the right audience and committing to it. Patagonia was built around a very clear idea: selling gear to people that love the outdoors.
Chouinard knew the audience: he was one of them. When he started Chouinard Equipment in 1965, he'd already been making gear and selling it out of the back of his car for years. He knew there was demand.
Chouinard Equipment eventually morphed into Patagonia, but the idea never changed. The owner built the company around people that cared about the outdoors the same way he did and it paid dividends. Businesses often make mistakes because they don't know their market. Patagonia didn't. Even as they dipped into other forays — beer, books, apparel — they never lost sight of their core audience. The company went from strength to strength.
Today, Patagonia's audience isn't just people who love the outdoors. It embraces people who love the durability and quality of their clothing, people who care about the environment, and people who are looking for cause-based companies. Their core audience remains but they have added to it.
So what can we learn from Patagonia?
They succeeded because they knew their audience. They understood the needs and goals of their customers. And this understanding allowed them to evolve and grow as their market changed.
Figure Out Who You Are
Chouinard was a longtime enthusiast who'd been dealing equipment on a part-time basis for years. He knew his market was there. He knew exactly who he was talking to. Not all of us have that luxury, but we still need a way to figure out who our audience is.
To do that, you have to figure out who you are first.
Patagonia always had a clear sense of who they were: they were a community of people who loved the outdoors. They sold equipment they wanted to use themselves. When you're figuring out who your audience is, start with who you are. "We do X." "We sell Y." Who are you and what do you do? If you can't boil it down into a sentence, your audience can't either.
Find out Who Wants What You Sell
Next, figure out who cares about what you do. If you can't answer that question, you don't have a business. It doesn't matter how passionate you are personally. If no one wants what you're selling, you shouldn't start. "If you build it, they will come" is a nice sentiment but not a great basis for building a company.
Simply building something incredible isn't enough. For example: you want to start a high-concept fixed menu Norwegian restaurant because you saw the concept in New York and loved it. You live in Coalgate, Oklahoma, population 1,951 and everyone goes to the same two diners and the same bar. You could build the most amazing restaurant and it wouldn't matter — no one cares enough to sustain it.
Let Other People Do the Legwork
After you've figured out who you are and who cares, figure out who your competitors are and who they target. You can save yourself a lot of legwork by looking at what your competitors are doing — you can either poach from their audience or target the areas they're missing.
What advantage do you provide that your competitors don't?
Listen to Your Potential Customers
Your next step is to learn what your customers want and how you can fill those needs. Good selling starts with listening — even on a personal level.
The easiest way to start is to do what Yvon Chouinard did and focus on a community you already know. You've already done a lot of your research before you even start, and you're probably already trusted. That puts you ahead of the curve.
If that isn't an option, social media and community forums are great tools. Search hashtags and keywords on various social media platforms. Facebook groups are a great way to get started, as are Twitter lists (depending on your niche). Forums are old school but still in use among dedicated enthusiasts — use Google to find forums in your industry. Reddit is a gold mine if you're willing to put in the effort to dig.
Look for trends on social media and forums. Something a lot of people are complaining about? Might be a problem worth fixing. Something a lot of people are looking for? It might be worth your while to provide it. Once you've caught up on the current discussions, start making contributions. You can sell directly through these groups but only if you've already built a foundation of trust and value. Be a part of the community first.
SWOT, or "Strengths, Weaknesses, Opportunities and Threats," is a framework that will help you refine your strategy. Using a SWOT analysis, you can begin to refine your business strategy and marketing messaging to explain how what you sell meets your customers' needs.
You can also conduct focus groups, a time-honored method of identifying audience needs. There are services that will help you hunt up a group of demographically similar people that you can survey about your business. These are helpful, but sample size matters — focus groups can sometimes be unrepresentative of your audience.
Build Personas of Your Potential Customers
A persona lays out all the demographic details of your average customer based on data of who buys from you already. You can use that data to figure out who your ideal customer is, then revise it over time as your new business gets up to speed.
You may include details like age, gender, location, income bracket, and other details that help you focus down.
Building personas can help you create lists for things like Facebook Lookalike Audiences, which helps with pay per click advertising. Keyword research for platforms like Google can help you discover terms that get a lot of clicks as well.
Know Who You're Going to Sell To
Take the time to find your niche that wants what you do and you'll find success. If the idea of finding your ideal audience seems overwhelming, know that you don't need to go it alone. We're in this with you. If you need a little help, just drop us a line, anytime.
Best Regards,
Ed Bardwell
President
Rainmaker Digital Services