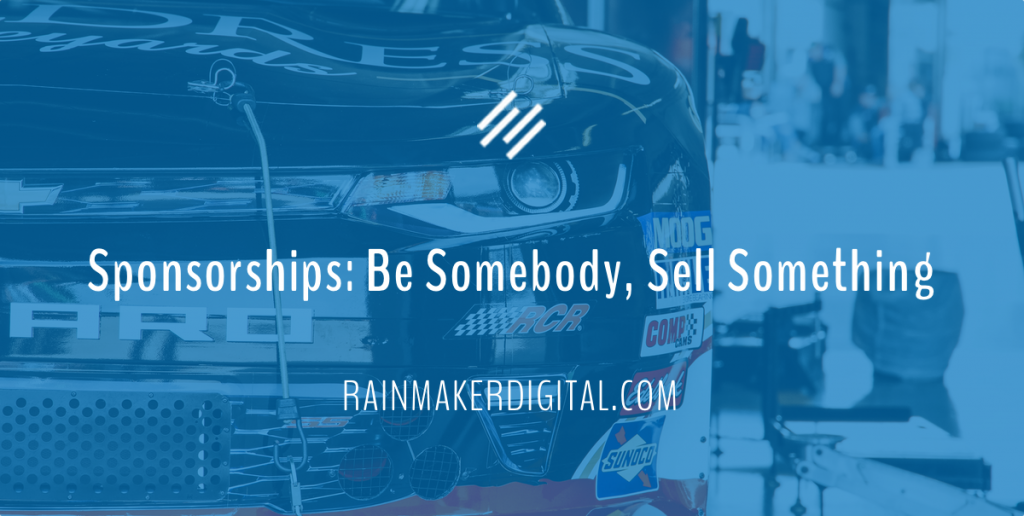 Regardless of what any creator or online guru might tell you to the contrary, making money online is not guaranteed. It's not magic and it definitely is not easy. That said, if you're willing to put in the effort and make the commitment to your vision, you will find that online businesses can be extremely rewarding.
One of the most misunderstood online revenue sources is sponsorships. One of the main reasons that online sponsorships are so misunderstood is that many sites misuse "sponsorship" when they're really selling advertising. Offline, the idea of sponsorship is a payment by an advertiser to be associated with something that reinforces the advertiser's brand and/or provides access to the audience of the brand being sponsored.
Common examples are sporting events, charities, schools, and social causes. The "ROI" comes from the audience knowing that the sponsor supports the same thing that they do. It is not a dollar-for-dollar, transactional media buy. The value of the sponsorship comes from the perceived association that the sponsor brand receives through exposure to the audience.
This article will share how an online property can establish a presence that sponsors will want to be associated with and will be willing to pay for.
Show Me The … Audience
The first step in developing a profitable sponsorship program is developing a valuable audience. The good news is that any audience can be valuable as long as you know the audience and can define them to sponsors. The most obvious proof of the need for good audience data can be found in the Tech Giants.
All of these companies value data, especially Google and Facebook. They are two of the most valuable, powerful, and profitable companies in the world … and according to IAB, they collect over 90% of all digital advertising revenue. Why? Because their data lets you connect with a specific audience. It is important that you gather as much information as you can about your audience. 10,000 "email addresses" is much less valuable than 1000 user profiles with an engagement (opened an email, liked a post or video, or clicked links on your site) within the last 30 days.
Sponsors will be looking for sample data and a bunch of spammy email addresses will keep you from being taken seriously. You need to prove you're interested in the sponsor's success. The more information you gather on your audience that relates to sponsor success, the easier it will be to convince a prospective sponsor that they want to be associated with your online property.
The good news is that your value increases when you can show you can activate the audience. While likes, clicks, shares and time-on-page are all viable, being able to share a case study where your audience performed a requested action will immediately separate your sponsor solicitation from the rest.
Actions of particular interest to advertisers include download a trial product, refer your site to another person and subscribe to a newsletter. Advertisers are inherently optimistic and they will immediately find value if you've had demonstrable success in the past.
A last thought on your audience. Be transparent. While it is expected that you're going to present your audience in the best light possible, long term sponsorships are built on mutual success and trust.
Step By Step — Start With The End Goal — A Sponsorship
There are many sponsorship experts that suggest small sites should start generating revenue by selling ad space through AdSense and by using affiliate links.
Don't fall into this trap. Remember the quote attributed to Winston Churchill and Mark Twain among others, "We have established what you are, madam. We are now merely haggling over the price."
AdSense and affiliate links might generate short term revenue but if your goal is to build an online business based on establishing authority, engaging with your audience, and monetizing the audience for the long term (and maybe even selling it …), it is vital that you focus your efforts with this end goal in mind.
Network advertising and affiliate links are great sources of revenue but they will define you as being more concerned with revenue than with your authenticity and advocacy.
Similar to any content marketing strategy, building sponsorship requires discipline, a commitment to the long-term, and being willing to forego short term gratification in favor of long-term success.
Here are the steps we recommend when looking to create a revenue-generating sponsorship program.
Publish Amazing Content: Remember, today, we're all in the media business. Create great content that establishes your authority and interact with your audience so they help you grow your user base.
Invite Sponsors to Share Content for Free: A great way to prove that you have authority and an audience that will engage is to invite companies that you believe in to share meaningful content – articles, podcasts, and videos with your audience on your site. You will get great content and your sponsor will see that your audience will respond. Like guest posting, you will need to approach companies directly to invite them to share content on your site. Be prepared to negotiate messaging, calls-to-action, and data sharing.
Define Sponsorship Packages that Have Value: Success is a very powerful selling tool. Build sponsor offerings that include "more" than advertising. While the sponsor may get traditional ad units as part of the package, include content placements, outbound/push communications and mentions on other platforms. Share sponsor case studies and demonstrable successes that include these elements. Not only does it show how committed you are to the sponsor's success, a package approach gives you the ability to demonstrate greater value (and charge more.) Remember, don't equate success only with revenue or profit. Show how a sponsor's content has higher engagement, site traffic, time on page or downloads when coming from you. Show prospects that there is value, not just revenue, in having a sponsor relationship with you. Show them the value and let them pay you for it.
Say No: As hard is it may be, great sponsor programs will require that you say NO to advertisers who don't fit your brand, vision, or audience. For sustainability, make sure you only partner with sponsors that meet your standards. A great litmus test — do you use the sponsor's product/service in your personal or professional life? If not, why would you encourage your audience to use them?
Unlike advertising that generally focuses on a quantitative metrics like impressions or clicks, sponsor programs also provide qualitative value to the sponsor in the form of affiliation with you and the relationship their sponsorship provides with "your" audience.
Be Your Own Middleman
One last sponsorship recommendation. Sell yourself. There are a lot of services out there that will help you find sponsors for a fee.
Not only will you be giving up revenue for these services, you will also lose the ability to truly build relationships. These services exist to drive revenue and they will not be as concerned as you will be about sponsors that benefit your audience.
If the idea of creating and/or executing on a sponsorship/revenue strategy seems overwhelming, know that you don't need to go it alone. We're in this with you. If you need a little help, just drop us a line, anytime.
Best Regards,
Ed Bardwell
President
Rainmaker Digital Services