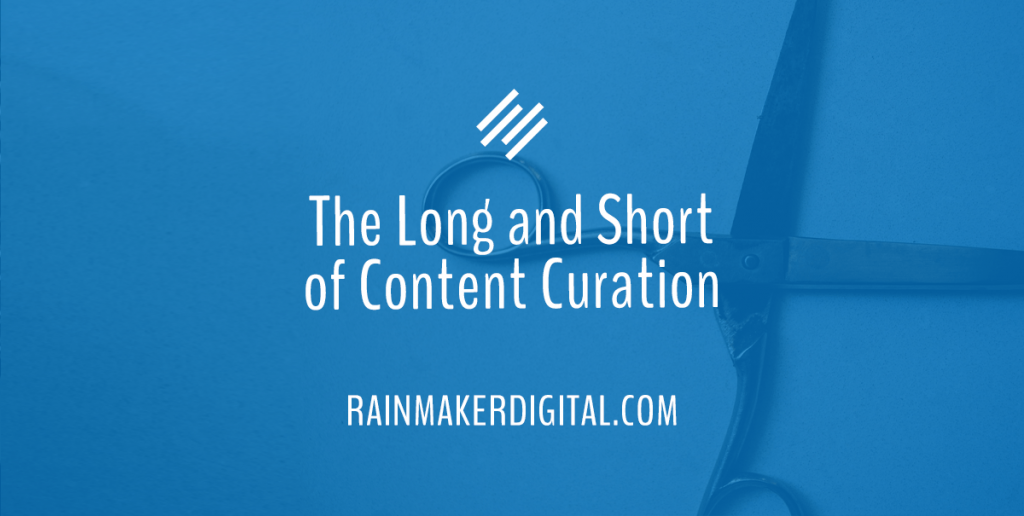 Keeping up with your engagement channels can be overwhelming.
You have to worry about your own website, podcast, Facebook, Twitter, LinkedIn, TikTok, Instagram … the list goes on and on. Each social media channel has its own flavor and its own audience, and you can't just publish the same content across the board.
The solution to the problem is curation. Here's how you can curate one piece of content and use it for ALL your channels.
Start with Good Long-form Content
I know what you're thinking: "Doesn't curation involve more than one piece of content?" Yes, usually.
Content curation is often understood as choosing the best of other people's content to share through your own channels. But you can apply the same concept of curation to your own content.
You work hard to create a good long-form piece; there's a lot of good content inside one of those, and you need to bring attention to it. Don't wait for someone else to curate that on their social media. Do it yourself. Distill that content into smaller, "curated" posts for distribution throughout your content network.
To produce a volume of good content across all your channels, start by regularly producing at least one of the following three types of long-form content:
Blog
The traditional go-to, blogs are easy to produce and don't require a lot of complicated editing or time. They have a low cost of entry, and make the most direct impact on traditional SEO.
Video
We're not talking about reels or the like here – we're talking about something like YouTube. Vlogging, video essays, breakdowns … you name it, you can video it. You can count Twitch and other streaming platforms here too. Good video is harder to produce than good text. It takes expertise to make good video content, but quality video is engaging and can have great search optimization on every search platform, including some that you can't rank on with text (YouTube, for example).
Podcast
Podcasts do not have the same ease of discoverability as the other two, but they have other benefits. A podcast is easier to set up than video (though harder than text), and it's great for people who want an easy option but aren't good writers or don't have the time to write. Though audio quality can be a concern, it doesn't take a huge initial outlay like video to get started creating "good enough."
Choose at least one of these three. They are the key to your content success. Once you've chosen your long-form channel and you're creating on a regular schedule, it's time to work on curation.
Curate Your Own Content Across Your Channels
The key to curating your own content is to select the interesting and important parts of your long-form content and use them on your other channels to drive traffic back to that long-form content on your website.
There are three steps to the content curation process.
Define Channels
Which channels do you want to focus on? This is an important decision.
Each social media channel has a unique audience and format. Take Twitter versus Instagram, for example — Twitter is primarily focused on short, off-the-cuff, easily shared text posts. Instagram is focused on refined, premeditated visual content, especially video.
You can see the difference in which audiences gravitate to each; one of Twitter's most prolific audiences is journalists, who use the format to share thoughts, workshop phrasing and tease articles. Instagram has a huge following with designers and artists, who use the highly visual format to share their completed work.
Reference our social media overview to get a better sense of how each platform works. For our purposes today, we're going to look at the platforms in terms of the types of content they focus on. Each will require a different approach, but to get started, consider the following when you're choosing which platforms to use:
Audience. Who is the audience for the platform? Is your audience there?
Platform purpose. Going B2C on LinkedIn (a B2B platform) is a bad idea. Look at what the platform is trying to accomplish.
Intention. Why do people go to this platform?
Core competencies. What resources do you have available? Select platforms that fit your content strengths, whether they be text, video or image focused.
Text
Twitter and LinkedIn are the best text-first social media platforms. Facebook still has some text content, but it's changed its algorithm to prioritize video. If your long-form content is audio or video, you can transcribe a piece of the content or write a teaser and CTA with a link out to your podcast or video. Sheil Kapadia of the Ringer illustrates effectively here: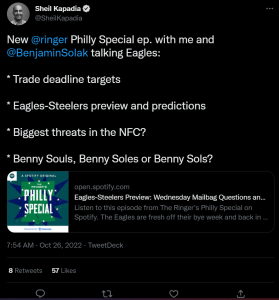 Video
Video is the most popular content on many social media platforms, with the most popular video platforms being YouTube, TikTok, Instagram and Facebook. Using clips of your videos as YouTube Shorts, TikToks or Instagram or Facebook Reels is a great way to turn long-form content into short-form video posts. If your primary long-form content is a podcast with no video, try adding a visual over top of the audio with text that follows along; it's less visually interesting than a full video, but it's usable on video-first channels.
Not all of these channels make it easy to link back to your long-form content, particularly Instagram and TikTok; try third-party tools like Linkin.bio to add links and drive traffic back to your site.
This audio clip from the This American Life podcast was turned into a short video clip for Twitter and is an illustrative example: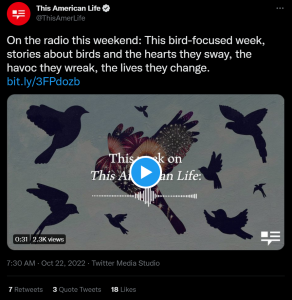 Image
Image-first social media is being de-emphasized (as Kim Kardashian famously noted when Instagram changed its algorithm to be more like TikTok). Still, Facebook, Pinterest and Instagram image posts are extremely popular and have a large audience, and many other platforms still support image posts. Still images or backgrounds with text can be used to showcase any kind of content and can be a key source of traffic, like this Pinterest post from Gary Vaynerchuk: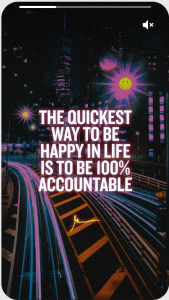 Choose the channels that are best for your business. Don't limit yourself by saying "well, I only have a blog, I can't use Instagram." Doesn't matter. If your audience is there, you need to find a way to make content they're interested in.
Segment Your Content
After you've chosen your channels, go through your long-form content to find the pieces that make the most sense to emphasize.
Here's what you're looking for.
Nut Graf
The "nut graf" is the key to most structured long-form pieces. Popularized by the Wall Street Journal, the nut graf is a paragraph at the very beginning of a long-form piece that tells you:
What the story is
Why you should read, watch or listen to it
This summary is obviously powerful for social media channels. Use it as the text on a Facebook or LinkedIn post – or in a long-form video, use it as a clip on Reels, TikTok or YouTube Shorts. It's a great way to get people interested in clicking through to your longer content.
Nut graf posts are a challenge to create from conversational formats like podcasts or audio interviews. Most podcasts turn to curated posts based on other interesting content pieces like …
Anecdote
Stories and anecdotes interest us immediately, and it's easy to write a title that makes people look. I feel like my Facebook feed is overrun with short stories from podcasts – [big name] says [interesting thing] about [other big name] is a surefire recipe for attention.
Use those short stories to grab people's attention and direct it to the long-form piece, like this video teaser from Radiolab: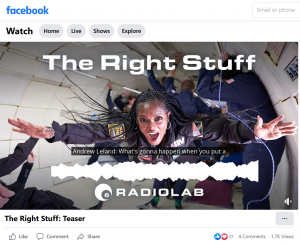 Quote
Gary Vaynerchuk and Neil Patel are both very, very good at this – their social channels are filled with videos that start with a powerful, provocative statement and back it up with data or real-world experience.
Interview shows can focus on this too. Find the most interesting things your guest says – especially if they reach outside of your regular audience – and focus on them. A good quote that crosses over between multiple audiences can multiply your social media reach and drive traffic back to the original video or long-form piece, like this TikTok from Neil Patel: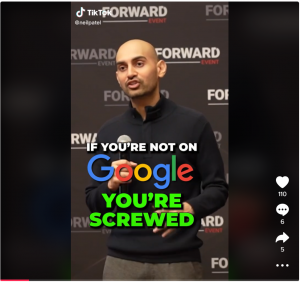 Quick How-To
I'm a cocktail guy, and one of my favorite channels is the Educated Barfly. Leandro's how-to videos on Google Shorts are a great quick attention-getter, overview and recipe all in one if I don't want to watch the full video.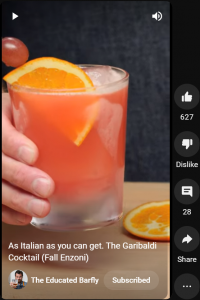 If you use a short how-to and mention and link back to the full piece, it can drive some attention; your audience members may not click through immediately if they get everything they need in the short video, but that engagement will build.
Summary
A good summary of the article, podcast or video can drive engagement and traffic effectively. And they make great social media posts.
Professional gadfly Cory Doctorow is a veteran of the blogosphere. He uses summaries of his articles to great effect on Twitter. Doctorow also tweets out some of his shorter articles as threads with links to the article at the beginning and end, and these generate a great deal of engagement too.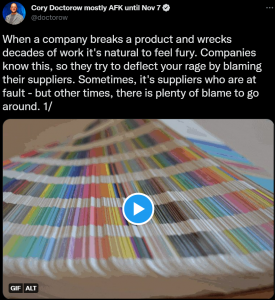 Use these ideas to find the most interesting parts of your content and post them on social media.
Publish and Measure
The final step is to publish your posts and measure the results.
Once they're published, see what's working and what isn't. Every audience and every channel is different. Find what works for you. This is marketing: remember, the goal is to drive traffic from your social media outreach to your long-form content.
Turning Big Content into Small
Your big long-form content is the key to great social media content. Decide on your channels. Use interesting anecdotes, stories, summaries and more to build your engagement. Then publish and measure the results.
Want to make your social media better? We can help. Contact us and we'll help you get the most out of your content.
Best Regards,
David Brandon
Copywriter
Rainmaker Digital Services