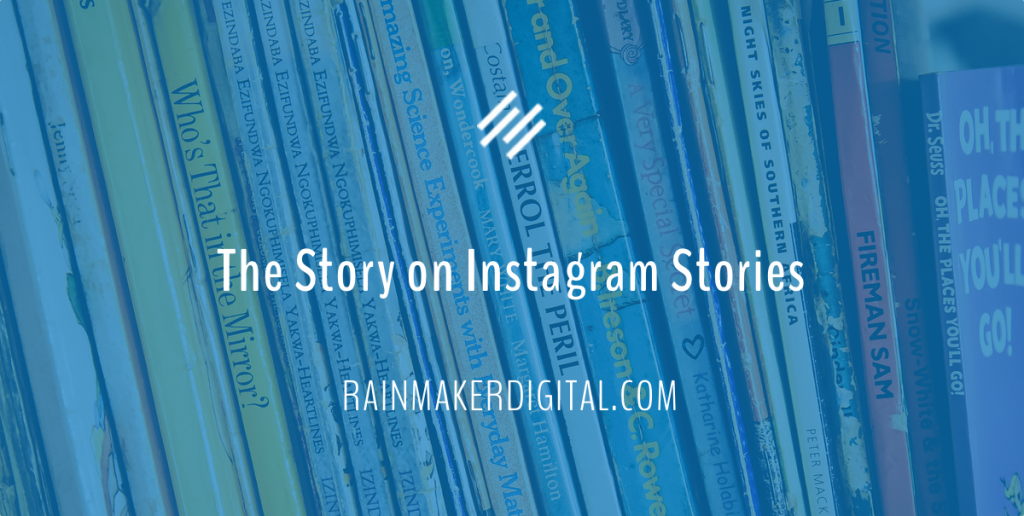 Instagram is quickly becoming the social platform for brand development, sales, and audience engagement. It combines the highly visual, thumb-scroll stopping content of Snapchat and TikTok with the functionality and data building of LinkedIn and Facebook. As a part of the Facebook family since 2012, Instagram has access to the technology resources and marketing tools of its parent, but it has managed to avoid being seen as privacy compromised.
Known as a photo and video sharing platform, Instagram maintains its growth and popularity by providing users innovative ways to share visual content. Of all of its (borrowed) innovations, Stories has arguably become most important. Currently, about 62% of Instagram users credit Instagram Stories with motivating them to learn more about a brand/account and with over 500 million users accessing the Stories feature on a daily basis, there's a huge opportunity to find, build, and engage a new audience.
This article provides an overview on Stories, why they're so successful at building brand engagement, and how you can integrate stories into your digital marketing strategy.
What's the Story?
Introduced in August 2016 as a way for Instagram to compete with Snapchat, Stories is now the key content feature for many users, influencers, and brands alike. Since its introduction, this 15-second video format that lasts just 24 hours on the user's page has redefined content consumption. In fact, it has seen year-over-year growth and platform usage (measured in Monthly Active Users) has exploded, even while feed posts have declined.
Users receive notification of new Stories on the top of their Instagram feed and can view the Stories by clicking on a user's or brand's profile photo.
Users can create Stories from within Instagram; no special software or hardware is needed. In fact, Stories has accelerated the movement towards more casual, minimal production video.
The Story feature within the Instagram app allows creators to create, static photo or video content through the app or by loading something from an external tool via the camera roll. Since the content only lives for 24 hours, Stories create a sense of exclusivity and privilege.
Adding to this perception is the wide array of creative face effects, features and filters that can be added to content to enhance the experience. Features include filters that add elements to a video. Common examples are bunny ears, glasses, and hearts. Other features allow creators to draw, add text, or music, create focus/image effects, and many more.
One of the biggest marketing opportunities within Stories is through the Stickers Features. Stickers add functionality to a Story. Some stickers simply augment the content with additional information like branded hashtags, location or time, others create calls-to-action including DM (direct message) the creator, click links, buy products within the Story, and build engagement with polls, questions, and much more.
Instagram is constantly adding new options to enhance Stories content. It is even possible to create unique custom filters that will truly differentiate a brand (and its community) from everyone else.
A great source of inspiration for creative production of Instagram Stories can be found in the Instagram Creators account.
Businesses Have Stories Too
Content marketers are trained in the idea that stories are the foundation to connect with consumers. That's one of the reasons we tell businesses that we're all in the media business. Businesses must focus on creating and publishing quality content in order to establish the relationship with their consumers. Stories give businesses a great vehicle to share marketing content in a format that the audience wants. Through Stories, businesses create an authentic connection between the brand and consumers. Today, the average business is publishing between 10 – 16 Stories per month. Businesses are finding success with Stories. 58% of Instagram users credit Stories with creating more brand interest and 81% of users turn to Stories for product ideas and research.
In addition to the easy-to-consume creativity of Stories, Stories are displayed at the top of a user's feed and are easily scrolled. This user layout further ensures that users see a business as they scroll Stories from friends and family.
If a user watches a business' Story, the Instagram algorithm will move the next Story by that business closer to the start of the user's feed. In other words, success breeds success. Stories are also accessible if someone comes to a business' account and clicks on the profile image. Instagram makes it easy for a business to share content through Stories.
Another reason businesses use Instagram Stories is that the content is searchable by hashtag. Simply add a hashtag to a story and someone searching for that concept or idea will find the content. Use a trending hashtag with an Instagram Story and the business joins the conversation.
Stories, Stories Everywhere
Before jumping into Stories, businesses should take some time to create a strategy for this content element. For most, a Stories strategy will be a subpart of the Instagram, social media or the overall content strategy.
As with all strategies, a Stories strategy should include a primary goal or KPI, a definition of the mix of content, a persona / description of the target audience, and an editorial calendar that guides content publication. Instagram provides good analytics that allow for measurement and adjustment of the strategy as businesses implement a Stories strategy.
The flexibility of Stories allows for a broad range of KPIs. Three of the most valuable goals that businesses pursue via Stories are build audience engagement, improve the perception of the brand, and revenue generation.
Build Engagement: Stories can help businesses build engagement with audiences. Some great ideas for engagement include using Stories to:
Introduce products and services through tutorials and demonstrations.
Solicit audience insight through requests for feedback or the use of any of the many polls, question or survey sticker features.
Our favorite engagement tactic is publishing user generated content (UGC) as a part of a business' Story. UGC shifts the business from talking about itself to showing the business/brand in action. Even better, UGC establishes customer advocacy without having to resort to the traditional customer review or testimonial.
Improve Perceptions: The casual, temporal, and fun nature of Stories are an excellent vehicle to help a brand improve audience perceptions beyond the current brand personality. From helping stuffy professional services companies show their human side to proving that a young startup is making smart investments with a modest office, Stories can connect with the audience in an authentic way. Best perception changing Stories include:
Behind the scenes – Stories that bring the audience into the business, on to the shop floor, or inside the boardroom will immediately let the audience see the business as people. And, people do business with people, not with businesses.
Exclusive Content – Using a countdown clock sticker or even a simple timestamp, a business can shift an audience's perception through exclusive content Stories. This content invites the audience to become an insider and links them with the business. This can be especially useful for businesses with highly emotive branding (schools, non-profits, lifestyle.)
Like, Tag, Share – Stories that use a promotion or content CTA that drives users to interact with a Story or uses a story to support a Like (a post), Tag (a friend), and Share (the content) campaign can quickly invite new audiences to their account. For new users, Stories can quickly introduce the target perception that the Stories strategy is looking to create.
Sell: Social selling or commerce has become one of the fastest growing areas of social media marketing. Stories already includes features for selling directly through the content. Users don't have to go to the business' bio and click a link or click and leave Instagram. Stories selling requires an acute understanding of the audience and offering products/services that fit the audience's needs because the Story can only tag (sell) one product per Story. The selling process isn't complex but there is setup before a business can pursue this strategy. Two of the strongest converting Stories selling approaches are:
Members' Only Offer: Selling for many businesses immediately implies discount. It shouldn't. Stories can be used to tell users that they're special and their affiliation with the business guarantees them a special "member" status with the business. A Story that gives users the opportunity to buy before the general audience, buy a greater quantity or even buy an exclusive bundle can activate sales.
Limited Time Offers The content tools within Stories make Stories the perfect vehicle for time-based offers. LTOs can show when users can start buying (think of waiting in line for concert tickets when you were a kid) or when the offer expires. A sense of urgency is a great selling motivation.
The End (or is it Just the Beginning?)
Stories are very flexible, and Instagram is driving innovation with new content features. Stories, and similar features on other platforms, represent an opportunity for business-focused creativity that can drive business. Stories are one of those rare instances in digital marketing where the results merit the buzz.
If the idea of creating and/or executing on an Instagram Stories strategy seems overwhelming, know that you don't need to go it alone. We're in this with you. If you need a little help, just drop us a line, anytime.
Best Regards,
Ed Bardwell
President
Rainmaker Digital Services