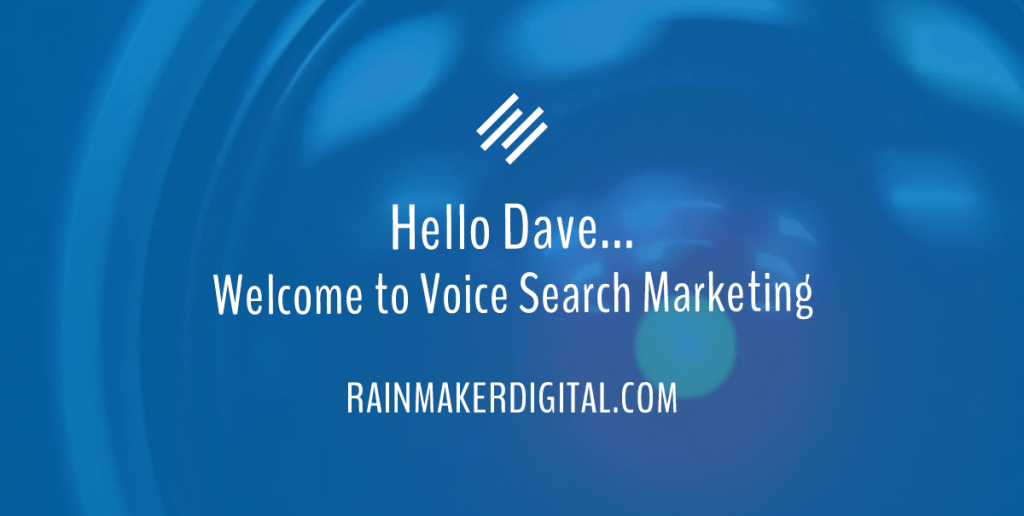 Are Siri, Alexa and Hello Google monoliths showing us Internet Cavemen the future of content marketing? Whether you loved HAL 9000 or he creeped you out, our voices are the next digital frontier for prospect and lead generation. 10 years old this year, voice search is coming of age. According to Google's Global Web Index, 27% of the global online population is already using voice search on mobile and studies show that up to 52% of Americans use voice search on a weekly basis.
Having your digital content recommended as the result of a voice search is going to be key for lead generation and prospecting in 2021. Optimizing your content for voice is different than traditional search engine optimization. You can no longer string together a bunch of keywords that don't match "natural language" (the normal phrases people would use when talking.) When users "ask" a voice assistant for help, the results or answers they receive are often not the first result on a Google SERP.
As voice search improves, smart speakers are becoming more commonplace and user behavior is changing. Now is the time to embrace the opportunities that these changes offer and take advantage of them for our brands and clients.
From Silly Search to Serious Selling
Amit Singhal, the head of Google's search rankings team told Guy Kawasaki at SXSW Interactive in 2013 that Google's search engine destiny was "to become the Star Trek computer." At the time, smart homes, smart devices, and voice attendants were little more than a fun party trick. Developers added Easter Eggs to voice attendants so people would use the technology. I still love Alexa's Star Wars Easter Eggs but voice search has become a practical tool that is bringing Star Trek technology to our phones and living rooms.
Studies show that a majority of voice searches take place while users are driving or when sitting at home. A majority of these searches happen when users are preoccupied and unable to put their full attention into the search. A key learning is that Google does not dominate voice search, both Apple and Amazon play a significant role in providing search results.
Digital marketers can set their strategies on stun and use voice search to make an impact on the bottom line in 2021.
Top Voice Search Assistants
Voice search technology is divided into mobile and home assistants. Though mobile assistants do work in the home, Amazon Alexa and Google Assistant drive the home market. Alexa claims over 70% of the home device market and has integrations with many 3rd party tools. Google Assistant has advantages within the entire Google ecosystem and the various Android assistants like Samsung's Bixby but Siri is the most important mobile technology. Serious marketers need to account for both Amazon Alexa in the home and Siri on the phone. Still, like all things search and data, every voice search strategy will need to account for Google.
User "Driven" Content
Voice search is the killer app for putting content and data in front of users… in their cars. Voice search already accounts for  20% of mobile search and accounts for nearly 60% of search activity related to local businesses.
A primary data set that voice search uses for results is local business listing services like Bing Places, Apple Maps, and most importantly, Google My Business. A voice search that includes GPS / location information will consider that location when selecting the answer to give.
Be sure to start your voice search marketing by claiming and optimizing your location listings, especially on Google My Business, Apple Maps and Bing.  Also, claim your Yelp listing; currently Siri, Alexa and Cortana all use Yelp for voice searches that request reviews.
To maximize the potential that your listing will be selected for a voice search, add schema markup to your website. This code gives search engines easy to understand information that search engines can share with voice searchers. Schema markup clarifies site content, provides context, and tells search engines what to do with your content. Some SEO professionals call schema markup a "virtual business card" for website content. Schema markup helps get your content, from hours and directions to scheduling and event details indexed. Currently, Google provides additional content in the form of rich snippets in 1/3 of search results but less than 1/3 of sites are using them. Best of all, Google will help you build your schema with their Structured Data Markup Helper.
The next generation of markup, currently in beta is Google's Speakable schema markup that amplifies natural language and schema markup. With Speakable schema, you can tag certain areas of your content to be spoken. The more you optimize for voice search, the better the chances that your site / content will be selected by a voice search device.
Talk to me
A voice marketing strategy isn't just about being found. Recognize that audio interactions take far less time than text-based ones. You can share more information faster and more conveniently with audio results. The average result is less than 30 seconds. Voice search marketing embraces these changes. As content creators, we must acknowledge the "conversation" between the voice assistant and the speaker. Users "talk" to their devices and the information retrieved for a question creates a pseudo-conversation.
Marketers can tap into these conversations by creating site content that is more conversational. Voice search strategies account need to account for questions like "will it rain this weekend" rather than just "weather" like you see in text search. These natural language questions require that the search engines have a semantic understanding of the question. Marketers can guide that understanding by creating longer-tail keyword combinations and creating content that acknowledges human speech patterns. Content marketers that focus on authentic and authoritative engagement won't have issues cutting through the marketing jargon to create speakable, voice-friendly content. If you need help getting started, take a look at AnswerThePublic.com. It will help give you ideas about what people are looking for (or asking their device for) when they search for keywords of interest to you.
A Final Note
Voice search presents an opportunity for brands to connect with their audience through content based on the audience's requests. Rather than selling, voice content creates a conversation with your audience that they want. As the technology continues to expand the conversations will become more real and the queries more sophisticated. This creates another opportunity for you to tell your story – in your own words.
If the idea of engaging your audience through voice search seems challenging, know that you don't need to go it alone. We're in this with you. If you need a little help, just drop us a line, anytime.
Best Regards,
Ed Bardwell
President
Rainmaker Digital Services