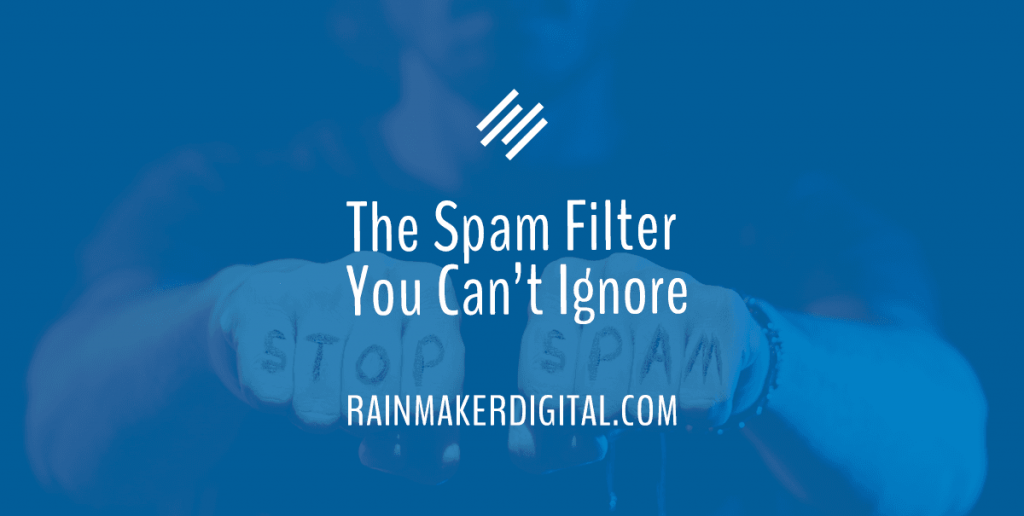 There's an old saying that "Marketers ruin everything."
It's an oversimplification — but there's a grain of truth to it, and one of the most obvious examples is your email inbox.
When email became widespread, marketers obtained lists of email addresses and flooded inboxes with unsolicited offers. Spam was born, and email providers have been fighting it ever since.
Marketing emails, whether solicited or not, are a part of our life now. Email is the most important marketing channel you have. It's personal and usually permission-based. Open rates are still high. You need email as part of your marketing mix.
But you're not going to even get in the door if you're perceived as spam. There are two types of spam filters that you need to be aware of. The first is widely perceived and well-known, and there are best practices for it. That's technology.
The second is the one you really need to be aware of.
People are your second spam filter. They are the most likely to kill your deliverability. And though you need to understand both filters, you'll live or die by the second.
How to Win Trust and Influence Spam Blockers
Your emails are scored based on a variety of criteria. If your message's score is too high, you're counted as spam. You probably know the steps you can take to limit the possibility, but we'll go through them briefly here just in case.
Modern spam blockers aren't infallible, but they are very good at keeping the worst unsolicited messages out of people's email inboxes.
Unfortunately for you, they still make mistakes. This is a screenshot of the last few messages that were caught in my personal Gmail Spam filter.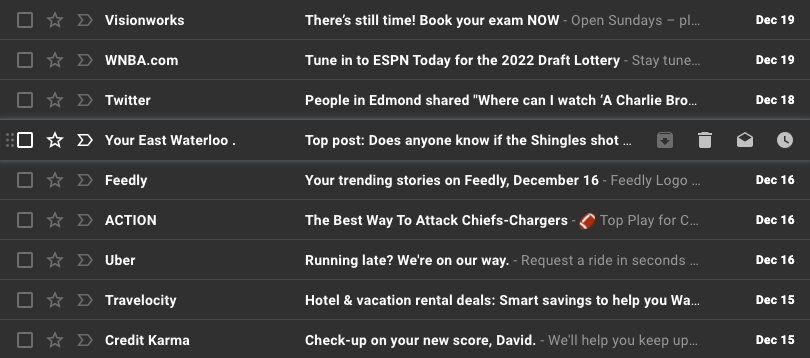 Every one of these companies has my permission to email me. They still wound up being marked as spam. There's no way to completely guarantee that you'll make the inbox, but you can maximize your chances with some knowledge of best practices.
Acronym-Based Authentication
We're going to have to get into some acronyms here. Bear with me.
Simple Mail Transfer Protocol (SMTP) is the basic framework that allows you to send and receive email. Think of it like the postal service — it makes sure your messages get there, but doesn't verify them. It relies on a few other technologies for authentication
Sender Policy Framework (SPF) makes sure that any email addresses listed for a domain are actually authorized to send mail for that domain. DomainKeys Identified Mail (DKIM) adds a header to every email from a particular domain that identifies it as being from that domain. Domain-based Message Authentication, Reporting & Conformance (DMARC) combines SPF and DKIM into an overall framework for email verification. It allows domains to indicate that their messages should have SPF and DKIM verification — and it provides an instruction for what to do if messages do not fit those criteria.
Making sure you have these set up with your email provider will help authenticate you to the spam filters, giving you a better chance of making it to the inbox.
Other Triggers
Sloppy code can trigger a spam filter. There are no hard and fast rules for this, but following best practices for clear, readable, well-formatted content and checking your code for odd tags and formatting issues should make it a non-issue.
Some words will increase your spam score too. There are a number of lists out there that cover the common culprits, which include "free," "cheap," "bargain," and fluffy phrases like "will not believe your eyes" or "100% guaranteed."
It's not hard to make your emails good enough to pass spam filters if you're putting out quality content and following best practices. That's the first type of spam filter, and the one most people think of. But to quote an old IT joke, your biggest technical problem might actually lie between the keyboard and the chair.
The Human Factor
The second and more important spam blocker is the one in your audience's mind.
You're competing for attention with not only every other marketing message in their inbox, but with every other message, regardless of channel, they receive information from. And there are many. Social media, email, letters, magazines, TV, radio … there's an ever-increasing glut of information for the average person to wade through.
Is it any wonder people might get tired of you?
More people mark emails as spam because they are annoyed by the lack of respect for their time than because they didn't know the sender.
Stop and read that again.
This isn't just unsubscribing. They actively tell their email provider "this sender is sending me irrelevant information," or "this sender talks to me too much," and get that email provider to FILTER THOSE MESSAGES OUT.
It gets worse. You don't just have to worry about people actively marking you as spam. If your emails don't get opened very often, some spam filters will actually grade you harder — meaning your emails have a higher risk of winding up in the spam folder and never being seen (like the screenshot of my inbox above).
You don't want to wind up in that position. Here are three ways you can get past the human spam filter.
Frequency
One of the major factors for becoming spam is sending unexpected emails. Most often, brands send too many emails. Respect your audience's time and attention. There's a reason once or twice a week is a fairly common frequency for marketers — there's a sweet spot for attention. Figure out the frequency your audience wants and aim for that. Don't annoy them with constant demands on their attention unless they've asked for them.
Message
You need to send the right message to the right people. Bad segmentation is one of the reasons people mark you as spam. If you send them content they're not interested in, you're taking up their time for no reason. You're spam. When you're invited into someone's email inbox, make sure you have a good reason to be there.
Presentation
There are technical benefits to good presentation (as we've covered already). But presentation also covers the way you put your message across. Is your subject line attention-getting enough to have a good open rate? Do people read to the end of your email? Is your CTA strong? A compelling package will help you get your message across effectively.
The technical spam filter may be the first one you think about — but the human spam filter is far more important. Respect your audience's time and attention so they'll want to read your emails.
Right Message. Right People. Right Time.
Your messages may be perceived as spam for a variety of reasons. Some are technological, some aren't. There are even laws that define spam like the U.S.'s CAN-SPAM Act or the Canadian CASL. Fines and legal issues can pile up if you're not implementing best practices. You not only won't get in the door with your customers — that door will be slammed in your face.
But the fundamentals are the same as they are for anything else in marketing: put the right message in front of the right people at the right time.
The most important spam filter you need to worry about is your audience. Following best practices will usually get you to the inbox. It's your job to serve your audience the content they want when you get there.
Do everything you can to avoid the spam filter — whether it's human or technological. These details will give you the know-how you need to do that. But if getting through the spam filter seems like a challenge, know that you don't need to go it alone. We're in this with you. If you need a little help, just drop us a line, anytime.
Best Regards,
David Brandon
Copywriter
Rainmaker Digital Services